Swing by for this great foodie event
Gold Coast Convention and Exhibition Centre Friday January 31 - Sunday February 2, 2014
Dedicated to bring the Gold Coast Gourmet Food, Exquisite Wines and Celebrity Chefs, this year the Gold Coast Food & Wine Expo is sure to impress. Free tastings, new products and recipes are just a few of the things you will encounter while you enjoy all the culinary wonder on show.
MasterChef winner Emma Dean will be on the Celebrity Main Stage, sharing her knowledge and favourite recipes along with MasterChef finalist Courtney Roulston.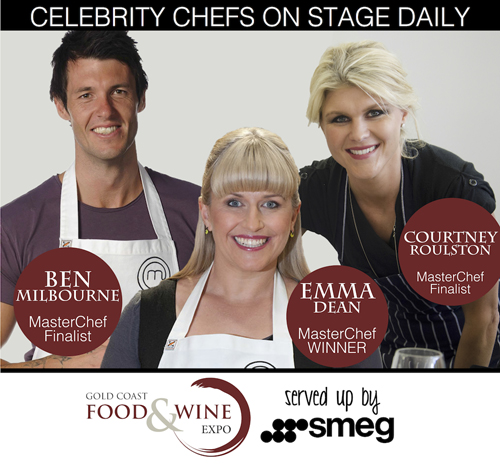 Grab your chance to cook a 3-course meal with matched wines with MasterChef favourite, Ben Milbourne who will be at the Celebrity Dining Room. Tickets only $75 each or $135 per couple.
SPECIAL OFFER: Buy 2 or more tickets before the show and receive a 3-Day Pass each FREE! To receive your offer you must call CTM Events on 07 5538 7118.
Purchase tickets to the Gold Coast Food & Wine Expo and experience everything any food (or drink) loving person would need. Use the promotional code GoldCoastFW14 to save $5 off your ticket price!