By Freya Ensbey.
Lily Alice and Thomas O'Quinn work together as the dynamic duo behind design company dreams&bones design. The pair are vegan and animal rights activist, as well as having a fierce hunger for nutrient dense food and cooking.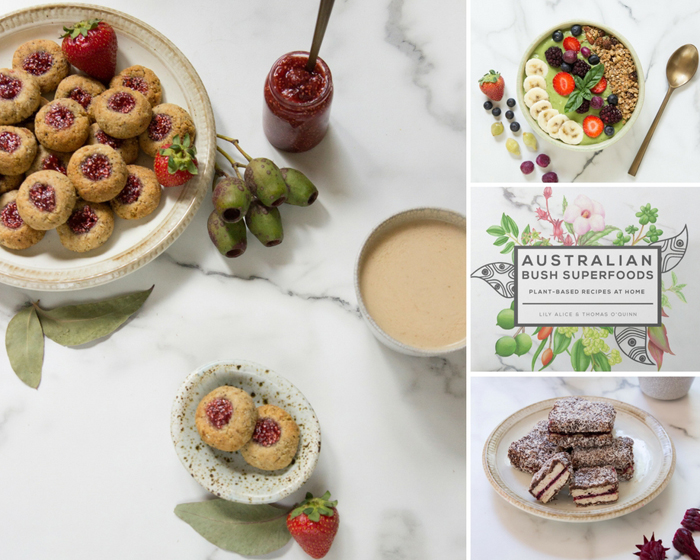 Lily Alice grew up in the heart of Australia in Alice Springs, were she would attend bush tucker trips with her Dad and the Anmatyerr Aboriginal women from the Utopia region in the North-East. Lily recalls setting out in a dusty 'troopy' and returning home with bundles of bush potato, witchetty grubs and bush tomato.
Lily's partner and musician, Thomas O'Quinn, was born and raised in Melbourne, where he worked full time whilst studying on a scholarship at the Grenadi School of Design, graduating with a Diploma of Graphic Design in 2016.
Australian Bush Superfoods is the duo's brainchild cookbook, introducing readers to some of Australia's unique and native ingredients found from the land and outlining that many of these foods qualify as superfoods, outshining the more commonly known forms.
In indigenous Australia, 'country' means family, the giver and sustainer of life, with bountiful resources to be respected and protected to in turn support all living things, which is how for 50,000 years Aboriginal and Torres Strait Islander people have lived off this ancient land and its abundance of flora.
The thick matte stock pages are decorated with botanical illustrations created by Lily herself, introducing the beginning of each chapter and the chosen plant which is in focus and an in-depth background into the plant including medicinal purposes, taste, availability and seasonality.
Find Summer morning kick starter recipes like the Kakadu Plum and Lilly Pilly Smoothie Bowl to start your Summer days with a fresh and healthy beginning. As well as being a valuable source of Vitamin E, iron, folate, zinc, magnesium, calcium, lutein and powerful antioxidants, Kakadu Plum has been found to have the highest concentration of Vitamin C than any other natural source in the world.
Perfect for accompanying a cup of hot tea, these spongy Rosella Jam Lamington squares are also filled with nutrients from the rosella plant which has been linked to lowering blood pressure, bringing with it a tartness similar to that of rhubarb and raspberry.
It would be un-Australian to arrive at a friend's house without bearing a gift, and even more so to turn up with something store bought. So go one step further and whip up a batch of Strawberry Gum Jam Drops with this quick and easy recipe. Strawberry gum leaves are popular amongst Aboriginal and Torres Strait Islander people for their sweet, berry flavour and are used as a sweetener and flavour enhancer in cooking due to their high concentration of Methyl cinnamate, also making it ideal for jams, crumbles and pies.
Australian Bush Superfoods is the perfect present for anyone interested in Aboriginal food culture and a must know guide for avid health food lovers, giving insight into one of the oldest living cultures on Earth, who have been benefiting from the nutrients of these plants for thousands of years.