"When I am no longer rapping, I want to open up an ice cream parlor and call myself Scoop Dogg." – Snoop Dogg.
Life is like an ice cream cone…you have to lick it one day at a time! On Monday, June 7 it's time to celebrate National Chocolate Ice Cream Day with an indulgent recipe from Scott Gooding.
Chocolate ice cream is the second most common flavour, surpassed only by vanilla and has been in existence for more than a century. Did you know it was created in 1692 in Italy when for some reason it was decided to freeze a hot chocolate drink?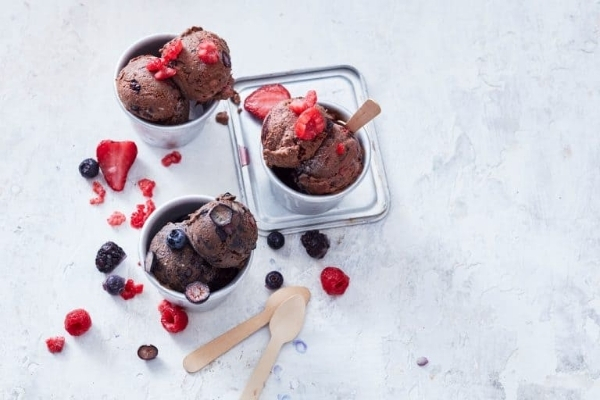 Scott Gooding's version is a keto recipe for
blueberry and chocolate ice cream
, which he describes as the equivalent of a king-sized four-poster bed, crushed velvet drapes and shag pile carpet…rich, decadent and comforting.
Try this to celebrate on Monday and check out these five fun facts we bet you didn't know about ice cream:
•It takes about 50 licks to finish a single ice cream cone.
•The perfect temperature for scooping ice cream is between -14C and -12C.
•'Brain freeze' occurs when ice cream touches the roof of your mouth.
•1 in 10 people admit to licking the bowl clean after ice cream.
•1 in 5 people share ice cream with their pet.
I scream, you scream, we all scream for ice cream…for more decadent ice cream recipes, click
here
.