By Leigh O'Connor.
After a letter to a local Huddersfield restaurant and the fastest three hours of his life, Josh Childs was hooked on cooking.
Now in charge of the kitchen at iconic dining destination,
Orpheus Island Lodge
in the Great Barrier Reef, Josh originally considered dentistry as a career, but after two weeks' work experience decided it was boring.
Stretching across 11 km of immaculate turquoise coastline, Orpheus Island Lodge is surrounded by a pristine fringing reef and features a main pavilion bar and alfresco-style dining area, restaurant, day spa and infinity pool.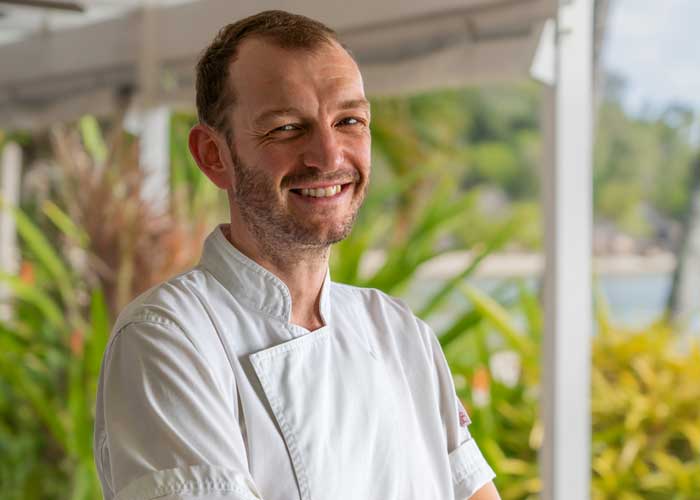 This food lovers' haven means each meal is an event in itself, from gourmet breakfasts and shared tapas-style lunches to memorable degustation dinners; think fresh seasonal produce from the island's own vegetable garden and seafood delicacies.
With an innovative daily-changing menu showcasing the riches of the region, Orpheus is a food lovers' destination, where guests can enjoy a bounty of locally sourced, freshly grown or caught seasonal delights.
After his initial experience at the Mustard and Punch in the UK, Josh dreamed of the possibility of working in a Michelin kitchen and was lucky enough to obtain a job with renowned Chef Nathan Outlaw, where he developed a love for seafood and letting quality produce speak for itself.
"Gordon Ramsay was everywhere when I was a teenager with Kitchen Nightmares and the f-word, but some of my first Head Chefs inspired me with passion, drive, advice and stories making me want to better myself," he tells AGFG.
"Nature is also a huge inspiration for me. From great produce to great people, Far North Queensland has a lot to offer. The freedom of having a daily changing menu drives creativity and the fish supplied to us is next level."
An Orpheus Island Lodge take on reef and beef, make sure to use a weight when cooking the fish to keep it flat in the frying pan; while the XO needs to be prepared in advance as the beef needs to be dried for at least one day, before being blitzed in a spice grinder or blender.
Obsessive-compulsive about questioning everything to make it better, Josh admits to not having a signature dish as there is always something new to try – but his four skins plate is a bit of fun to read on the menu with four crispy skins with different salt flavours. Expect an umami hit!