By Leigh O'Connor.
Imagine creating more than 1 million canapes and serving more than 140,000 plated meals to racegoers during Flemington's Melbourne Cup Carnival.
That's the job of Matt Haigh – Group Executive Chef for caterer
Peter Rowland
– who oversees more than 400 staff on the big day, from Chefs to cooks, waiters and stewards.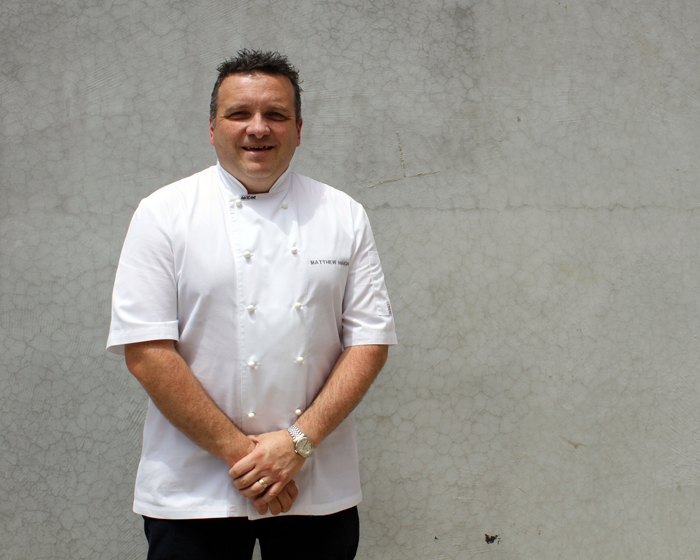 After dreaming of becoming a Chef as a child, Matt completed his apprenticeship at the Cranbourne Hotel and has since held various positions, before landing at Peter Rowland in 2000.
Matt's life involves food, food and more food. In fact, he oversees feeding more than 5 million people every year, from the production of the famous Melbourne Cup Rowland chicken sandwiches, to food served at commercial sites, the company's online delivery business and the Byerley degustation restaurant at Victoria Racing Club.
"We create menus and cater for a vast number of different restaurants and private catering events on Cup Day – from the degustation restaurant in the Club Stand through to sushi in the Mumm Champagne Bar and picnic hampers in the carparks," Matt says.
"It's the time of year when everyone wants to enjoy themselves. To be part of creating a special experience for people is very fulfilling."
Matt draws inspiration for each Cup Day menu from the country's farmers and growers, collaborating in advance on menus so there is time to grow and produce special ingredients.
"This is great for our clients, as they are getting food that is grown and cooked with love, as well as being at its peak."
He says apart from the Rowland chicken sandwich, of which more than 20,000 are made on Cup Day, the most popular food item is seafood.
"Seafood works well with Champagne and it's a food that people generally associate with a luxury event."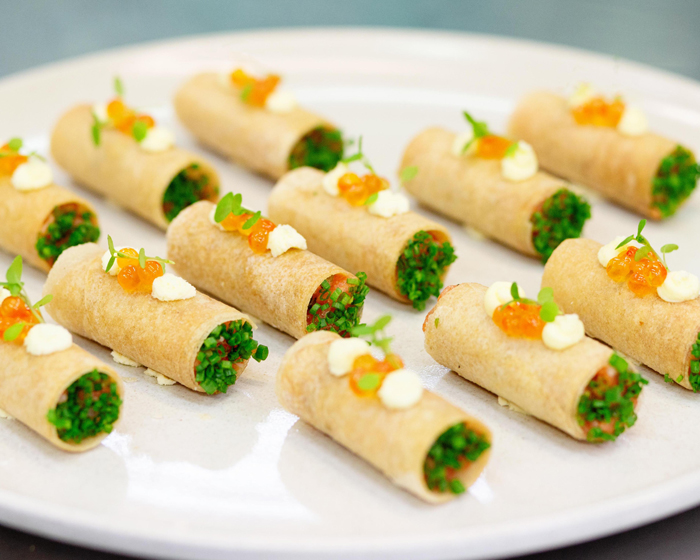 His recipe for
ocean trout crisp brick pastry cigars
was specially created for Melbourne Cup, with the luxury of caviar and trout combining the get the taste buds going; while the crunch of the brick pastry adds a nice texture.
Easy to replicate at home with the addition of fresh herbs and mayonnaise, this is sure to be a canape winner at your home Melbourne Cup function or next dinner party.
With all the events he has catered for over the years, we asked Matt for his most eyebrow-raising creation:
"It was actually before my time, but our Founder and Chairman Peter Rowland once purchased cement mixers to produce 500 souffles for a black-tie banquet. I should add that the cement mixers were new and the souffles were a huge success."
While he spends a lot of time at Flemington, Matt's favourite time of the week is when the family gathers around the bench on Sunday nights to make wood-fired pizza.
"We make the dough and cut up the ingredients – we talk, laugh and sing, then we all sit down together and eat."
Matt believes ugly fruit and vegetables – basically imperfect produce – will become popular in 2020 as people embrace authenticity; while the one ingredient he can't live without is mushrooms.
"They are incredibly versatile. I like them simply sautéed and served on chargrilled sourdough, with crème fraiche and a drizzle of truffle oil."
When he's not in the kitchen creating culinary masterpieces, you'll find this family man out in the backyard honing his building skills.
"I love getting out and building decks, pergolas, kids' playgrounds and gardens," he says.
Whether it's building cigar pastry bricks in the Flemington kitchen, or real bricks for a backyard barbeque this is one Chef who knows how to be first past the post in any catering race.