By Leigh O'Connor.
There's no yolkin' around when it comes to our favourite brunch classics…at the top of the list is eggs Benedict, with crisp bacon and smothered in creamy Hollandaise.
This Saturday, April 16 is National Eggs Benedict Day - what better way to shellabrate than to visit your favourite café for a plate of deliciousness, washed down with a cup of Joe.
Here are five of our favourite spots to indulge your brunch desires on Saturday:
Stroll up from the sands of Horseshoe Beach to recharge and refuel at
Malt & Honey – Walk Up Café
on Livingstone Street in South West Rocks. A rustic vibe of recycled timber, shabby chic tables and a sunny alfresco area offers the ideal spot to linger over a Suntory coffee and ponder the day ahead; while checking out a Mod Oz menu of café favourites.
Team a cappuccino with eggs Benedict, wilted spinach and crispy bacon; or a veggie stack of hash brown, eggplant, zucchini, sweet potato, tomato, capsicum, tzatziki, tomato relish and halloumi.
Find Asian fusion fare with flair on the menu at
Café Nate
on Hill Street in Roseville. This well-loved local hangout has a British Colonial feel with a warm and cosy interior vibe of whitewashed walls covered in an eclectic mix of artwork, banquette and table seating and a plethora of interesting knick-knacks on shelves.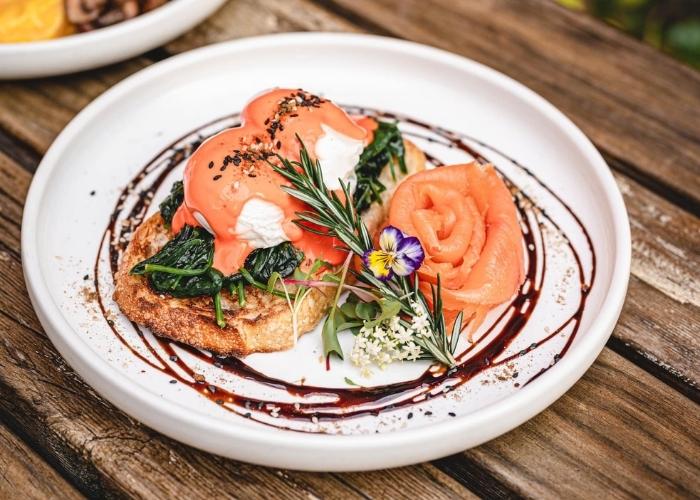 Café Nate's eggs Benny - salmon, spinach, eggs, Hollandaise, Italian dressing and sesame dukkah.
Nate's eggs Benny comes with smoked salmon, wilted spinach, poached eggs, housemade Hollandaise, Italian dressing and sesame seed dukkah, served on sourdough.
Bringing a slice of Italy to Concord,
Cucina Espresso
has a loyal following for serving up surprising and satisfying café fare. Located on Majors Bay Road, take a seat by the bifold front windows and people watch while sipping an aromatic brew, or relax further inside where a stacked stone half wall and monochrome prints of Italian landmarks set the tone for a leisurely lunch.
Stop in on Saturday and treat yourself to croquette salmon Benedict – Chef's housemade rice croquette, topped with smoked salmon, poached eggs and housemade lime-infused Hollandaise.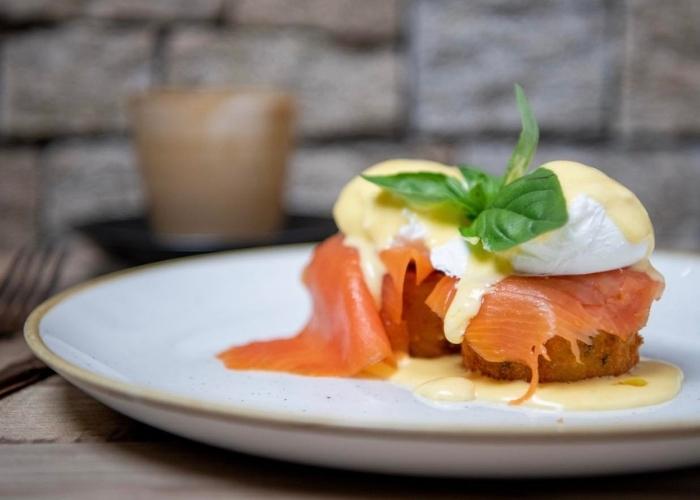 Croquette salmon Benedict is on the menu at Cucina Espresso.
Find a Bittern hidden gem at locally-loved
R&K Café
on Frankston-Flinders Road. This Mornington Peninsula eatery embraces a leafy vibe with a full-length wall mural of a forest, blond wood floors and Edison bulb lighting; creating an oasis of calm to enjoy dining from dawn to dusk, along with cheeky cocktails and wine.
R&K serve their eggs Benny on a poppy seed bagel, with bacon, spinach, poached eggs and cheesy Hollandaise sauce, best enjoyed with an iced latte, or loaded Oreo shake.
Those looking for a cosy corner café to hang out with a coffee in Holt head to
Bunny Beans Café
on Hardwick Crescent. Named after owner Bernard's nickname, this café exudes rustic charm from recycled timber, exposed brick and dark wood table settings; while on balmy Canberra days, take to the alfresco area with your fur baby to people watch.
Dished up on focaccia with poached eggs, peppered Hollandaise, broccolini spinach, mushrooms, bacon and herbs, this is one eggs Benny not to be missed!
For more cafés to indulge on Saturday, click
here
.