By Sean Melrose.
It's not uncommon to come across a cookbook with a bit of a story behind it, though it's quite rare to find one that's completely the opposite: a story with a bit of a cookbook behind it. It's likely because of Mimi Thorisson's success as a blogger and, as one gets the impression when reading, probably an expert story teller at a noisy dinner table. French Country Cooking is Mimi's second cookbook, detailing the charming chaos of moving into a historically rich, yet decaying chateau in the French countryside with a family of nine and quite literally, a large pack of dogs.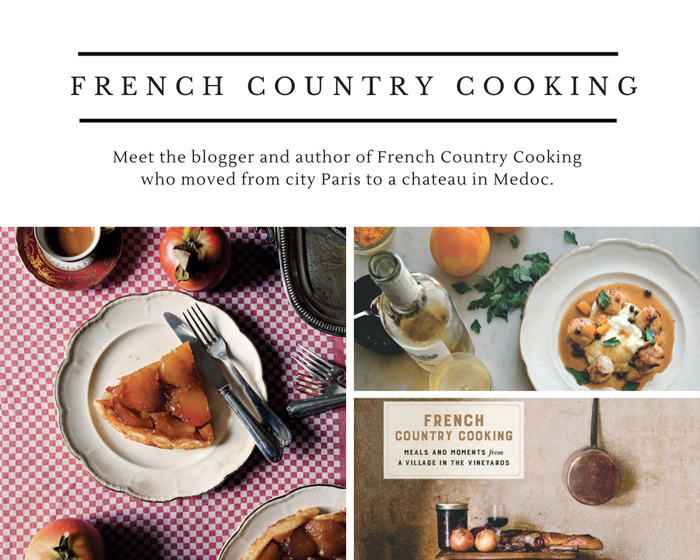 "The big, faded, blue-green door that opens up onto the central staircase seemed stuck, perhaps a last attempt by this old dame of a building to keep her independence. But she relented and, once inside, as I gazed up the staircase, I knew I would live here, forever," Mimi Thorisson, p 14.
It starts with a luxurious looking tarte tatin, a recipe synonymous with the chateau's former owner and town mayor's mistress Plantia. According to legend, or the same town knowledge that supplies most of the information in the colourful pages, she refused to serve it with crème fraiche. The taste of the dish relied on the apples, so if they weren't perfect she would abandon the tarte and make something else with them, like compote. Plantia is just the first in a string of characters, from the past and present, in a tiny town play full of life and interesting people that delights as much as it prompts a visit to the chateau and its makeshift restaurant.
"It gives me goose bumps, cooking in this kitchen where I have also written this book, to think that a hundred years ago, another woman was cooking the very same thing in the very same corner, according to the same principles. Plantia, I promise I will never ever make a tarte tatin without thinking of the lady in black," Mimi Thorisson, p 22.
Also present is an insight into French life and the natives that live it, spoken with fondness thanks to the author's French heritage. According to a 'chic little man' Thorisson meets in a store selling exclusively Champagne, there are particular varieties that are appropriate for certain circumstances. For instance, for good friends who show up unexpectedly there's the good Champagne, but not too good because it would be over the top for such a visit. Then there's the really good Champagne, reserved for formal dinner parties and the like. To top it off, there's the type that's really old 'grand' Champagne, which the man would never drink because he thought no occasion will ever be good enough. It all just sounds so French!
"To me, French food is what I like from the whole country, and though living in one (rather remote) region emphasises certain things, like game and oysters and grilling over grapevine branches, I like to include recipes from all over France in my cooking. There is just so much good food, so many good techniques and traditions, and I never want to miss out on any of them," Mimi Thorisson, p 70.
There is a veritable squadron of dishes in French Country Cooking, ready to equip any budding French cooking enthusiast with a seemingly endless supply of things to try their hand at. From eye catching salads, to soul warming soups, pies, pastas, dinner time heroes, small snacks and a full patisserie of opulent desserts. A standout are the sea scallops with cauliflower puree and capers, a dish Mimi borrowed from Cyrille, a French Chef and husband to her editor. It's a good example because it shows how Thorisson's friends and family are interwoven, almost on every page.
During their first visit to No 1 rue de Loudenne, Mimi and bon vivant husband Oddur met Monsieur Ladra, a relative of Plantia's and the one selling the property. He related some of the family history and made a convincing sales pitch along with some bold predictions about the building, even saying he might be able to find some of his grandmother's old recipes. After spending some time with the weighty tomb the reader has to hope that Monsieur Ladra's "this roof will last for a hundred years" proclamation, holds true.
This is an edited extract from French Country Cooking by Mimi Thorisson published by Hardie Grant Books RRP $49.99 and is available in stores nationally. Photographer: © Oddur Thorisson 2016.