Take the road less travelled
Four wheel driving is one of the cheapest and most efficient ways to see the wild beauty of Australia without the cost of going on a tour. With global positioning systems, air conditioning and the freedom to stop and go as you please, four wheel driving is a great option for families and road trippers who want to go bush amidst the rocky terrain and dusty deserts without getting completely lost or struggling in the heat. Whether you're going for a few days or a few weeks, when you are four wheel driving, you must go prepared, with maps, water, food, fuel and essentials in case of emergency. Australia has a variety of outback tracks to suit every driver, each offering unique scenery, country hospitality, holiday parks and traditional outback pubs.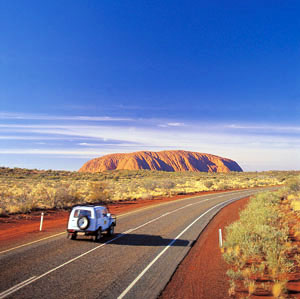 Four wheel driving in Australia
Western Australia's diverse scenery allows you to go through the four seasons as you four wheel drive. From long white beaches you can take a drive on, through to lush forests, rugged hills and dusty trails, this area of Australia is ideal for four wheel driving and has a track to suit everyone from the beginner to the more experienced driver.
Victoria's spectacular national parks make it a unique destination for a four wheel driving holiday, with the Northern Territory's Katherine Gorge and Kakadu National Park offering up a great road trip destination. Whether you choose to go the highway or the road less travelled, you may need permits before you start your four wheel driving holiday to enter certain parklands of Australia.