Follow ravenous culinary desires to the heart of Flavours of Sicily, a vivacious cookbook by Ursula Ferrigno, a much-acclaimed food writer and chef who embodies the Italian and Mediterranean zest for good food made from fresh, natural ingredients.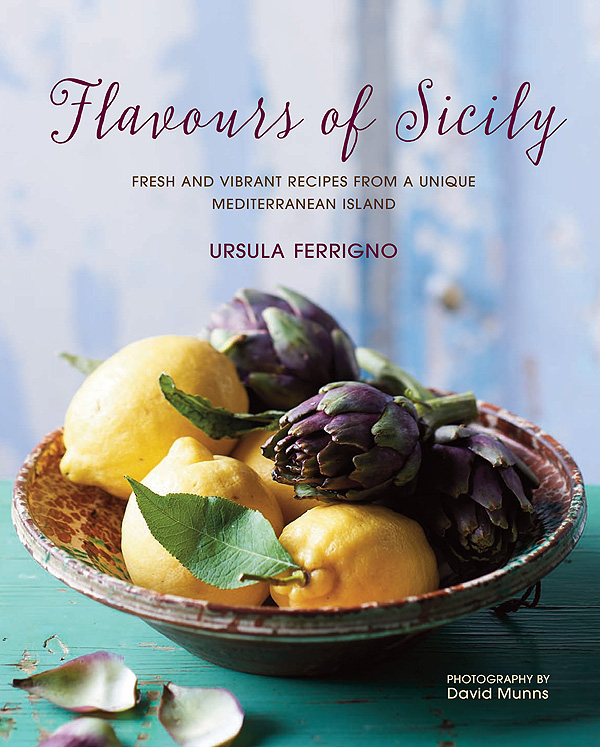 Explore through the intricately shaped landscapes of an extraordinary island to discover new flavours as Ursula guides the path. Take note as she unveils the incredible cultural legacy of Sicily, having adapted through a range of diverse influences that each left their mark in turn, on the land, the people and the food. Immerse yourself in each page of Flavours of Sicily, hearing tell of this beautiful miss-mash melting pot, attributed to having once been occupied by the Greeks, Romans, Arabs, Normans and Spaniards.
The land itself pulses with character and a spirited energy through all things. While volcanic soils have been kept fertile by mineral rich ashes; a sub-tropical climate and the nourishing sunshine are just a few of the secret ingredients of delicious Sicilian cuisine. The other component to sumptuous Italian dishes is the people, continuing an unwavering passion and enjoyment for eating, drinking and merriment. Here, both people and cuisine are bright and earthy, the result of a saturation under the intensity of a Sicilian sun.
Black fig, mozzarella and basil salad, p.43.
Find a recipe to suit any appetite, palate and culinary ability, though consider every dish a sacred story of dedication to heritage. A snack as seemingly simple as arancini balls are not only stuffed with rice, but with the history of the person who gave it life. Taste the legacy, a hint of this and that in every bite. Everywhere you turn in Sicilian streets, these tasty morsels appear, bouncing before the eyes in a layer of golden crunch that gives way to a luscious heaven, or in other words, a mouthful of tantalising flavours that are best enjoyed with eyes closed, face turned toward a cloudless sky. Experiment in sizes and fillings, beginning with the recipe for Filled Risotto Croquettes, Arancini di Riso, with a pinch of saffron, a shaving of Pecorino, a handful of ham, and the ever-present tomato.
Black Fig, Mozzarella and Basil Salad – do as the Italians do. When in the height of fig season, Sicilians overflow kitchens in every available space with this handsome fruit, creating a fig-fest frenzy from entree through to dessert. Find this salad a decadent side to other dishes or reserve it as a stand-alone first course dish. When preparing figs to serve in a shared setting, presentation is everything, so be sure to face them with deeply coloured seeds showing outwards and a generous drizzling of high quality extra virgin olive oil.
The family, or dinner party friends will love scooping up a helping of Braised Lemon Chicken onto their plates. Light in flavours, this feast can easily be enjoyed by all and will likely become a popular main meal in your cooking routines.
Feel eagerness build the deeper you delve, with inspiration dawning time and time again as new elements are uncovered and after losing yourself, re-immerse with a newfound passion for divine Italian gastronomy.
By Annabel Rainsford.
This is an edited extract from Flavours Of Sicily by Ursula Ferrigno published by RPS RRP $45.00 and is available in stores nationally from May 1, 2016.