September 2 commemorates Vietnam's Declaration of Independence from French colonisation in 1945 by Ho Chi Minh, leader of the communist Viet Minh organisation. To celebrate this special day, why not tuck into one of these delectable Vietnamese dishes?
1. G?i cu?n (rice paper rolls): A popular entree at Vietnamese restaurants, these cold rice paper rolls are also versatile enough to be served at summer barbeques or enjoyed by the handful as a healthy lunch. Filled with anything from prawns to lemongrass beef to tofu and then laced with vegetables and herbs, these rolls are best enjoyed dunked in a special hoisin dipping sauce sprinkled with crushed peanuts.
2. Ph? (noodle soup): Known as Vietnam's national dish, the word 'ph?' is derived from the French beef stew pot-au-feu (literally 'pot on fire'). When it comes to flavours, beef has traditionally been an enduring favourite but chicken is also popular. The aromatic beef ph? stock is made by simmering beef bones, steak, oxtail, charred onion, ginger and spices in water for hours. Garnished with onions, basil, bean sprouts and chillies, ph? warms both the body and soul.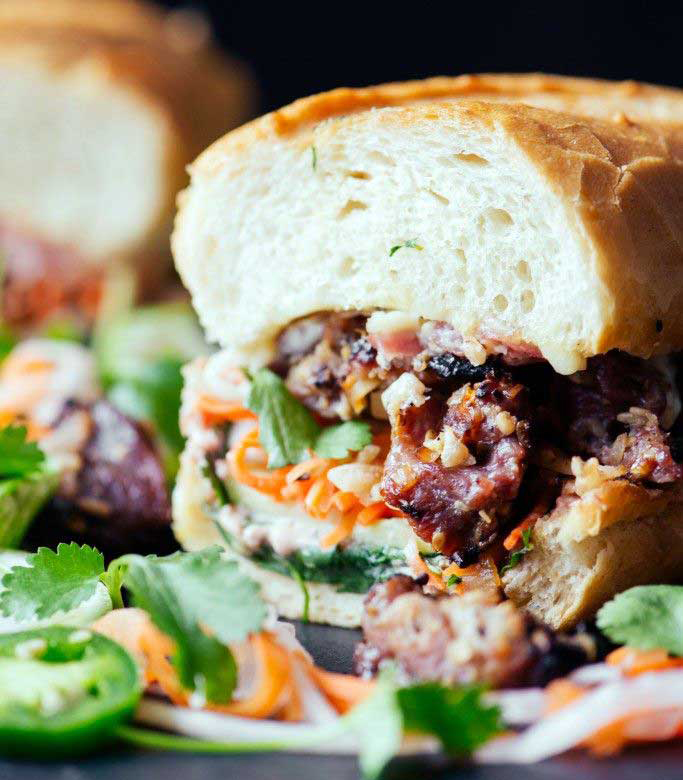 3. Bánh mì (Vietnamese baguettes): Skip the Subway breakfast sandwiches and try the less calorie-inducing Vietnamese baguettes. A nod to Vietnam's French colonialist past, these crispy baguettes are filled with ingredients such as ham, pork belly, grilled pork, chicken, pork meatballs in tomato sauce and tofu. Throw in a few slices of cucumber, coriander, shredded pickled carrots as well as daikon, and breakfast is taken care of.
Try it at Great Aunty Three.
4. Com t?m (mixed grilled pork on broken rice): Prefer rice over noodles? The ever-popular com t?m may do the trick. Marinated grilled pork is mixed with shredded pork, pork skin and accompanied by cooked broken rice, cucumber, pickled carrots and fried egg. Popular additions also include prawn paste cake and grilled prawns. A sweet and sour fish sauce usually accompanies the dish for extra flavour.
5. Bánh xèo (savoury pancakes): The name 'bánh xèo' literally means 'sizzling cake' and refers to the loud sizzling noises the pancakes make when they are being cooked in the hot skillet. Unlike your standard flapjacks, these Vietnamese pancakes are made from rice flour while turmeric gives them their vivid yellow colour. The pancakes are stuffed with pork, shrimp, bean sprouts and spring onions while mint leaves and basil keep things in balance.
Try it at Thanh Ha 2.