By John Rozentals.
It would be easy to dismiss Chester Osborn as simply an extrovert — as someone who wears the loudest of shirts and has shown the flamboyance to match that of his famous father d'Arry and come out at least equal on the personality front.
He's certainly done that, while at the same time presiding over the creation of one of Australia's broadest range of wine labels — and definitely the most lavishly named.
Think the Stephanie the Gnome with Rose-Tinted Glasses Shiraz Sangiovese or The Witches Berry Chardonnay or The Broken Fishplate Sauvignon Blanc, and you'll get my drift.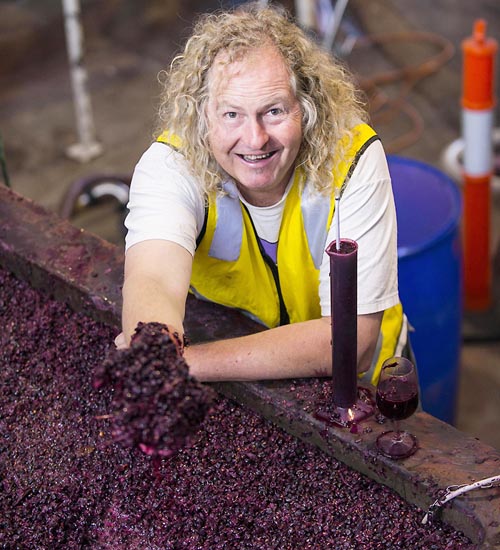 Chester Osborn during harvest.
In doing and being all that, Chester has also shown himself to be a highly skilled and sensitive winemaker.
In just over 30 years, he has taken a line-up of mostly average full-bodied dry reds and turned it into a portfolio of elegant wines — red, white and sparkling — that can stand tall among those anywhere in the world.
And, believe me, that's quite an achievement.
Chester has just released the 2014 vintages of his three Icon series wines — the Coppermine Road Cabernet Sauvignon, the Dead Arm Shiraz and the Ironstone Pressings Grenache Shiraz Mourvedre.
Some people will quibble at their $65 price tags, and many won't be able to afford them, but who can afford a Roller or a top-of-the-line Merc? They're at prices that are quite normal for top quality in today's wine world.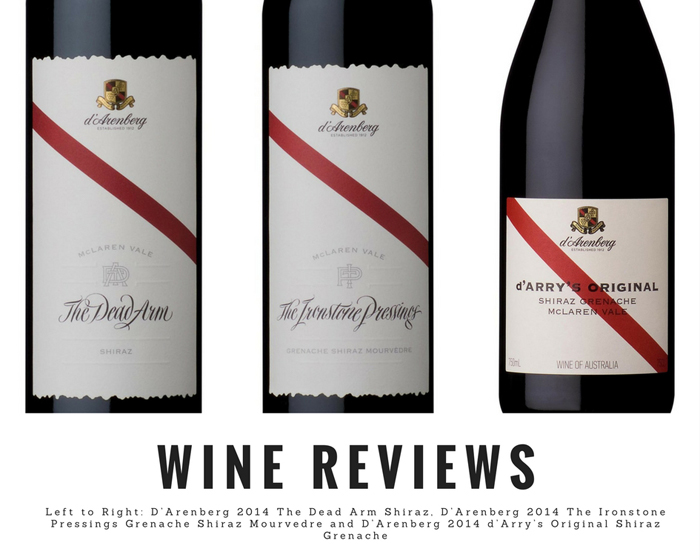 Wine Reviews:
D'Arenberg 2014 The Dead Arm Shiraz ($65) - This is my favourite of the three new vintages of the Icons. The lovely, rich berryfruit flavours have a delightfully earthy, old-vine edge to them. Think ripe berries, foot-crushed Autumn leaves and stewing mushrooms. Then bring on the heartiest of Winter beef stews.
D'Arenberg 2014 The Ironstone Pressings Grenache Shiraz Mourvedre ($65) - There's a reason why these three red varieties are planted together in places such as France's Rhone Valley and Australia's McLaren Vale and Barossa Valley. And that's because, in Mediterranean-style climates, they blend into soft, heavenly complexity.
Wine of the Week:
D'Arenberg 2014 d'Arry's Original Shiraz Grenache ($18) - For mine, still far better value than any of the three wines in the Icon series. This red carries its familiar red diagonal slash of warning with pride and was first released in the 1960s. It's soft, it's full-flavoured, it's complex, it's beguiling … ok, it's just moreish.