By Sean Melrose.
"I think that every day should be delicious. Life's just too short not to celebrate with moments and tastes that make you close your eyes and smile." ~ Anna Gare.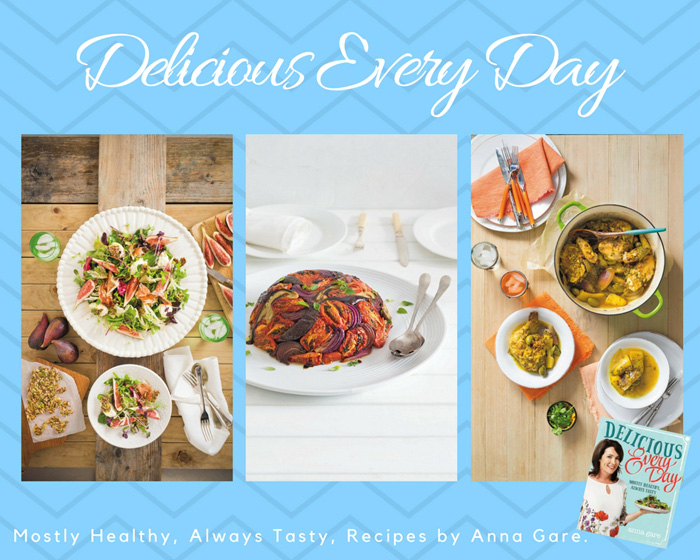 Delicious Every Day brings to the table a multitude of fun, handy recipes for the ever-growing legion of foodies that value great produce and a healthy balanced diet.
The catchphrase is mostly healthy, always tasty, because while things are 'mostly' centred around easy to make, eye catching salads and healthy week day courses, there are also some naughty ones, for those with bad intentions and the cooking utensils to carry them out.
Anna Gare, ex Jam Tarts rocker, seen everywhere from Junior MasterChef to Great Australian Bake Off, is adamant that our daily food supply can indeed be heavenly, regardless of the time of day or the time available in the day. According to Anna, it all starts with preparing a first meal suitable for the way the day is to be carried out.
"If you are a dancer, then you will want something your body will respond to; if you're a yogi, then something a bit lighter and more balanced might do the trick. If you're going hang gliding, eat whatever you want because it might be your last meal!" says Anna.
The extensive list of amazing recipes is riddled with funny moments and cheeky snippets, a particularly enjoyable example is a reference to the Gare household visitors, who might not always be dropping by just to say hello.
"It's amazing how often people drop by my place around lunch or dinner time on the weekends. We even get the odd brazen breakfast ambush.
My husband, Luc, sees the worst in it and thinks there are meal stealers around every corner. He would like a gated residence so he can eat in peace," says Anna.
There are some truly eye popping salads that put the garden variety lettuce and cherry tomato salad to shame; salads that work for a quick snack as well as nourishing centrepieces for hungry stomachs, like fig and prosciutto salad with labneh and fennel-seed toffee (p59), or the oven-dried tomato and aubergine dome (p80).
Aside from the featured weekend dinners and party tricks, there is a strong focus on quick weeknight meals and also, what are lovingly referred to as one pot meals, like one-pot spiced chicken with preserved lemon and green olives (p130), a tribute to the gastronomically inclined who suddenly have important matters to attend to when the dishes need to be done.
"If you are a late night TV watcher, you will be full-bottle on my favourite genre: the all-in-one tool ads. If you watch the right channels late at night, you will be familiar with an assortment of such wonders: there are garden power tools with interchangeable heads and there are kitchen tools with superpowers. But I still think the most valued tool in my kitchen is my large heavy-based pot," says Anna.
Containing a spread of Anna Gare's go-to dishes, Delicious Every Day will have foodies and home Chefs alike running for their frying pans raring to start a fresh, mostly healthy food adventure.
Images and recipes from Delicious Every Day by Anna Gare (Murdoch Books, RRP $39.99).