By Leigh O'Connor.
"If a guy can't handle you in sweatpants, then he doesn't deserve you in a wedding dress." – Drake.
We all have one of those days when sometimes you get up and attempt to go about your life as usual, but just don't have it in you. The thought of getting all dressed up in a suit and tie, or high heels makes you want to crawl back into bed.
Luckily there is a day dedicated to this occasional mood – International Sweatpants Day on Saturday, January 21 - so if you know how it feels just to want to spend the day lounging around in comfortable sweatpants this is the day for you.
The first pair of sweatpants was introduced in the 1920s by the founder of Le Coq Sportif – simple knitted grey jersey pants to allow athletes to stretch and run comfortably.
Since then, they have gone from typically being ash-grey to all colours of the rainbow, making them more attractive but still as comfortable as the original ones.
International Sweatpants Day was created to show that wearing sweatpants doesn't have to be embarrassing – life is too short to be wearing the right clothing all the time.
What better way to celebrate than visiting your fave burger or pizza joint? Here are five of our suggestions:
Head to the Gold Coast's only surf-themed bar and restaurant,
Longboards Laidback Eatery & Bar
on Hamilton Avenue in Surfers Paradise for some of Australia's best burgers and craft beer. Positioned under the iconic Q1 just a stone's throw from the sands of one of the country's most iconic beaches, this diner showcases the world's top surfers with signed boards and surfing photos.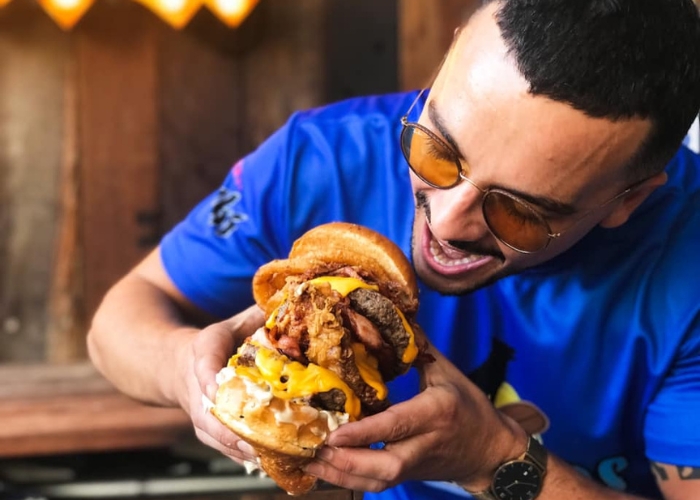 Drop in on Saturday and take the Phat Bastard Challenge – devour 600g Wagyu beef, layers of crispy bacon, cheese, BBQ pulled pork, onion rings, lettuce, tomato, coleslaw, bacon mayo, sweet BBQ sauce and fries in 30 minutes for the chance at a $150 TAB prize.
Pizza and sweatpants are a match made in heaven…Clovelly foodies seeking a fix on Saturday can head along Clovelly Road to find
La Madia Pizzeria
. On warm Sydney days, sit alfresco and watch the world go by, or dine indoors where a clean, bright and light vibe of whitewashed walls adorned with images of the Mediterranean and cosy table settings set the mood for memorable meals.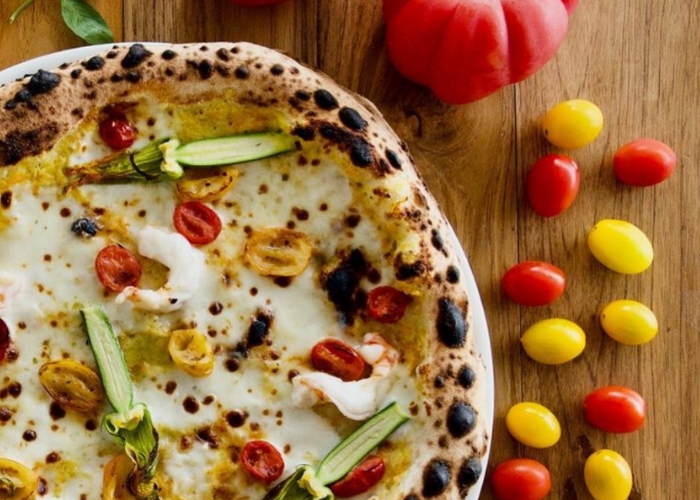 The brainchild of two old friends from Sicily – Massimo and Fabio – expect an authentic menu with pizza offerings such as La Madia, with golden datterini tomato cream, fior di latte, golden and red tomatoes, King prawns, zucchini flowers and lemon zest.
Wrap your mouth around an Epic Flave burger to satisfy sweatpants cravings at
Flave
on Hall Street in Bondi. If you are looking for delicious food that'll do some good, this is the place to find fare with flair and drinks that help create a better world – along with mouth-watering, mind-blowing burgers and bowls to tempt all tastes.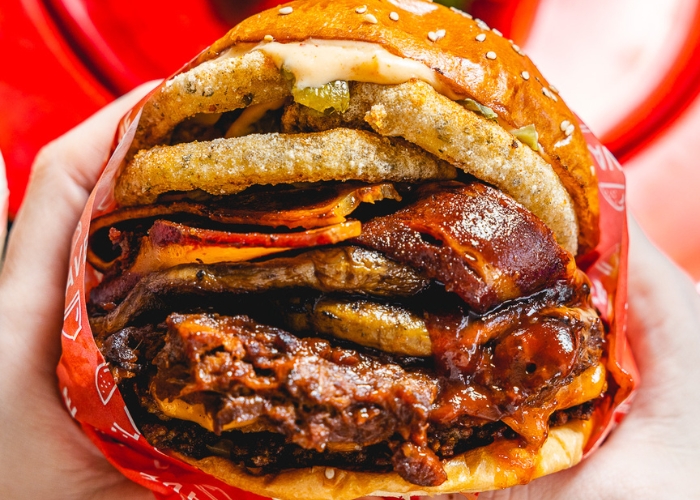 The Epic boasts a perfect combination of BBQ smoked brisket, streaky bacon, pickles, raw diced onion and roasted field mushrooms, topped with crunchy Southern fried onion rings, chipotle aioli and smoky BBQ sauce.
Soak up river views and balmy breezes while lingering over a meal at
Scorchers
restaurant on Esplanade in Orford. Located next to the art gallery, sip a Tasmanian wine alfresco with friends and family over lunch or dinner; while indoors oozes a warm and welcoming vibe of polished wood, painted concrete and tantalising aromas wafting from the wood-fired pizza oven.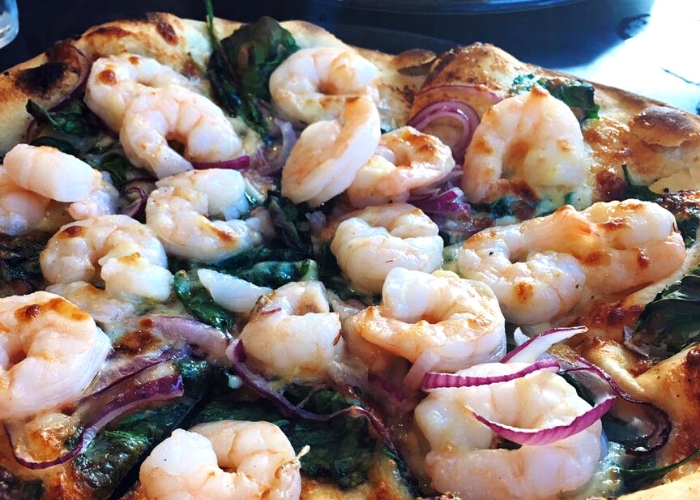 Perhaps pick up a slice of gourmet pie such as garlic prawns on a tomato base, with spinach, red onion, vintage cheese and mozzarella; or chow down on a wood-fire roasted chicken burger with lettuce and mayo, on brioche with a side of chips.
The only thing better than pizza and sweatpants is to add wine into the mix - head to
Beach Road Wines Restaurant
on Seaview Road in McLaren Vale for delicious wine, amazing food and picturesque views. Taste and relax at this winery, cellar door and dining destination, where a rustic wood-fired oven delivers traditional Italian-style pizzas, enjoyed with a glass of estate vino.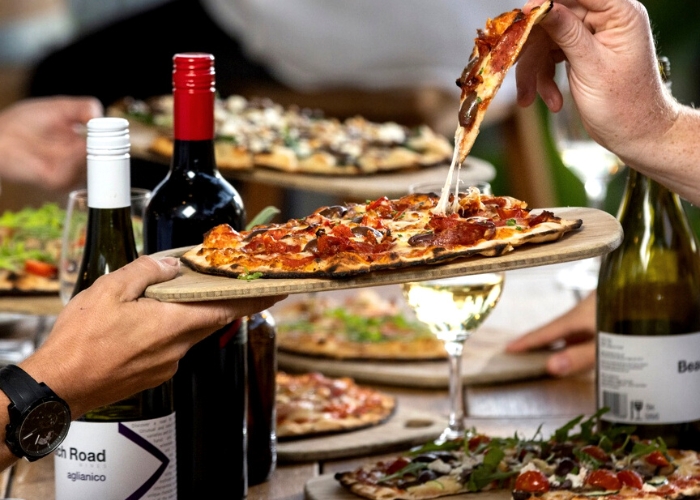 Italian sausage on a garlic base, with pork, chilli, cherry tomato, caramelised onion, bocconcini, mozzarella and rocket is sure to hit the mark; while vegetarians opt for pear and gorgonzola, mozzarella and rocket, washed down with a crisp glass of Pinot Grigio with a delicious lingering finish.