100 Desserts to Die For.
The seamless partner in crime to that 3pm coffee will always be a sweet treat.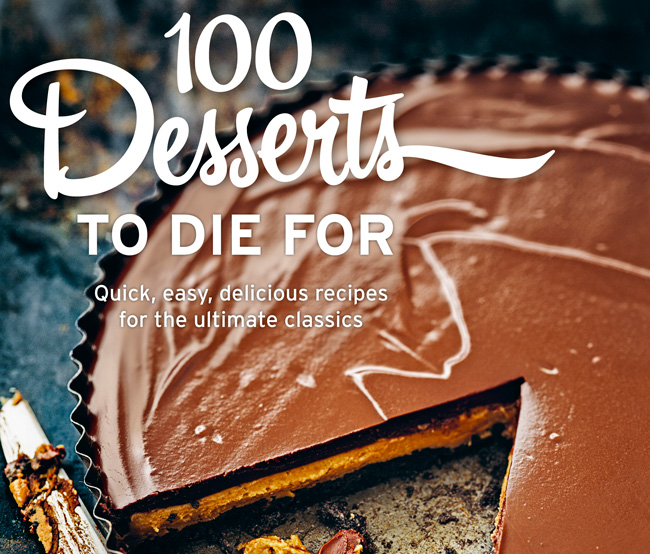 Involuntary drooling can be forgiven for those who catch a glimpse of Trish Deseine's most recent cookbook, 100 Desserts To Die For. Culminating an impressive total of 15 successful cookbooks, the latest is a collection of quick, easy and delicious recipes for all your classic favourite desserts. Among many other prestigious accolades, Trish is a four times award winner of the Gourmand World Cookbook Awards, former BBC TV cooking show host and an internationally recognised recipe writer. In short, Trish is an authoritative figure to trust when creating a mouthful of heaven with flair and decadence.
If, like Trish, sweet things are at the top of your list of life's joys, then dive into a double page spread of delicate chocolate shavings and emerge again at the starting guide for finding your perfect dessert, an ultimate indulgence that will ignite greed in even the most bridled of dinner guests.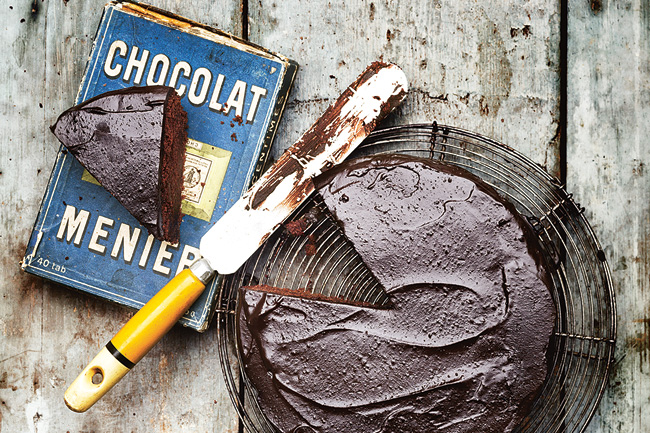 Intense Guinness Chocolate Cake, p.63.
Should your absolute weakness be chocolate, flip rustically styled pages to the divine velvety structure of Intense Guinness Chocolate Cake with chocolate icing and fine sea salt, and prepare to stuff yourself silly. Live out fantasies of running wild in Willy Wonka's chocolate factory, or making like Bruce Bogtrotter from children's movie, Matilda, and downing the whole glorious thing in one sitting. Though a note of difference; while traditional recipes call for a cream cheese frosting, enjoy the smooth finish of premium dark chocolate in icing so thick and creamy it resembles the head of a glass of Guinness.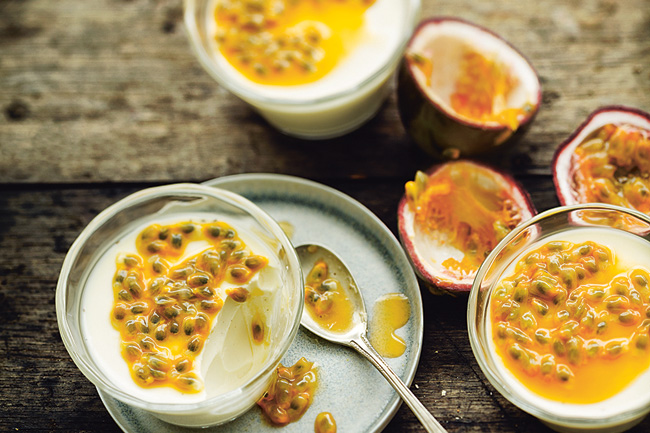 Passionfruit Panna Cotta, p.124.
If a dessert cooling to the palate is more your style for finishing a feast, try your hand at making panna cotta with a tangy, tropical twist. This recipe for Passionfruit Panna Cotta results in swarms of gooey seeds giving a quick burst to cut through the alluringly creamy texture of a dessert that simply slides across the tongue. Melting in the mouth as you scoop a second bite, reminisce on how simple it was to create, with a shortcut provided by Trish to lend the vibrant yellow touch of passionfruit pulp without the hassle.
If friends often drop by for a catch-up and a cup of tea unannounced, stay one step ahead and organise an at-home High Tea party – the perfect excuse for Blackberry and Apple Shortcake. This hot little number will have lips smacking and eyes gorging as you remove a slice to serve, revealing a layer of thick whipped cream, fresh blackberries ready to pop and chunky poached apple inside. The exquisite combination of flaky, sugar-dusted shortcake as it sandwiches sweet fruit and the calm of cream is guaranteed to entice and impress.
Dripping with many more lush recipes, wrap your hands around a copy of Trish's tantalising dessert diary for tips and sound advice for crafting inventive, uncomplicated recipes for any occasion.
By Annabel Rainsford.
100 Desserts to Die For by Trish Deseine (Murdoch Books) $39.99 available in bookstores and online.