By Leigh O'Connor.
From volcanoes to surf beaches and the Komodo Dragon, Indonesia is a drawcard for holiday-makers from all around the globe.
While we can't travel there at the moment, we can still celebrate Indonesian Independence Day on Tuesday, August 17 by dining at our favourite local restaurant, or ordering in a meal to enjoy at home during lockdown.
Did you know Indonesia is home to the shortest males on the planet? The average height of its male residents is just 1.58m, compared to The Netherlands where the average adult male is 1.838m tall.
It is also the fourth most populous country in the world with more than 260 million people calling Indonesia home; of whom around 225 million are Muslim.
Found on only five of the 18,307 islands that make up Indonesia, the Komodo Dragon is the world's largest lizard – weighing up to 68 kg and possessing toxic bites, these truly fearsome reptiles hunt and kill far bigger animals, even humans!
Based on fresh spices and herbs, Indonesian food is one of the most delicious in the world – think nasi goreng and beef rendang just to name a couple of dishes - whatever you choose to enjoy, it's not a real meal without rice!
Here are two of our favourite restaurants to sample all things Indonesian:
Brisbane foodies find authentic Indonesian street food in the middle of a carpark at
NG Meal
on Musgrave Road in the heart of the city. You may have to wait until the weekend to sample all this eatery has to offer, but it is worth the anticipation whether dining under the covered alfresco area, or taking your tasty fare to go and enjoy wherever you choose.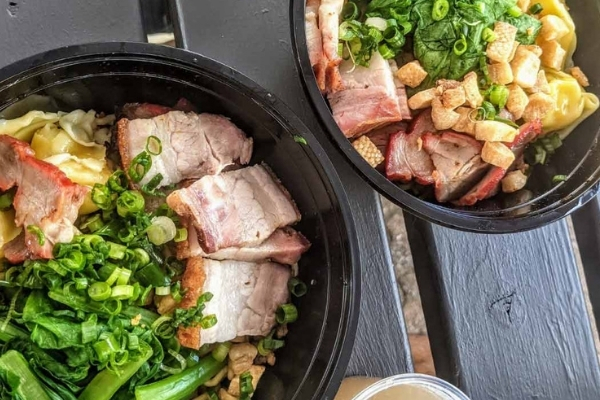 Find authentic Indonesian street food in a Brisbane carpark at NG Meal.
Kick things off with crunchy deep-fried chicken dumplings, or meatball soup with beef dumplings in chicken broth and choy sum; before mains like bihun bebek – vermicelli topped with slices of braised soy duck, served with boiled dumplings and chilli sauce. Finish with an authentic Indonesian dessert of shaved ice, syrup and condensed milk.
While Melbourne is back in lockdown, you can still appease Indonesian cravings with a takeaway order from
Yuni's Kitchen
on High Street in Northcote. Nestled in an historic building, this fun and funky restaurant is a hidden gem with Balinese statues and recycled wooden furniture setting a chilled-out vibe for dining in when the pandemic allows.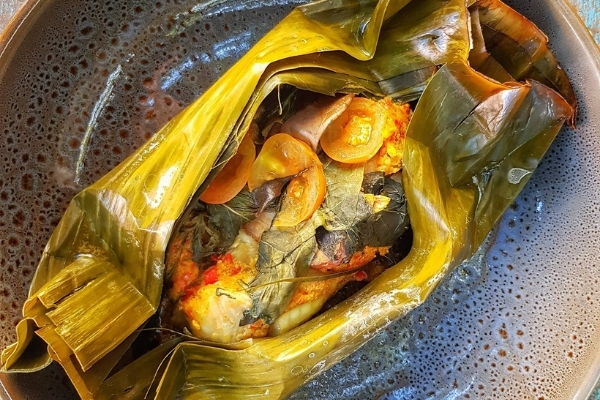 Steamed snapper in banana leaves from Yuni's Kitchen.
Start your culinary adventure with crowd favourite chicken skewers and peanut sauce, or vegetable spring rolls; moving on to steamed snapper in banana leaves, with Asian salad, or prawn laksa, with noodles, cabbage, tofu, bean sprouts and coriander. Classics like nasi goreng chicken stir-fried rice are sure to entice, while sweet-tooths salivate over fried banana and palm sugar syrup.
For more Indonesian restaurants near you, click
here
.