As backyard cricket games spring into life, sports fans bunker down in front of the gogglebox to watch the tennis, or families just chill at the beach – there's only one thing on everyone's mind! Australia Day is here again, which means temporary tattoos, flags on cars, food and fireworks.
It is also a time to reflect on what makes our country such a diverse, cultural wonderland. From our indigenous population we receive cultural wisdom from the earliest Australian residents; while from those who have chosen to make this country home, we glean glimpses of how other cultures live.
Wherever you are from, however you became an Australian…enjoy our national day of celebration! Here are five suggestions for a meal or catch up with family and friends:
In the mood for tapas or paella? Celebrate Australia Day in style at
Alegrias Spanish Tapas
on Terry Street in Rozella and delve into the likes of patatas bravas, or ham and cheese croquettes to start a memorable meal. For the main affair, seafood paella entices, or wrap your hands around a Wagyu burger with Manchego cheese, rocket, brava sauce, aioli and tomato.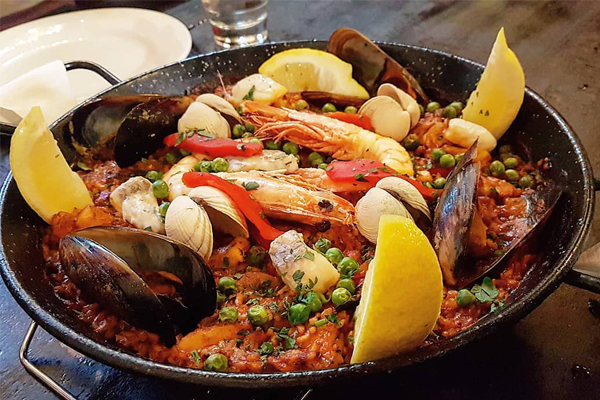 Fancy seafood paella for Australia Day? Head to Alegrias Spanish Tapas in Rozella.
Wash it down with free Sangria until mains are served along with house wine and beer specials sure to make for a good time at this lavishly elegant restaurant, where dripping crystal chandeliers, wooden ceiling beams and curved archways set the scene for indulgent semi-fine dining. While on balmy days, the alfresco area beckons as an ideal spot for drinking and grazing.
Wine, dine and indulge the senses at
Pike & Joyce Restaurant
on Mawson Road in Lenswood. Perched on top of the hill, you'll find panoramic views of the Onkaparinga Valley from a full glass frontage; where sipping an estate award-winning Chardonnay is highly recommended.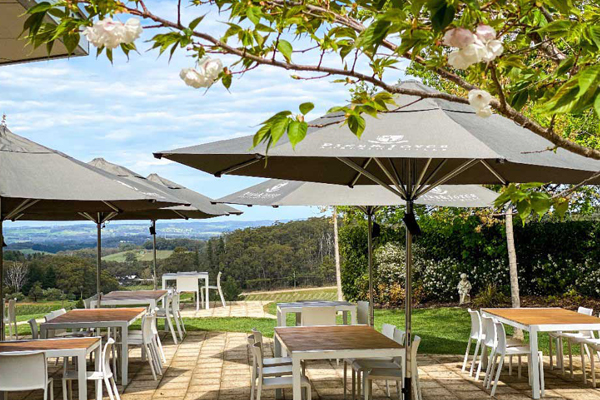 Wine, dine and indulge the senses at Pike & Joyce Restaurant in Lenswood.
Relax on the balcony on Australia Day as you look out over the 25-acre vineyard and dive into a memorable degustation menu, showcasing premium local Adelaide Hills produce; plating up temptations like Abrolhos Island scallops, morcilla and smoked peppers, along with crispy skin pork belly, pickled carrot and nam jim.
There is nothing more Australian than a BBQ, so celebrate Australia Day this year in the beer garden of the
Watervale Hotel
, on Main North Road. The Chefs will have the Fires of Hell BBQ running hot from 11am to 9pm. with specials featuring their latest farm partner Clare Valley Speckle Park Beef, grown locally by the Slape Family.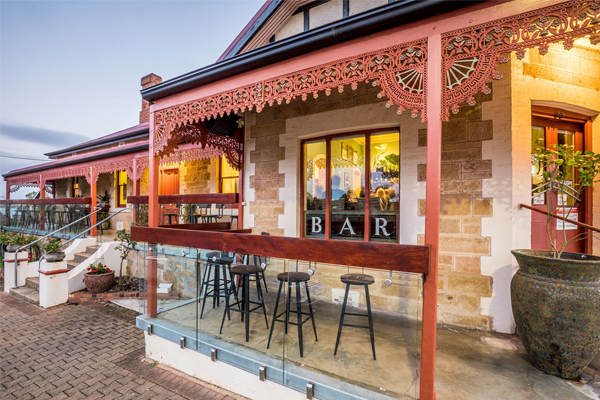 Enjoy an icy brew and Fires of Hell BBQ in the Watervale Hotel's beer garden.
Taste nature on the plate at this historic and lovingly restored old pub, which is the ideal venue to share a family occasion whether in the bar, lounge, private dining room, or a sunny spot in the beer garden; where a huge paved courtyard allows for soaking up the sun with an icy brew in hand.
A corner pub split in two with a cobblestone laneway running through the centre, it doesn't get more quintessentially Melbourne than the
Bridge Hotel
in Richmond. Nestled on Bridge Road, this hotel is the love child of dynamic design and old school hospitality, offering classic pub vibes in an architecturally charming ambience.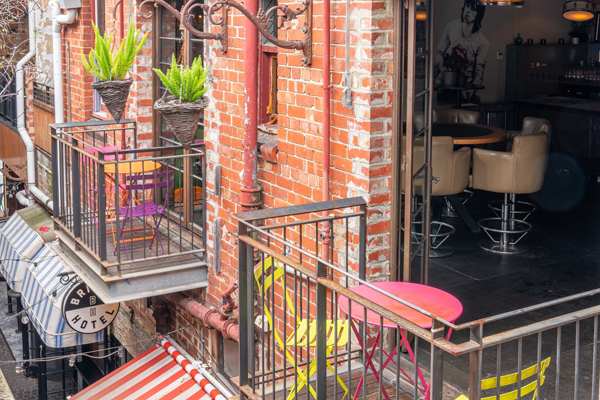 Quintessentially Melbourne…head to the Bridge Hotel for fare with flair on Aussie Day.
Drop in for an icy brew on Australia Day with mates and devour a share plate of barbequed lamb ribs and chimichurri, or crispy fried chicken with curried mayo; followed by pub classics like Merlot and cracked pepper bangers, herbed mash and onion gravy. Sweet tooths won't go past sticky date pudding, butterscotch sauce and vanilla ice cream.
Find a slice of Ireland in the heart of Joondalup at
Paddy Malone's
Irish pub on Grand Boulevard. Good food, good wine and good times await on Australia Day at this traditional hotel, whether soaking up Perth sun alfresco, or indoors where dark wood booths are ideal for sipping a cold one and the walls are covered with memorabilia.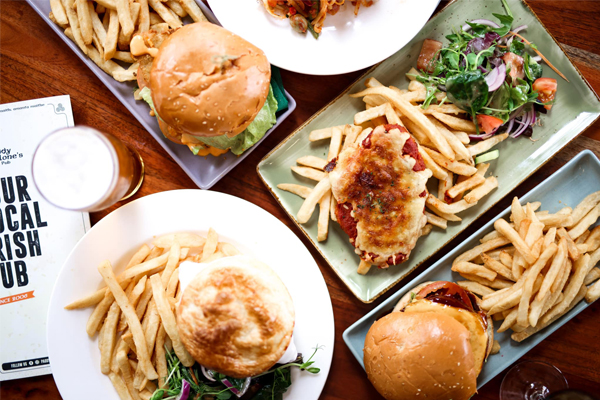 Traditional Irish pub food awaits Perth foodies at Paddy Malone's Irish pub.
Share a plate of potato skins, melted cheese, crispy bacon, spring onion and sour cream to get the celebrations started; then go for an Irish staple like beef and Guinness pie, with mushrooms, golden puff pastry, chips and salad, washed down by a pint of Kilkenny, or Irish Mule cocktail.
For more places to enjoy an Aussie Day bevvy and bite, click
here
.