By Leigh O'Connor.
Get your cheat pants ready! It's National Eat What You Want Day on Wednesday, May 11 - time to indulge yourself without guilt and forget that diet for 24 hours.
This day was created to help people break away from the frustrating health and diet trends of our times, if only for one day, just let go and enjoy life a little.
Most nutritionists agree that having a break every now and again can actually be good for us. Forcing ourselves to eat only low-calorie, tasteless food for prolonged periods is likely to cause sudden gorging on everything in sight when our determination wears off.
Whether you love burgers, doughnuts, French fries, potato chips or chocolate brownies…throw caution to the wind on Wednesday and bend to your kryptonite for this special occurrence.
Here are five of our favourites sure to make you bring out your trackie dacks:
Are you ready for the Marco Special, on the menu at
Burgled – Officer
on Brunt Road in Beaconsfield? Wrap your hands around this bad boy with double beef patty, double bacon, quadruple cheese, BBQ sauce and aioli, while enjoying an icy brew at this burger joint where a themed courtyard and café-style street dining make Burgled a well-loved local hangout.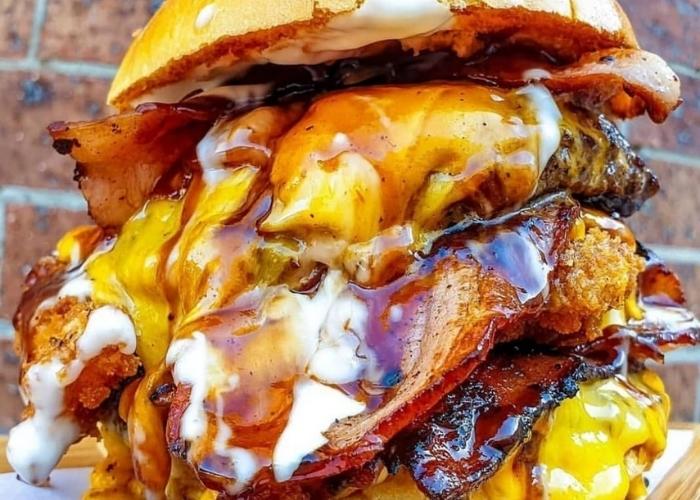 Wrap your hands around a Marco Special at Burgled – Officer.
Did you say New York-style pizza? Yes please! Head to
Nick's Pizza Co
on Beerburrum Street in Dicky Beach on Wednesday to devour your favourite slice of pie. Located in The Portobello, this pizzeria delivers casual, relaxed beachside dining under fairy lights in the covered alfresco area, or indoors where a well-stocked bar quenches thirsts in style.
Delicious heart-warming plates of pasta await those looking to eat what they want at
Pompei on Pakington
in Newtown. Join the lively buzz alfresco while sipping a glass of vino, or dine indoors where tantalising aromas waft in the air from the modern Italian menu, plating up temptations such as housemade lasagne, béchamel, Napoli, mozzarella, pecorino and salad.
Brazen Brownies & Dessert Bar
on Station Street in Fairfield serves brownies so addictive you won't be able to stop at one. Offering a cosy escape from city hustle and bustle, take a bear hug pic with Brazen's friendly Grizzly mascot on the way indoors; where a delectable range of handmade dark and white chocolate brownies await, alongside artisan gelato, fruit sorbet, sundaes, smoothies, shakes and coffee.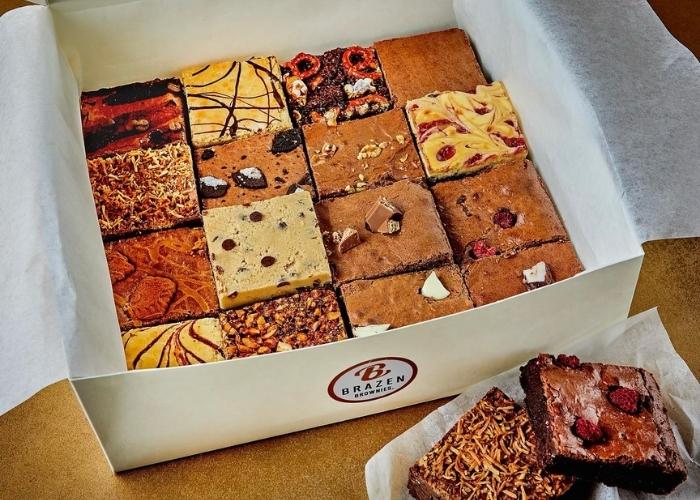 Brownies so addictive you won't be able to stop at Brazen Brownies & Dessert Bar.
Wholly inspired by the cuisine of the USA, head to
Easy Street Diner
on Gold Coast Highway in Mermaid Beach for beats, beers and burgers to celebrate on Wednesday. From Super Heroes on the walls to red-checked napkins and glowing signage, there's a funky vibe about this eatery; chow down on Motherload fries with cheese sauce, pork belly, bacon bits, burger sauce, mac and cheese and shallots.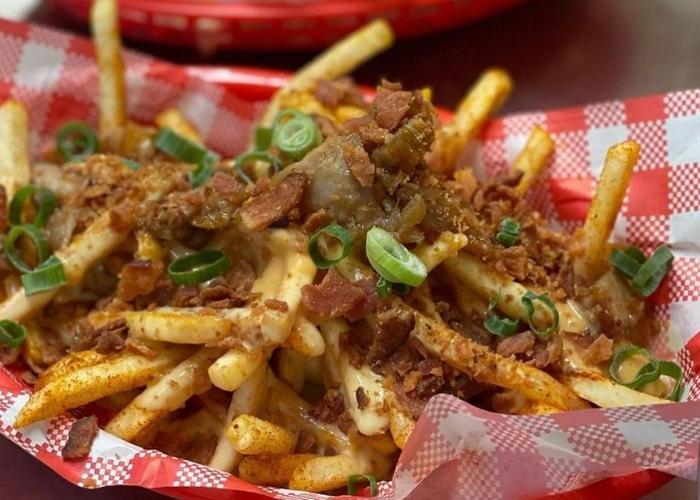 Dare you to try Motherload fries at Easy Street Diner on the Gold Coast.