Words and photography by Sean Melrose.
Burleigh Brewing Co's latest brainchild Twisted Palm, has now hit Brisbane bars. The pale ale, said to be the essence of Burleigh Beach in a bottle, was launched at Johnny Ringo's in the Brisbane CBD to a select group of appreciative foodies on the 25th of November.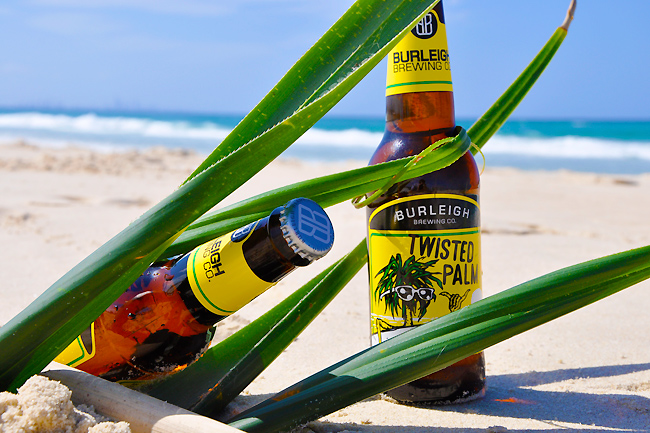 Twisted Palm meets its maker.
Surf-loving Hawaiian come Aussie brewer Brennan Fielding, announced that the Gold Coast brewery's new beer will now be available from selected establishments and bottle shops in Brisbane.
"We love everything there is to love about Burleigh Heads and joked about being able to bottle it for people to take home, so we thought, why not – and that's where Twisted Palm came from," said Fielding.
The brew is inspired by the Pandanus, a palm looking tree common along the beaches of Burleigh and throughout the Gold Coast. Hence the hop driven tropical orange, mango and papaya characteristics in the taste of this laid back brew which has just won gold at the World Beer Championships.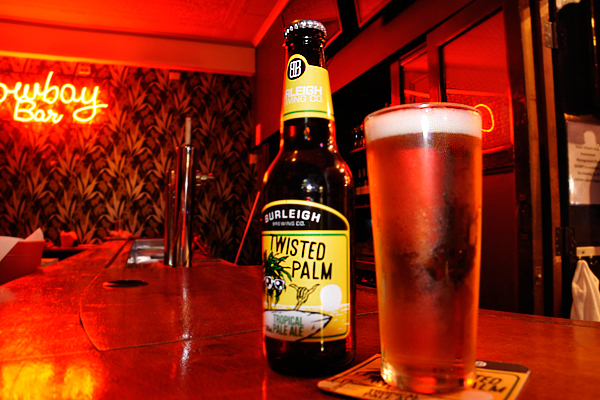 First cab off the rank, Twisted Palm launches at Johnny Ringo's.
This comes off the back of being the exclusive beer partner of the 2016 AACTA film awards, which will be held on Wednesday 7th of December. Marketing Manager Chloe Green said, "partnering with the AACTA's means a lot to the brewery and to be able to showcase our latest creation among fellow Australian craftsmen is something we're very proud of."
Attending the AACTA's with Burleigh Brewing Co will be patisserie expert Adriano Zumbo and Charli Robinson from 90.9 SeaFM.
Fielding has wanted to release a beer like this for a while, but it was the freedom their new location provided, that has allowed them to branch out with this latest in-demand pale ale. The site he refers to is their brewery and taphouse in Burleigh, where the doors are often opened to show off the brewing process, with food trucks and live music in support.
Despite the continued success and expansion of the company, Fielding says there are no plans to cross international borders, adamant that at its heart Burleigh Brewing Co is a true local Gold Coast brewery.