By Leigh O'Connor.
While the origin of the hamburger has many versions, there is no doubt it has been a go to fast food option for more than a century. These days the gourmet variety has overtaken the classic meat patty, cheese and bun, and the offerings on menus around the country have to be seen to be believed.
Most historians believe the hamburger was born in the late 1800s, when European emigrants reached America on ships from the Hamburg Line. While on board, they were served meat patties, quickly cooked on the grill and placed between two slices of bread.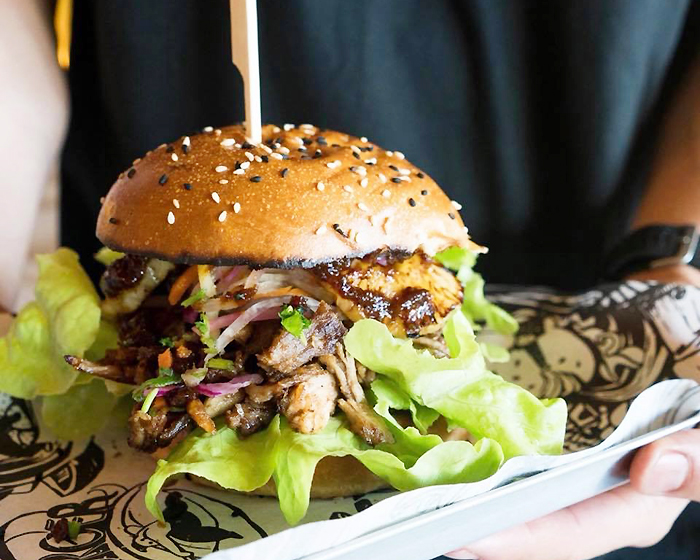 Thai Boxer: pulled pork, Thai chilli mayo, pineapple, Thai herbs and Asian slaw at Kung Fu Burger, VIC.
Oh, how times have changed! From the Golden Arches to Hungry Jack's, the humble burger took on a life of its own and has been reinvented a myriad of times to suit diets, lifestyles and food preferences. All around the country, boutique burger joints serve everything from kangaroo to crocodile, teamed of course with obligatory fries and soft drink on the side.
Australia's love affair with burgers knows no end and so does the race to come up with the most innovative name for this culinary staple. Here's some classics: The Sinatramixed pork and beef patty on brioche; The Gluttony Southern fried chicken burger (have a napkin handy) and the Oh Crab! – tempura soft shell crab with wasabi mayo on a charcoal bun at Kung Fu Burger.
Whatever you call it, the hamburger will be around for another century as appetites Down Under can't get enough of toasted buns, meat patties and special sauce. Want to find Australia's best burger spots? Read on!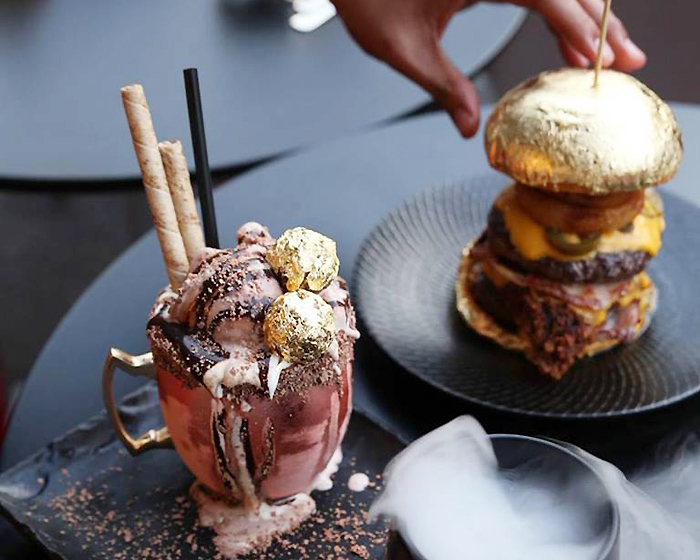 Edible 24-K gold burger and shake at Phat Stacks Burgers, VIC.
Victorian Vacation:
Oozing a trendy vibe and coupling theatrics with delicious food, Phat Stacks Burgers on Burke Road in Camberwell, is home to the 24-carat edible golden burger. A striking full-length wall mural in graffiti style, wood floors and glowing pendent lights, set the scene for plates resembling brightly coloured works of art.
Hand over cash for the Big Banker burger, on a black charcoal bun with two beef patties, double bacon and cheese, bacon jam, pickles and barbeque sauce with a side of loaded chips, or walk the plank with The Pirate, combining beer battered rockling with pickled cucumber, red capsicum, watercress and lemon tarragon mayo.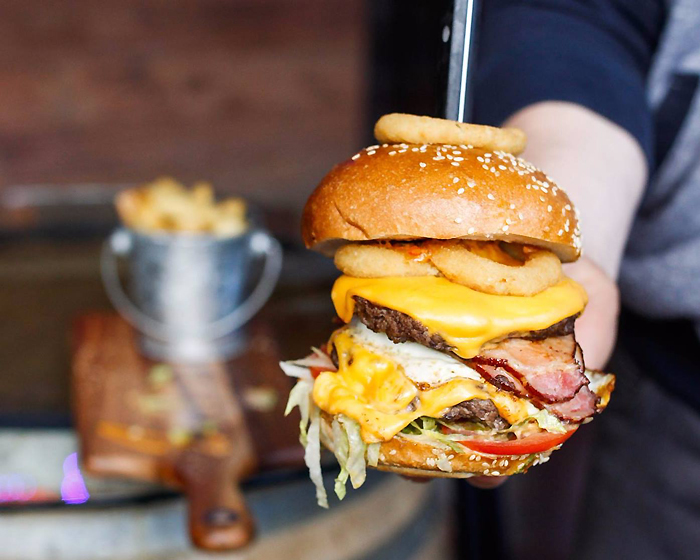 The Big Boss at JC's American Bar & Grill, VIC.
Booth seating, barrel tables and an authentic décor of neon signs and exposed bricks, await burger junkies at JC's American Bar & Grill on Mt Alexander Road in Moonee Ponds. This classic USA-style diner boasts a fun and funky vibe, where guests can fill their cowboy boots with comfort food from a menu bursting with bold flavours.
Hit the highway with a Mustang Sally burger of grass fed beef patty, bacon, cheddar, pineapple, jalapenos, pickles, lettuce, American mustard and ketchup, or a Carolina in my Mind pulled pork creation with housemade barbeque sauce and slaw. Vegetarians aren't forgotten with the Vegas Vegan patty, topped with beetroot, red onion, pickles, lettuce, tomato relish and mustard.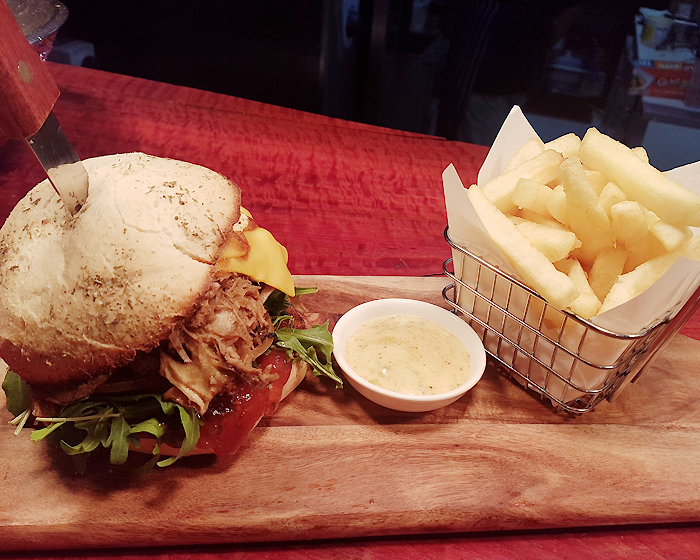 Jackaroo Burger, with crispy chips and a lemon myrtle aioli dip at Jetjas Café, VIC.
Drawing its name from the Aboriginal word meaning Aunty, Jetjas Café on Fryers Street in Shepparton is a locally loved eatery with a big heart. An interior of earthy tones, complemented by exposed brick feature walls, Red Gum timber tables and indigenous art work, create a vibrant space for family and friends to peruse a menu influenced by Australian bush tucker.
Tuck into a Jetjas' roo burger, topped with caramelised onion, melted cheese, baby spinach and bush relish, currently on a charcoal brioche bun, or perhaps a juicy pulled pork and crunchy coleslaw burger with a side of fries and lemon myrtle aioli. Wash away thirst with a wattle seed espresso martini, or river mint lime and rum mojito.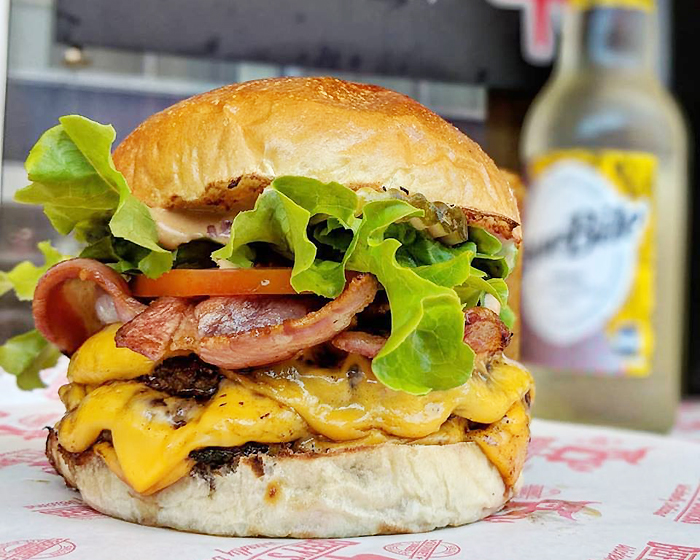 The Beefmeister at Beefy's Burgers, NSW.
Neighbourhood NSW:
Serving wickedly delicious fare with humour, hole-in-the-wall burger haven Beefy's Burgers on High Street in Penrith, tickles the tastebuds with creative choices. A monochromatic interior, with splashes of red adding a warm vibe to black stools and wooden bench tables, greets diners as they grab a seat and ponder meaty offerings such The Beefmeister, with double gourmet sirloin patty, bacon, triple cheese, fresh lettuce, tomatoes, onion, pickles and signature sauce.
Break out some moves with a Chook Norris chicken fillet burger, with peri peri sauce and mayo, teamed with sweet potato fries, onion rings and a vanilla malt milkshake. There's even a pint-sized menu for mini burger fans, serving Beefy Jnr Baz and nuggets, chips and sauce.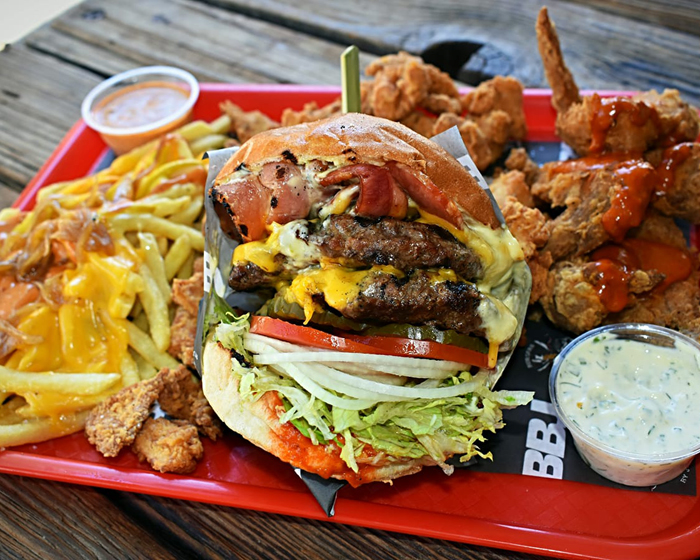 The Burgers are always HUGE at Burgers by Josh, NSW.
With three venues around Sydney, Burgers by Josh started as a humble pop-up stall located in the CBD. Now drawing loyal crowds to a permanent home inside the Annandale Hotel on Parramatta Road, guests can kick back in a cosy corner or bar table, for an after-work drink before giving into a stream of mouth-watering aromas wafting from the kitchen.
Take the sting out of hunger pangs with The Scorpio Nashville-style hot fried chicken burger with house chilli oil, sweet celery slaw, New York crinkle cut pickles and Old Bay mayo on a potato bun; or chow down on an Infamous Primo signature Wagyu beef, double American cheese, onion rings, jalapenos, bacon and lettuce. Burger maniacs can also find Josh at Rouse Hill and at BBJ Express in North Sydney.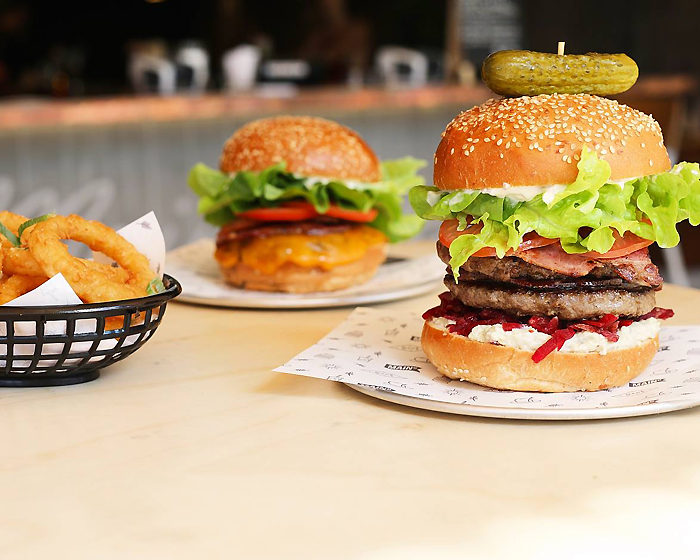 Find the classics at Main Street Burger Bar, QLD.
Queue Up in Queensland:
Broadbeach locals head to Main Street Burger Bar on Victoria Avenue, when grumbling stomachs need attention. A modern, bright interior, beckons passersby, styled with crisp white tiles, potted greenery and casual bar tables under exposed Edison lighting, setting a chilled-out Gold Coast vibe ideal for enjoying an ice-cold beer and burger.
Kick start a taste journey with mac n cheese croquettes and smoky tomato relish, before wrapping your hands around an organic soft bun, sandwiched with 100 % grass fed beef patty, double smoked bacon, caramelised onion, cheese, garlic mayo, barbeque sauce, lettuce and tomato. For a sweet finish, try the Main Street Sundae, with caramel and chocolate sauce, brownies, pretzels, roasted peanuts and cream.
Rocking a retro fit out, Edison's Burger Bar on Clermont Street in Emerald is where locals head for inventive fare. This trendy, upmarket establishment channels its namesake through recycled timber, copper light fittings, swivel stools and an original wall mounted telephone taking pride of place, as diners peruse a menu full of burger options.
Say I'll be back with a Baconator– beef patty, double bacon, cheese, mustard and relish – with a side of onion rings and sweet potato wedges, or rip into a Chilli Con Arni, combining beef, jalapeno, cheese, tomato, sour cream and crushed corn chips. There's even a dessert burger with choc brownie glazed doughnut bun, dark ganache, white chocolate chunks and ice cream.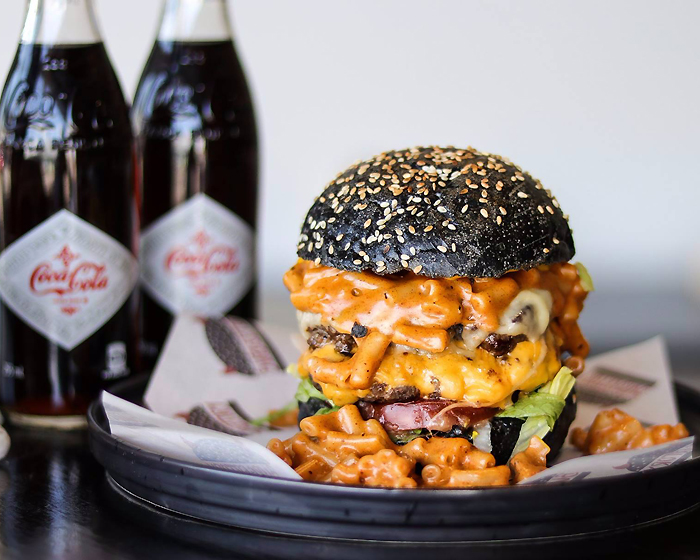 Holy Mac and Cheesus at Burgertory, VIC.
Feel like you're in Burgertory (we're not being punny, this is an actual place in Melbourne), and not sure where to get your next fix? Click here for more burgerlicious options near you.