By Leigh O'Connor.
Hamburger joints come and go – that's the nature of the beast – so imagine serving loyal customers from the same Sydney premises for more than 60 years?
It all started back in 1957, when Paul and Katina Zerefos purchased a block of land at 12 Princes Highway in Sylvania. Paul's Famous Hamburgers was born and now in 2018, there are still long queues of faithful fans waiting to wrap their hands around burgers that have barely changed since the beginning.
The hang out of rugby league teams, locals and families, Paul's was awarded Australian Small Champion Winner for fast food/takeaway stores in 2016. Now owned by Nick and Sandra Sinesiou, it is still an enduring favourite among Sydneysiders, making this 'hole-in-the-wall' establishment a legend of the country's burger scene.
Paul's burger with the works. Photo: Instagram @delia.deng.
When Paul first purchased the premises, it was operated as a fruit store but he had big plans to build a mini-market, as this was long before there were any shopping centres in the area. Wife Katina organised builders to put in a dividing wall, separating the work area of the market in two.
Her plans on completion of the renovations, was to have a mini-market and milk bar on one side of the wall and burger shop on the other. She then set about designing her signature hamburger – a seedless bun, lightly floured on top, filled with plenty of fresh lettuce and tomato, a meat patty, onions and tomato sauce.
Signature extras included egg, bacon, cheese and pineapple – but definitely no beetroot, as Katina believed it would stain her white kitchen benches!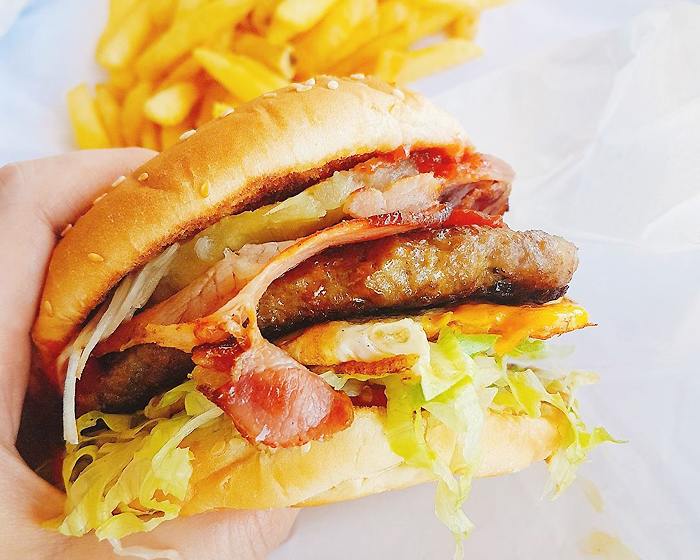 Paul's hamburger with bacon, egg and pineapple. Photo: Instagram @__raonlee.
People started to come from all over Sydney to try the fast food and the market was quickly renamed Paul's Famous Hamburgers. Paul never actually made a hamburger himself, but he saw the menu expand to include old-fashioned milkshakes, hot chips and his favourite - freshly squeezed pineapple crush.
As well as an original product, the burger joint's trading hours have always been unique. Paul's was closed on Monday, Tuesday and Wednesday, open for lunch and dinner on Thursday and Friday and lunch only on the weekend.
These days, the trading hours haven't changed much, it is still closed on Monday and Tuesday, but open for lunch and dinner the rest of the week.
After 41 years of family running the business, in 1988 Nick and Sandra took over and with more than 30 years' experience in the food industry, the legend of Paul's continued without a speed bump. Due to closing the door on queues of customers at the weekends, Nick extended opening hours and with the addition of outdoor tables and chairs, customers could now dine alfresco.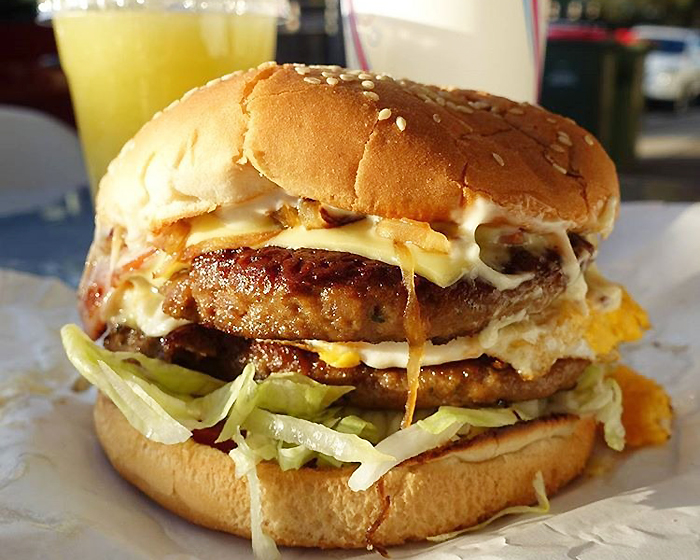 Old school classic. Photo: Instagram @snap.eat.share.
However, many still choose a short walk to eat and relax under Tom Ugly's Bridge, with a view over George's River.
The works burgeris a consistent crowd favourite, along with Paul's special with fresh lettuce, tomato, raw onion, bacon and egg, topped with tomato sauce on a seeded bun. Be sure to also try the lightly marinated, grilled chicken breast burger with special mayo, mustard and garlic sauce, washed down on a warm day by a pineapple crush or caramel milk shake.
Whatever takes your fancy, take a spot in the queue, place an order and pick up your burger in its paper wrapping and tuck in, let's hope Paul's is around for another 60 years!