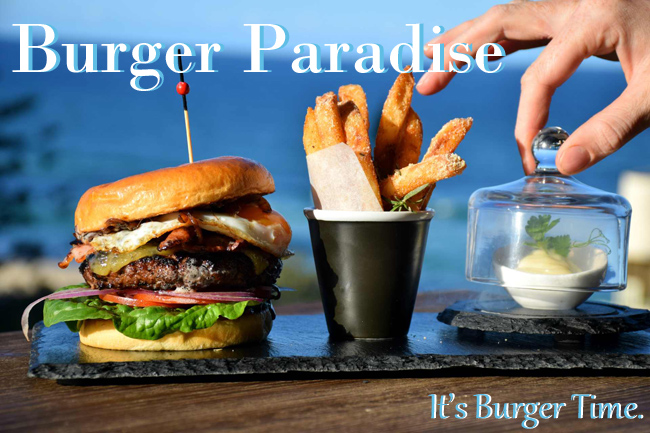 Hot Shott Kitchen's Serious Burger.
From Neil Perry's The Bacon Project burger at the Burger Project, Daniel Wilson's The Denise burger at Huxtaburger to Warren Turnbull's Chur Beast burger at Chur Burger, Australian's are in burger paradise with their fill of seriously amazing burgers done by some of Australia's best Chefs.
While burgers have been on an increasing trend for quite some time, they had an exponential push when Neil Perry came onto the scene.
"I saw consumers were willing to pay around $10 for a hamburger … [which] gave me confidence to think that we could use the quality of products we are used to [using] in the Restaurant Group, while not stepping away from sustainable and quality ingredients at that price point, so that's what got us involved in the Burger Project," said Perry.
With the use of quality ingredients and fine dining panache, the humble burger has become more than just a second thought in the industry.
"I've been really happy with the way we've seen people fall in love with [our] product and understand that the burger is really quite different - it has a handmade nature to it… it's whole muscle meat cut on the premises, ground on the premises and hand formed into a patty on the premises and that's where people are tasting the difference," said Perry.
Ensuing from Neil, Daniel and Warren's lead, there are a number of other Chefs making burgers their business across the country. We've put together a list of a few hotspots and highlights for you and if none are in your area, just head over to ourburger sectionfor more recommendations.
Hot Shott Kitchen | Main Beach QLD
Joining a lively community vibe in Main Beach, Hot Shott Kitchen is a popular pick among trendy and laidback locals for fun café fare nearby iconic Gold Coast surf and sand. Be sure to nab their Serious Burger with Black Angus beef patty, bacon, egg, lettuce, tomato, aged cheddar and onion jam on brioche with a side of truffle, Parmesan and rosemary duck fat fries with smoked aioli.
The Hungry Monkey | Kiama NSW
A trip down the South East coast is worth the scenic drive if only to try out The Hungry Monkey in Kiama, not far from the iconic blowhole and lighthouse. Diners return to taste their way through a menu featuring a range of gourmet burgers, all packed with fresh produce and loved by locals who opt for combinations like the Mr. Lambert with lamb patty, avocado, marinated labne, baby spinach and caramelised onion on either brioche, wholegrain or white sesame rolls.
"Aerosmith's latest ballad will be written about this burger." ~ Mick Adams Burger Bar.
Mick Adams Burger Bar | Oakleigh VIC
A trendy place to quash ravenous appetites, Mick Adams Burger Bar joins Oakleigh's bustling Eaton Mall precinct on the corner of Portman Street. The menu pays homage to those who have shaped modern understandings of what it means to be 'simply Australian,' so wrap your hands around the signature Anthony The Greek burger, named after the owner's brother, filled with pulled lamb, iceberg lettuce, red onion, pickled cucumber, olive pesto, feta and mint yoghurt.
Cosi Nero | Sydney NSW
For over a decade, locals of Botany have flocked to Cosi Nero for sumptuous modern cuisine and a friendly atmosphere on Botany Road. Partake in wolfing down a tasty gourmet burger like the Big Bang Beef with lettuce, tomato, onion, grilled capsicum, cheddar and chilli harissa mayonnaise.
Mervyn Roy's Aunty Merle's beef burger.
Mervyn Roy's | Gold Coast QLD
Take a break from the sun and surf to grab a bite to eat at Mervyn Roy's café, a cosy neighbourhood haunt sitting just across the road from Coolangatta Airport. Devour Aunty Merle's beef burger with housemade patty, melted cheese, caramelised onion, beetroot, egg, sliced tomato, greens and chilli jam on a seeded charcoal brioche bun.
Burgers By Josh | Annandale NSW
With humble beginnings as a pop-up stall around Sydney CBD, Burgers by Josh now draws loyal crowds to a permanent home inside the Annandale Hotel on Parramatta Road. Chow down on a hunger buster like a Lisa Simpson Pt 2 burger, an evolvement of the popular original, now stuffed with slow roasted field mushroom, American cheese, house 'J' sauce, Westmont Picklery pickles, beer battered onion rings and iceberg lettuce.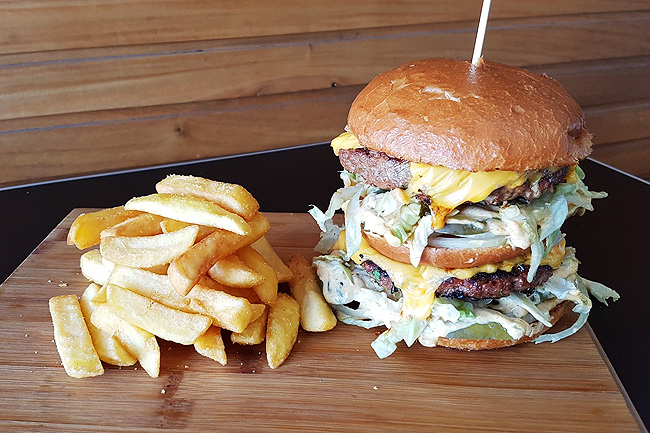 Hungry Boys' Big Mick - Double Everything.
Hungry Boys | Melrose Park NSW
Frequented by ravenous locals craving a hearty burger or tasty pita wrap, find Hungry Boys eatery tucked into Melrose Park along Hope Street. If visiting early in the day, fill up on the likes of a breakfast burger with Spanish chorizo, egg, haloumi, onion, tomato, baby spinach, aioli and pesto.
Two-Bit Villains | Adelaide SA.
Tucked down Adelaide Arcade in the iconic Rundle Mall shopping precinct sits Two-Bit Villains, a botanical soda bar and restaurant with a trendy vintage vibe. Delve into popular vegetarian dishes like the Villains' classic veggie burger with housemade chickpea and lentil patty, lettuce, tomato, cheese, smashed avocado and house tomato relish.
Cody's Café | Wyndham Vale VIC
Wyndham Vale locals do not need to travel far from home for a well-priced hearty meal when Cody's Café is just around the corner. Cody's range of mouth-watering burgers filled with flavour combinations such as slow cooked brisket and American cheddar are said to hit the spot.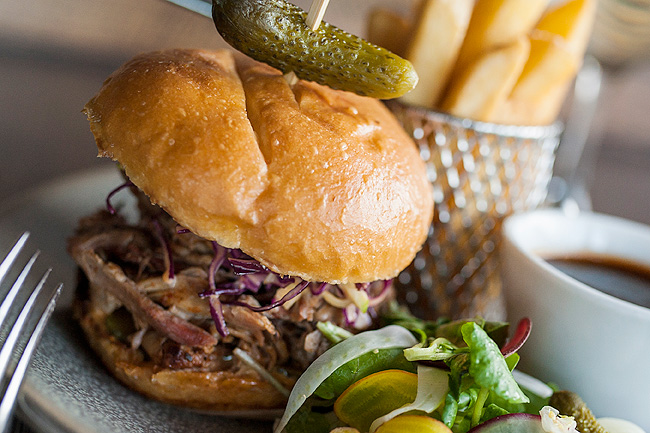 Chophouse Grill's Pulled Pork Burger.
Chophouse Grill | New Lambton NSW
Situated within West Leagues Club, the newly refurbished Chophouse Grill is a popular addition to the New Lambton dining scene. As the name suggests, meat is the specialty at Chophouse Grill so dive into the Chophouse beef burger – two char-grilled beef patties with bourbon caramelised onions, smoked cheddar cheese, grilled chorizo sausage, Cajun aioli and BBQ sauce in a warm milk bun.
Chef's Kitchen and Café | St Leonards NSW
Nestled in among the hustle and bustle of St Leonards, find Chef's Kitchen & Café just a quick walk away from the train station serving mouth-watering burgers on the Pacific Highway. Experience a taste explosion in a burger like Betty's Buffalo of southern fried chicken with bacon, house-made coleslaw, blue cheese mayonnaise and house BBQ sauce.