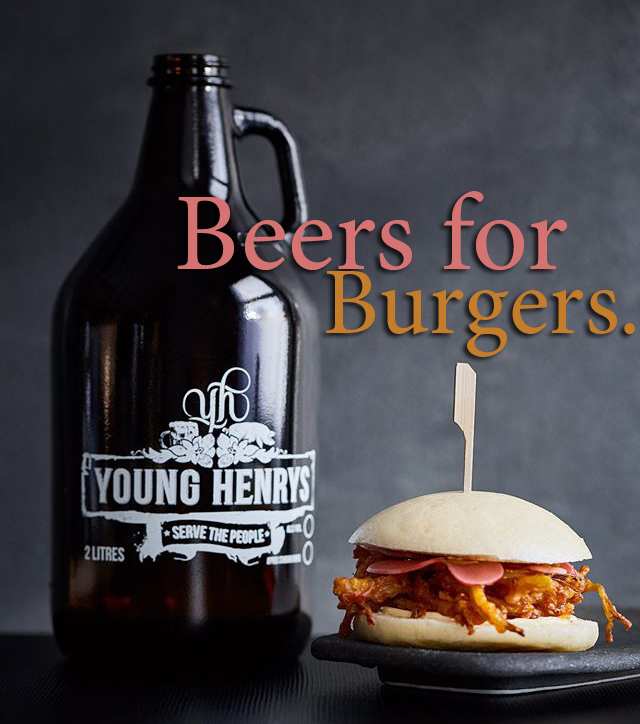 Young Henrys Growler paired with The Astor's burger for Monday's natural brews, blues & bao night.
As burgers become increasingly elaborate with crazy flavours from around the world, some with unexpected combinations and those that simply throw portion sizes out of the window altogether, it can be hard to know what beverage is best to wash them down with. Surely a burger of epic proportions and tastes need something with a little more kick than a humble can of fizzy drink! Bottled juice probably won't cut it either, considering there are those who eat out to enjoy a little panache and pizzazz in life. We have the solution – get stuck into your craft beers and find a trendy pick to match your ultimate burger. To learn a little more about some of our favourite craft beers and the changing dynamic of the beverage world, read the words straight from the brewers' mouths.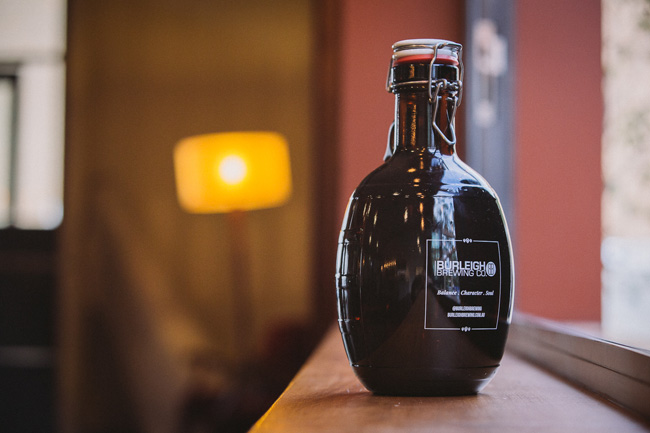 Based in Burleigh Heads, Gold Coast, the team behind this brewer have a pretty good idea of the fast-paced palate. With tourists coming and going on the Gold Coast, and with locals constantly in the know for the best cafes and restaurants on the glitter strip, Burleigh Brewing Co ensures a drop to suit any occasion.
"The Australian beer drinking palate is changing, as we have seen in many countries across the globe – with more excellent options to choose from, consumers are becoming braver in adventuring out of the mainstream and trying new styles and flavours." ~ Chloe Green, Burleigh Brewing Co Marketing Manager.
The brewery does well to cater to such a wide array of preferences, while keeping standards high.
"Here at Burleigh Brewing we have a broad range of craft beers in our core range, as well as a few limited edition releases, to ensure we have a beer (or two) that will appeal to every palate!" ~ Chloe Green.
The company is proud to share that their beers have consistently received Gold Medals at the World Beer Championships, followed by many silvers and a plenitude of national awards. While the brewery offers a taphouse of 12 fresh, cold craft beers poured straight from the source, Burleigh Brewing Co beers can be purchased to take home and enjoy with your burger creations as well as found in many cafes and restaurants around the country for your dining out adventures.
This Newtown brewery is right on the money with suave Sydneysider's asking for it by name. Young Henrys has experienced success by evolving with the food trends around Sydney city and Australia, and creates craft beer to follow suit, including decadent burgers.
"The focus on great tasting, fresh ingredients, has changed how people think beer should taste. The variety and choice available means there's now a beer for everyone." ~ Andy Miller, Young Henrys Marketing Manager.
It's commentary like this that puts burger lovers at ease. With breweries willing to be flexible with their craft by observing the changes and acting on it, there is bound to be a beer for even the wackiest of creations.
"We focus on brewing a core range of beer styles that are balanced and accessible. Then we occasionally experiment with something weird as a limited release to challenge ourselves and some of the more adventurous folk in our community." ~Andy Miller.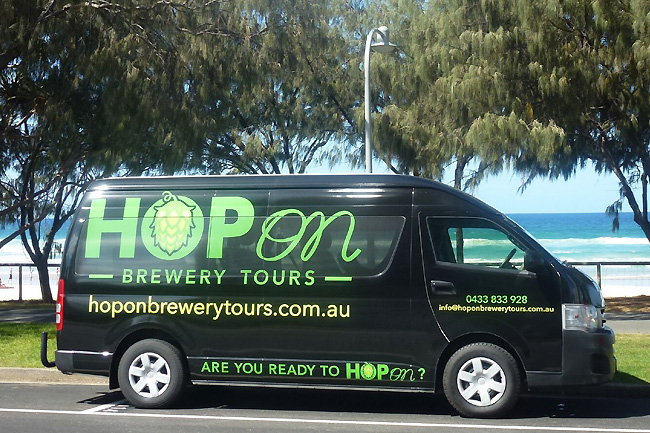 If you're tossing up between tasty craft beers to match your next round of sliders, take a day to discover a few more brews that might just swing your vote. Jump on board a Hop on Brewery Tour in South East Queensland and enjoy time spent in cheery company as the designated tour guide introduces you to new flavours produced in the region.
"Australians are following a larger, international trend towards craft beer, but within Australia each region and brewery is bringing something unique to the table." ~Joslyn Erickson, Hop on Brewery Tours Co-Owner.
The perfect beer and burger pairing is out there, it's just a matter of discovering it. For those who need a little more help deciding, find tips and guidance from the tour leaders.
"With such a range of flavours that can be extracted in the different styles of beer, food pairings are becoming ever popular… with the general public realising there are more options and variety." ~Joslyn Erickson.
For more ideas on what beverages to pair your burgers with, head over to ourbarsection and find boutique brewers here.