Salads are the time-poor cook's secret weapon – just tumble a few good ingredients onto a big sharing platter or bowl and you've got a hearty, Summer meal.
Making a salad is stress-free and relaxed with endless possibilities for customisation – whatever takes your fancy can end up in a salad bowl from quinoa to Wagyu, prawns to honey chilli chicken and all green leaves in between.
There are a couple of main steps to taking the guesswork out of what to put on your salad plate:
Pick your leading vegetables – choose a hearty filling base, throw in some interesting contrast, add crunch and texture and bring it all together with an amazing dressing.
Add some nuts – by adding a handful of toasted nuts, a quick pickle, some chewy grain, torn herbs or a crumble of feta, a simple salad becomes a great lunch or dinner.
Here are five Summer salad recipes sure to bowl the family over: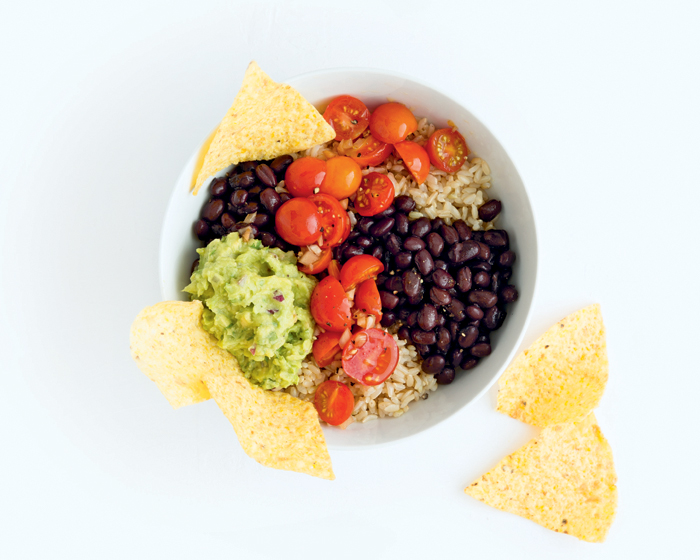 A can of black beans is one of those foods that can be found lurking at the back of the pantry – get ready to up your protein game with these little morsels, which can be added to soups, salad bowls, dips and bakes.
These legumes are three times cheaper than chicken, beef or fish and loaded with fibre, folate, potassium, and protein. They can fill you up without draining your wallet and are now trendier than ever.
This recipe for a black bean and guacamole grain bowl combines the beans with cooked brown rice, ready-made guac, cherry tomato topping and a handful of corn chips for garnish. Ideal as a side to a Mexican feast or a tasty lunch, this bowl is packed full of protein, taste, texture and colour that is sure to tempt, served with a chilled glass of Chardonnay.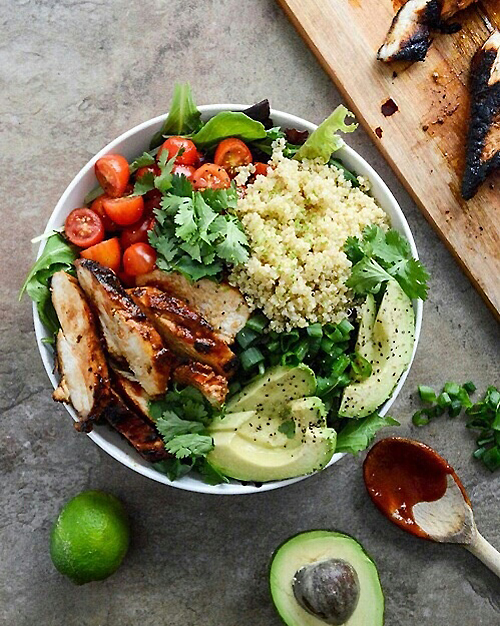 Gluten-free and high in protein, quinoa is an ideal starting point for any Summer salad bowl – such as this dish of honey chilli chicken with lime quinoa. Marinate the chicken thigh fillets in a ziplock bag with olive oil, chilli, honey, mustard, coriander and garlic for at least two hours, before grilling in a non-stick pan over a medium heat.
The sliced chicken tops a base of lime quinoa, leafy greens, cherry tomatoes, green onions and avocado, dressed in lime, oil and honey, making a hearty meal that will satisfy any appetite.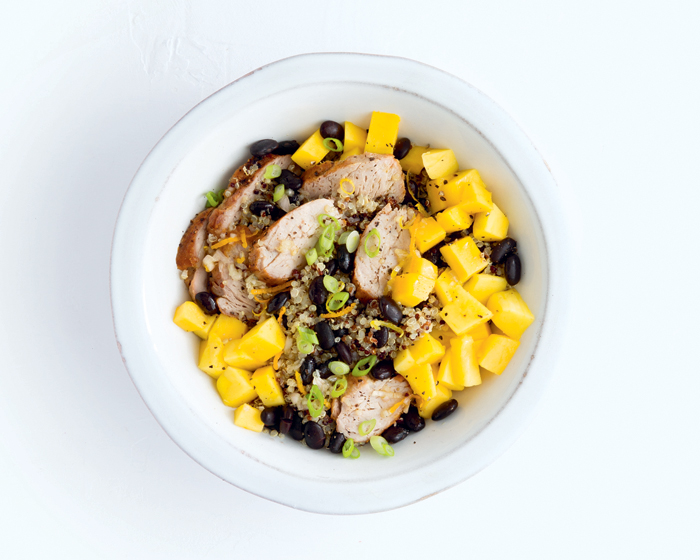 Nothing says Summer salad more than juicy slices of mango… especially when mixed with pork and a tangy citrus dressing. This Cuban pork and mango grain bowl is an ideal way to use up leftover festive pork, alongside quinoa, black beans and cubed mango, which adds sweetness and texture to the salad.
The citrus dressing can be stored in a jar or plastic container in the refrigerator for a few days, to be used on other salad creations.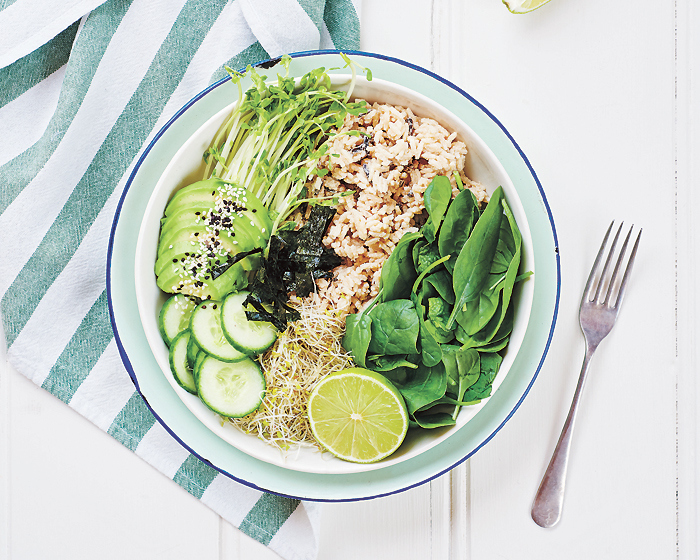 The rice in this garlicky wild rice greenie bowl provides flavour, texture and substance to ideally accompany loads of alkalising greens. Have fun choosing your favourite salad greens to add to this nourishing bowl of goodness – think spinach, cucumber, alfalfa and pea shoots for example - and enjoy them with a squeeze of lime and a creamy avocado.
This recipe also works well with quinoa or brown rice, while the addition of coconut aminos brings a rich, salty and slightly sweet flavour to the dish.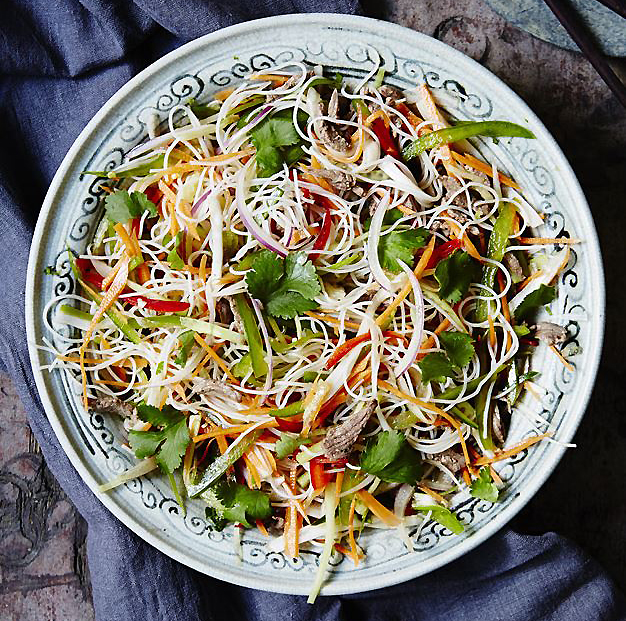 Vermicelli noodles form the base of this cold Chinese Summer salad bowl, while sliced grilled beef rump steak adds the protein. Make sure your salad vegetables are thinly sliced or julienned, so they are easy to eat – try green and red capsicum, carrot, cucumber, red onion, celery and coriander as a starting point.
The dressing can be made as spicy as you like, just adjust the amount of red chilli you use; it won't seem like a lot of dressing, but as the salad sits the vegetables release juices to add to it. Let this salad sit for at least 15-20 minutes in the fridge before serving… it just gets better with time!