Sushi enthusiasts rejoice! Tokyo Cult Recipes has arrived, a cookbook cultivation of Maori Murota's self-taught skills, enthusiasm and first-hand experiences including those as a sushi master and much more. Born and bred in Tokyo, well travelled and claiming years behind her as a chef in revered Parisian restaurants, Maori is more than just adept in the gastronomic delights of Japanese cuisine. Take a big bite out of her hard-to-miss fluorescent orange cookbook, the third in the Cult Recipes series following the previous cities of New York and Venice, and experience it for yourself.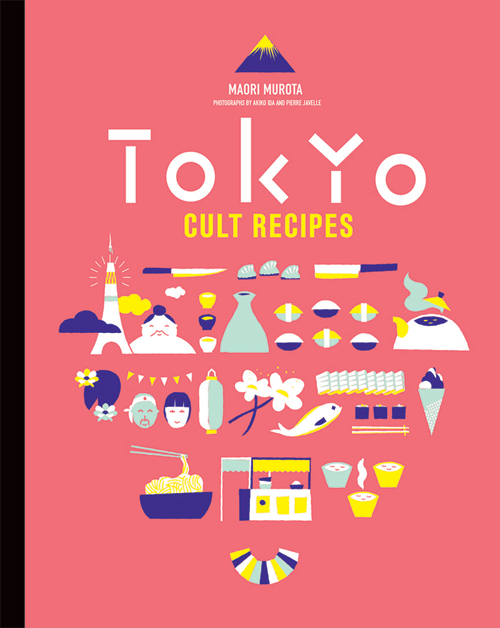 Before embarking on a journey through Maori's favourite Tokyo neighbourhoods and the secret taste sensations they hold, start by accumulating knowledge of the basics and some handling advice. Take a look inside the first few pages as Maori gently encourages with words of how simple creating Japanese cuisine can be – you just have to know a few techniques and to look for the best quality ingredients. Flip through pointers that teach of portion sizes and preparation, types of miso and how to make your own dashi, the essential base stock to Japanese cuisine. Enticing one to give it a try are the rustic styled images on pages that have exchanged a glossy finish for a paper texture that feels more real to the touch. Peek into a world of crowded Japanese streets, where shop keepers spend time stacking cubes of tofu, street vendors sell freshly fried snacks, delicate strands of noodles wrap around chopsticks and earthy tones in this collection of mouth-watering surprises present an underlying sense of familiarity around even the most exotic of tastes.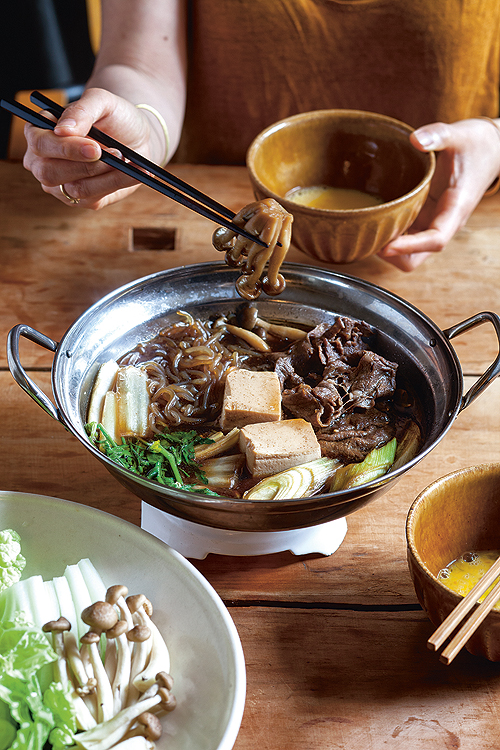 Sukiyaki - Beef Hot Pot.
Though becoming a sushi master may not be within everyone's reach or skills repertoire, that won't stop you from packing up a bento box for lunch, perhaps into a round bamboo basket, filled with sticky white rice, deep-fried marinated mackerel, turnip and yellow beetroot salad. Fancy it up a little with some sliced lotus root and finish it with a quick drizzle of soy sauce or a dollop of Kewpie if that's what you enjoy. Raised by parents who shared their enthusiasm for delicious meals, taking her on adventures to classy establishments and visiting quick-snack street vendors, Maori's lunchtime bento boxes were always the envy of her school friends. Sharpen your best knives, polish your chopsticks and have a go at re-creating her childhood favourite bites for yourself. Mealtime dishes around the table may have the whole family slurping up bowls of steaming udon noodles with tender meats like in the Niku Udon – Udon with Sweet and Savoury Beef. For the cold, winter months, set out a beef hotpot like Sukiyaki with edible chrysanthemum and thin, white vermicelli for everyone to gather around and scoop up their favourite ingredients with a tasty broth. If summertime weather has you craving something a little less soul-warming, delve into Yakisoba – Japanese fried noodles with slices of pork belly and a sprinkling of green seaweed powder for the finishing touch.
Sweet-toothed home cooks can indulge in the delicate layering of Japanese strawberry shortcake, the dough based mochi balls and treats like agar-agar in fruit salad. Treat yourself to ice-cream; though don't expect flavours of vanilla or chocolate or even a sweet-on-sweet flavour like cookies and cream that we seem to be so accustomed to. Have a go at mixing and freezing your own ice-cream, eating slowly and appreciating the subtlety of a refined black sesame taste, the curious green colour of matcha and the red-brown of the unassuming Adzuki bean ice-cream. With 100 recipes to try in Maori Murota's Tokyo Cult Recipes, it's time to devour the dishes of Japan's gastronomic mega city.
By Julie Johnson.
Recipes and images from Tokyo Cult Recipes by Maori Murota (Murdoch Books), available in bookstores and online here.