Sunday 18 March, 2012 – 10am to 4pm
Olive Growing Regional Showcase
With earthy red wines, fresh sourdough bread, and olive tasting, there's no better way to spend a lazy Sunday than at the historic Bendigo Pottery alive with great eats and exciting entertainment. In its fifth year, Bendigo Olive Fiesta is popular with locals and is drawing in people from all parts of Victoria with their marketing campaign.
Discover Bendigo Olive Fiesta as a Victorian event with Mediterranean vibes on Sunday, 18 March starting at 10am at the Bendigo Pottery, located at 146 Midland Highway in Epsom.
Consult our Bendigo Restaurants & Accommodation Guide to make a weekend out of it.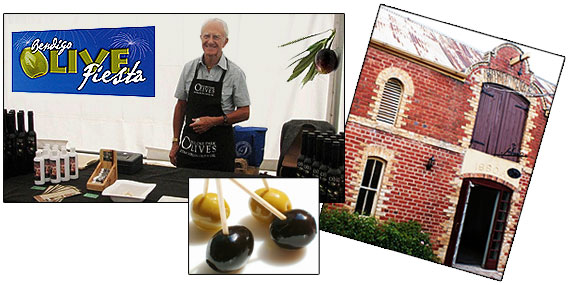 Celebration of the Olive
Did you know olive oil is not technically an oil at all? It's actually a juice because the olive fruit is pressed to release its moisture, like that of an orange. Do you know why "extra-virgin" olive oil is the highest quality and fruitiest extract? Because it's from the first press. Discover more about Bendigo olives, and find products to purchase so you that you can taste these Australian Mediterranean products time and time again in the comforts of your own home.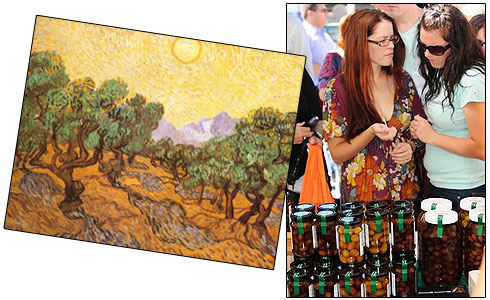 Bendigo's Version of the Mediterranean's "Great Therapeutic"
Hippocrates, the father of Western medicine, called olive oil "the great therapeutic" for good reason. Olive polyphenols are natural anti-oxidants preventing heart disease, lowering cholesterol and reducing the overall effects of aging; it also protects and revitalizes skin when applied topically. Not only are olives and olive products healthy, they're absolutely delicious and fragrant. An estimated 2,000 people, young and old, will be in Bendigo browsing amongst the pottery whilst sampling table olives, olive tapenade, dried olives and olive oil products, curious about olives and enjoying the community get-together.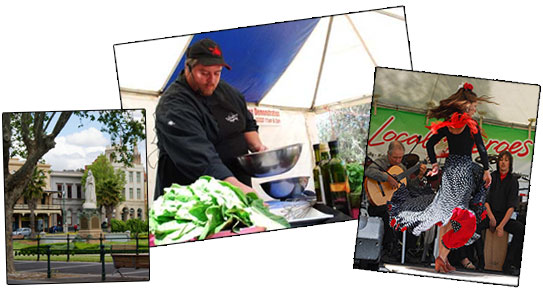 The olive tree is native to the Mediterranean, where olive oil has been an important part of life for thousands of years. Bendigo Olive Fiesta is a celebration of Victoria's emerging olive industry and Bendigo's perfect climate comparable to that of the Greek isles – a warm region with dry summers and cool winters. Drawing this cultural parallel, expect Mediterranean music amongst the festivities. Other entertainment will include a jazz band, food stalls, a celebrity cook off, bocce competition, plus a bouncing castle and face painting for the kids.
While in Bendigo visit the Central Deborah Goldmine and ride one of Bendigo's tourist trams. Also, gain some culture with a visit the Chinese Museum and Bendigo Art Gallery, not to mention the great wineries and landmark Sacred Heart Cathedral.