By Leigh O'Connor.
From a background of fine dining, Newcastle Chef Roy McVeigh has been seduced by the primal art of cooking with hot coals and Brazilian flavours.
Now heading the kitchen at Meet on Darby Street, Roy has spent time on the pans around the globe, including stints at top Australian restaurants Attica and Quay. Recently relocated to a vast warehouse, Meet is a New York-style bar and restaurant that rocks an industrial-meets-cool fit out, that belongs on every interior lover's Pinterest board.
"I was attracted to Brazilian cooking because it's new and something I haven't done before," he says. "The idea of working with something a little primal like hot coals really intrigues me. It's a nice mix of different cooking methods, marinades, spices and herbs."
Expect an authentic Brazilian experience with a bit of North American smoking and modern cuisine mix when dining at Meet, first settle into the moodily lit bar for a bespoke cocktail before watching your food being prepared from an open kitchen.
"The food here is more one of a kind, crafted especially for this venue and a bit different than your standard all-you-can-eat restaurants," Roy says.
Meet runs two menu options – a la carte and all-you-can-eat churrasco BBQ – where a range of meat, poultry and sausages are spit roasted over natural wood and coals, before being delivered to your table.
"Brazil is such a melting pot of African, native Indian, Portuguese, Italian, German, Japanese and Spanish cultures. It's a very unique combination and that translates to the food – Brazil has a massive mix of fusion between cultures, built into one cuisine," Roy explains.
For those looking for the ultimate Meet experience, opt for the Chef's Table – the menu is specially tailored to your preferences and you dine in a private area with a personal waiter. Your Chef comes to the table to serve each dish and explain each component, which is a great way to interact with diners.
Roy's favourite South American dish to cook at the moment, is a whole fish cooked straight on the coals.
"We are using plate-sized snapper, served with moqueca sauce, which is a Brazilian-style curry made with shellfish stock, capsicum, tomatoes, herbs and coconut milk.
"I serve the fish with a fennel and herb salad – it is an amazing combination and a best seller at Meet."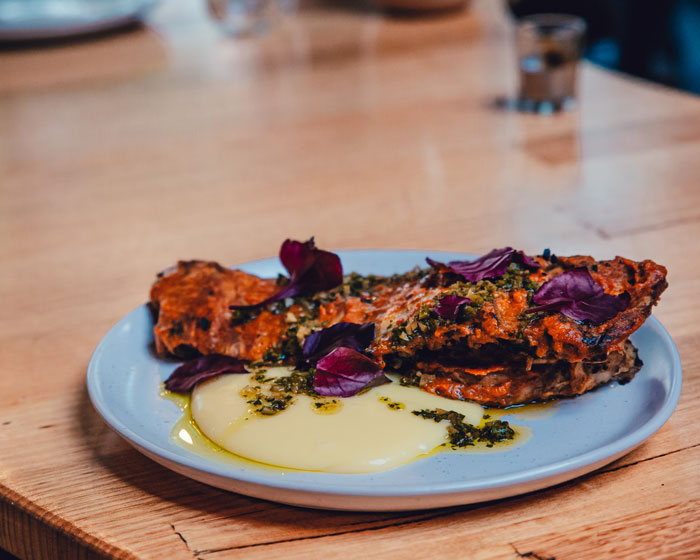 Roy brings to the table his recipe for guava glazed pork ribs, cassava puree and salsa verde (our homepage feature), which he says is Brazilian for the Aussie palate.
"Here we have taken Brazilian ingredients of guava, cassava, chipotle and yellow chillies to make the pork ribs sing. The recipe is special because it is so well balanced, creamy, spicy, sweet and salty."
While most of us conjure visions of copious mounds of meat when we think South American fare, Meet gets its fair share of vegetarians through the doors as well.
"Vegetarians actually love Meet (meat LOL) as they get to experience a massive variety of food. On the all-you-can-eat churrasco menu the most popular dish is the sugar-cinnamon grilled pineapple, followed by cassava chips, grilled halloumi, banana fritters and the Brazilian cheese bread.
"The most feedback we get is that when they go to a restaurant, the choices are always so limited and here they get to pay a reasonable fixe price and enjoy a massive variety of dishes."
Roy believes plant-based foods are going to become more and more popular in 2020.
"Dietary and allergy requirements are massive now too and it is important for restaurants to specialise in them. We will see a move into a more sustainable food industry, that also looks after their staff."
As for his own future, this is one Chef who is determined to give something back to the food industry and help the next generation succeed.