By Freya Ensbey.
"This is not fashionable food, this is food from thousands of years ago. Since ancient times it has been organic, nose-to-tail eating, from field to table with zero waste. In this way, ancient it might be, but it is also progressive." ~ Martin Morales.
Peruvian born Chef, restaurateur and cookbook author Martin Morales, has spent the best part of his life exploring Peru, collecting, gathering and recording traditional recipes and dishes along the way. Morales returns to Peru several times a year to reconnect with his roots, his people and his homeland's cuisine.
Following the success of CEVICHE: Peruvian Kitchen, which sold over 120,000 copies, seeing it translated into 12 different languages, Morales brings us his highly anticipated second cookbook, ANDINA: The Heart of Peruvian Food.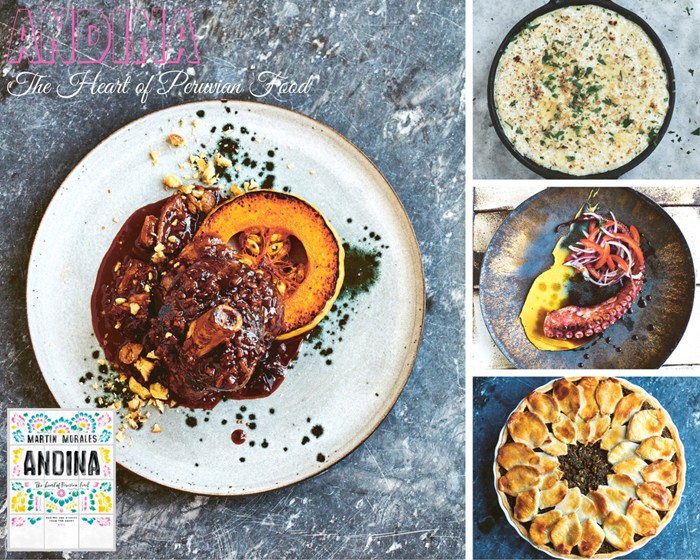 Andina, a word meaning a woman, or a dish or ingredient from the Andes, is a collection of age old recipes passed down through Morales' ancestors, which have inspired many of the modern dishes now on the menu at his London restaurants, Ceviche SoHo, Ceviche Old St, Casita Andina and ANDINA.
Beginning with an insightful introduction into the background of his culture, the regions, traditions and food trends which have come and gone over the years, Morales makes you feel as though you have travelled abroad with every turn of the page without even leaving your kitchen. Accompanied by simple, yet elegant photography, each recipe comes with an insight into its creation and background.
When many think of South American cooking, hearty proteins and rich sauces come to mind, as is seen in the lip smacking slow and low lamb shanks and chocolate (Cordero Chukulati). This dish was tested on the specials board of Morales' restaurants, becoming an instant hit and securing itself as a staple dish on offer. The magic of the velvety dark chocolate combined with the succulent lamb shanks and spices makes this dish perfectly indulgent for cooler nights.
No matter what cuisine you are eating from, baked cheese is always a delicious option. Mix it with quinoa for added texture and the flavours of garlic, cumin, evaporated milk and a hint of mint and you have yourself a tasty quinoa and cheese pudding (Pesque de Quinna). Morales explains that this dish can be eaten as a main or served on the side as an impressive element on the plate.
For a Saturday night worthy dish to serve at your next dinner party, the Pulpo Chancon or The Studious Octopus is a sure stunning bet. Cooked with garlic, lime juice and drizzled in chancaca syrup, the plate is smeared with a butter bean puree, which has a little kick added from chilli paste, ready to lay the octopus tentacle elegantly atop.
Morales explains that people in the Andes love a good pie, as anything wrapped in pastry is portable and can be eaten hot or cold. This artichoke pie (Pastel de Alcachofas) is perfect to keep in the fridge to serve as a hearty option for school lunches or a picnic on the go. Providing a quick and easy method for the pastry base, this recipe will teach you the foundations for an authentic Andes pie, filled with the added nutrients from artichoke, egg and spinach and made absolutely moreish by the addition of hard cheese.
This insightful book finishes with eleven stories, one for each region of recipes featured throughout, with Morales explaining the personal relationship he has had with each and the way in which it has shaped his life, career and direction of cooking styles.
ANDINA is a truly memorable read and so much more than just a collection of recipes, with soul and century old stories shared straight from the Andes.