>>> Bookings now open for August 13 and onward. <<<
There was a time when Bundaberg's Burnett River ran burgundy gold, not with the rock formations that began the gold rush in the 19th century but with the treacly by-product of refined sugarcane that was bursting the banks in 1885.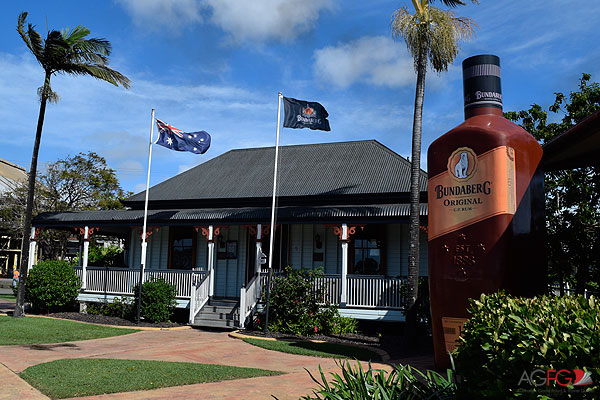 Bundaberg Rum Distillery's current "shop," which may be turned into a function space in the future as the contents will be moved to the new Visitors Centre this August.
The love for molasses only extended so far with the locals and while sugarcane was and still is the industry backbone for Bundaberg, something needed to be done with this liquid gold. Thanks to seven Queenslanders that realised the potential uses for molasses and with an initial production team of only five men, Bundaberg Distillery was born in 1888 to rival the rum brought over by the First Fleet. It wasn't until 1953 that Bundaberg Distillery began to bottle and label the rum they distilled, this was also about the same time that Sam McMahon was given the job of selling the bottled rum to colder states down south – enter Bundy's most iconic feature, the Polar Bear with the slogan: "a nip of Bundy will ward off the cold of Winter."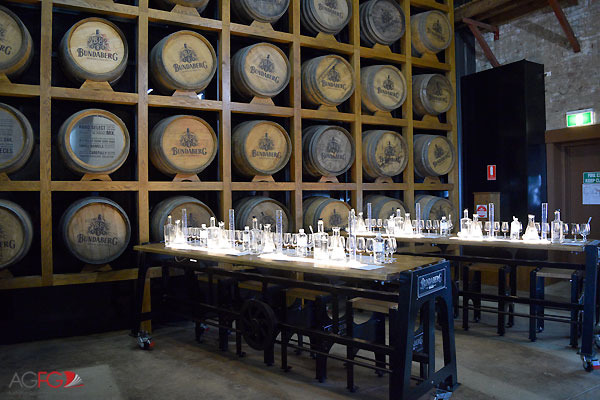 Bundaberg Rum Distillery's Blendatorium.
Now that we've caught up on over a century's worth of history – how does Bundaberg Rum Distillery go about teaching this knowledge to Bundaberg locals and tourists? By pouring $8.5 million into upgrading and launching their brand new Visitors Centre that encompasses not only a 'Be Shown Around' tour (don't drop your sunglasses into the molasses), but also a 'Show Yourself Around' museum tour with futuristic technology and interactive panels as well as a first of its kind experience, the Blend Your Own Rum (BYOR) tour in Bundaberg Rum Distillery's brand new Blendatorium.
These experiences will allow all visitors to journey deep into the rich and golden heart of the Bundaberg Rum Distillery to discover a sea of molasses (holding 5 million litres freshly delivered daily), as well as fermentation and distilling, and finished off with a walk through the Grand Barrel House where you'll learn all about the ageing and maturation process from bourbon to whiskey barrels. It's the first time that Bundaberg Rum Distillery is truly opening their doors and welcoming rum connoisseurs to share in blending mastery.
AGFG was given a sneak peek into the new interactive experience by Duncan Littler, Senior Brand Manager for Bundaberg Rum with 6 years of personal experience and passion with the Bundaberg Rum Distillery site.
"We already attract over 60,000 people a year … we already think what we're doing here is good but we're very excited about doing something great and world class."
"The Distillery is home to the Spirit of Bundaberg festival, which we host every October, it's Australia's largest rum and food festival and it's already a great experience; it was actually voted The World's Best Distillery Event at The Distillery Experience Awards in London in 2015," says Littler.
Not only is the current experience world class, but over 500 years of collective experience came together this year when the Bundaberg Blenders Edition (2015) from the Master Distillers' Collection was crowned the 'World's Best Rum' and the 'World's Best Dark Rum' at the global World Rum Awards in London. Going from strength to strength, later this year the Spirit of Bundaberg festival will be hosted alongside the new Visitors Centre, adding yet another attraction for punters.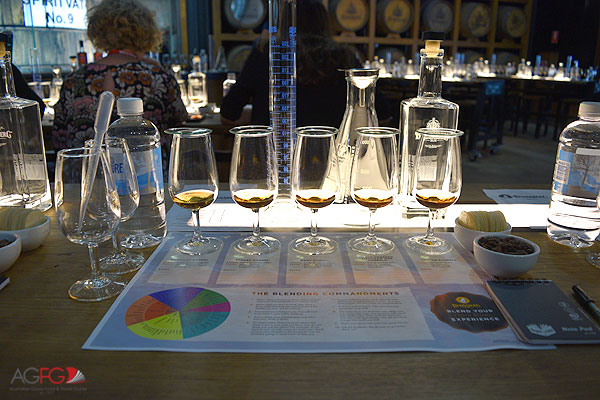 Blend Your Own Rum Experience - your very own chemistry set. Featured rums (left to right): Bourbon Barrel, Sherry Barrel, Port Barrel, Heavy Charred American Oak Barrel, Scotch Barrel.
AGFG's Blend Your Own Rum experience was hosted by Duncan alongside food and flavour guru, Matt Preston and paired with food from EAT at Dan & Steph's Hervey Bay Cafe, winner of My Kitchen Rules in 2013 to really paint the picture for the future of the experience.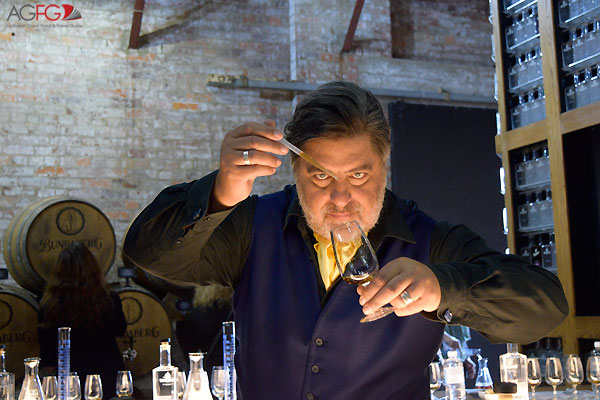 Matt Preston helping us blend our own rums.
While we can't promise you that you'll be blending rum alongside Matt, we can promise that you will be taken care of by two expert blenders, teaching you the art of tasting rum straight from the barrel with a selection of Bundaberg's most premium rums, aged in small barrels that have already matured such as Port, Sherry, Heavy Charred American Oak, Whiskey and Bourbon. Blending your own rum is personalised perfection, so be sure to take your time and design a blend that you can happily call your own.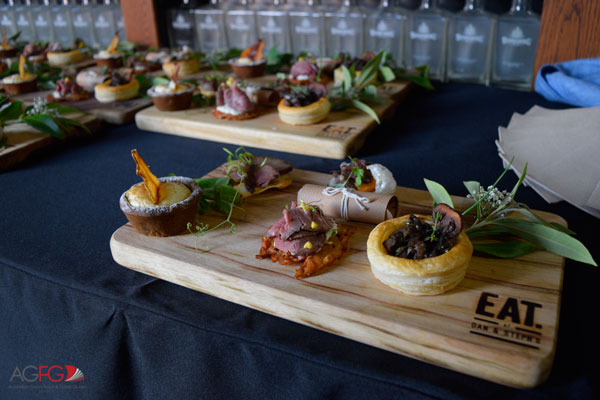 Rum food pairings.
The Blend Your Own Rum experience will have you taking home two of your very own bottles, labelled with your name as well as an ingredient list left on file for when you run out. This experience, alongside the new Visitors Centre is launching on Saturday August 13, so be sure to check out Bundaberg Rum's booking page to secure your tour (UPDATE: Saturday August 13 is already sold out) and be one of the first people in Australia to blend your very own, personalised bottle of rum.
Duncan Littler and Matt Preston at the Blendatorium, image supplied.
Experiences by the AGFG Foodies. Photography by AGFG. AGFG was a guest of Bundaberg North Burnett Tourism, Bundaberg Rum Distillery and Leo Burnett.