By Leigh O'Connor.
What do you get when you cross a corn cob and a cow? Corned beef!
Let's face it, eating corn on the cob can be a messy affair and that's why etiquette rules say it should never be served at formal occasions, or ordered on a first date.
There's something about sinking your teeth into those sweet corn kernels smothered in melted butter…make sure you have some on your plate on Friday, June 11 to celebrate National Corn on the Cob Day 2021.
According to one of history's leading etiquette specialists American author Emily Post, corn on the cob shouldn't be served at lunch or dinner, but if it is, 'one must not attack it ferociously or greedily'.
Corn or maize is an ancient plant native to the Americas and is believed to have been first cultivated in Mexico, before being spread around the world via European explorers in the 15th and 16th Centuries.
Although the most common colour of corn is yellow, it can also be cultivated to be purple, green, blue-grey, red, white and even black. Here are four more fun corn facts along with a recipe to try at home:
•The word 'maiz' or 'maize' has Native American/Spanish origins and is what the grain is called in many languages.
•Most cobs of corn have an average of 800 kernels, arranged in 16 rows around the cob.
•Corn is produced on all inhabited continents on the planet, but can't grow in Antarctica.
•The USA is the largest single producer of corn, providing at least 40% of the world's harvest.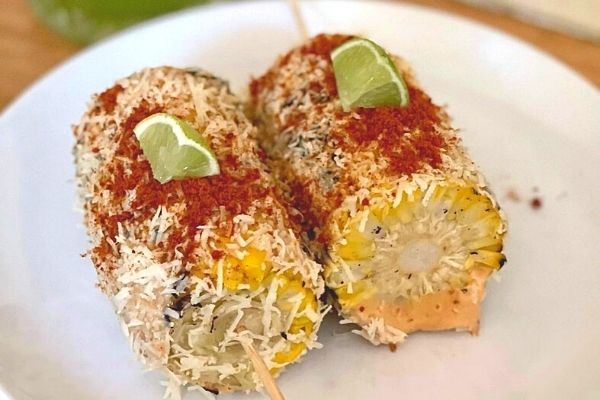 One of the fave ways to enjoy corn on the cob is Mexican-style – an ear of corn on a stick, slathered in butter, mayo, queso cotija, paprika and chilli powder. Try this
recipe
from
Mamasita
restaurant in Melbourne's CBD, which has been described as the city's first true taqueria with its smart wooden benches, banquettes and bar stools, full from lunch until late in non-pandemic times.
Charismatic staff add to the energetic vibe and a creative menu plays on authentic Mexican flavours that come fresh and far from cliché; perhaps grab some lamb barbacoa tostaditas to go with your corn on the cob, washed down with a shot of tequila.
Ever wondered what you get when a truck runs over a corn cob? Creamed corn!