Sunday 6 September –Sunday 22 November
Come and celebrate the unveiling of Sydney's much anticipated Barangaroo Reserve, a new six-hectare foreshore park, with the first instalment of a three-month program of free music, art, talks, family events, and giant picnics beginning this September.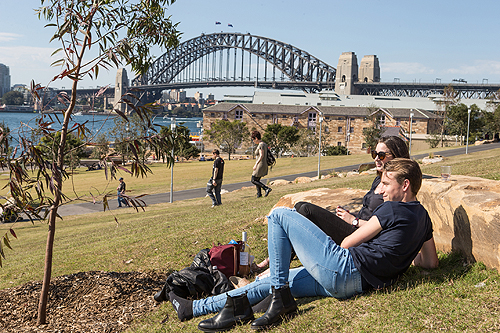 Barangaroo Reserve has transformed from one of Sydney's oldest industrial sites in to a lush naturalistic space that will cater for recreation, expression, celebration and community. Over the next 12 weekends, the Reserve will be a vibrant hub of activity with one newly commissioned art installation each month a long with live music, talks, site tours, workshops and picnic-style food.
Each month of spring at Barangaroo Reserve celebrates a different theme – stone, sea and sky – to honour the history of the place, its people and their aspirations.
The theme of stone will be highlighted throughout the first month of celebration and will be inventively incorporated in to the menu for the September Giant Picnic. Food Curator Alex Herbert will bring together some of the country's best food producers and chefs to create innovative Giant Picnic events on the first Sunday of each month.
The September celebration begins at 10 am on 6 September with the Barangaroo Welcome Walk, followed by the Opening Fire Ceremony and Welcome to Country featuring traditional song and dance. A special Dusk Ceremony will be held at 5.30pm as a tribute to the powerful Cammeraygal woman, Barangaroo, before a 6pm impressive fireworks display directed by Fortunato Foti.
Throughout the month, September visitors will enjoy free performances by some of Australia's leading contemporary musicians and entertainers, including Casey Donovan and Pirra (September 6), Marcus Corowa (September 13, 26), Leah Flanagan (September 12, 20, 27) and Koomurri Dancers (September 12, 19 & 26).
Additional talks, tours, food, entertainment, music, activities and events will take place on the remaining weekends in September and food trucks, stalls and bars will serve picnic-style fare to suit all tastes and ages.
To see the full event program, transport information and to register for special events, please visit www.barangaroo.sydney.
By Sarah Dionysius.