When most think of Melbourne, our minds come to life with visions of street art, fashion, bars and restaurants, but it is arguably the city's café culture that has gained its fierce foodie following, dominating the coffee scene in Australia and creating a brunch destination like no other. So, it was only a natural progression for the pinnacle of a café styled cookbook to be percolated straight from the dynamic city that is.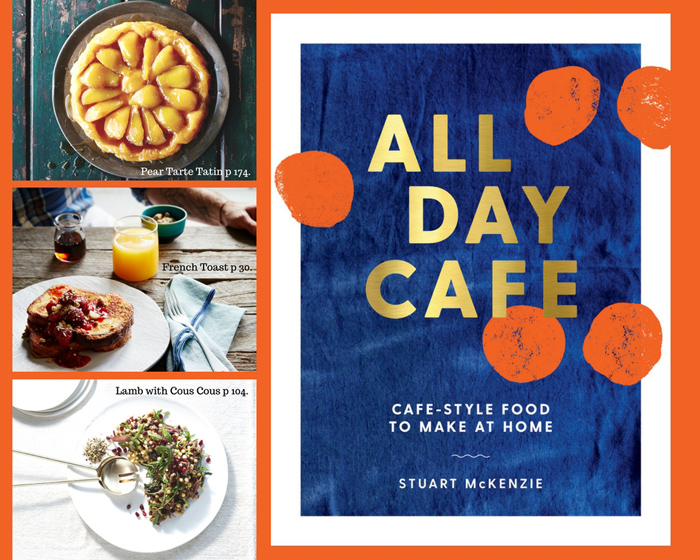 Starting out, as the best do, on the lower ranks of hospitality service as a bright eyed and enthusiastic teenager, Stuart McKenzie worked tirelessly to perfect his skills to be executed not only in culinary form but also in the realms of design. In 2012, McKenzie projected himself into the Collingwood marketplace, taking residence with his inimitable café, South of Johnson.
No detail was spared, design aspect overlooked, global footprint ignored or careful consideration withheld within every realm of his business, creating South of Johnson to be a self-sufficient, solar powered, orchard growing, recycling café, offering casual, neighbourhood-style eating, with good honest cooking that is accessible on any budget.
Taking this urban everyday lifestyle he lives and breathes, McKenzie has transformed his ethos into 240 pages in a hardcover cookbook - All Day Café. This artistically styled book will guide you through each season, allowing you to re-create the Melbourne café sub-culture in your very own kitchen.
Indulge in a sneaky Sunday sleep-in and wake up to fluffy French toast with balsamic strawberries and macadamia crumble. The secret behind this recipe is to do the prep the night before, so your crumble and strawberries are ready to go, leaving only the toast to cook the morning of. Served with a generous dollop of silky mascarpone, this sexy number will put a spring in your step for the remainder of your weekend.
Invite your friends round for a picnic brunch in the backyard and serve up a slow cooked lamb and pearl couscous salad. Traditionally, Winter keeps the slow roasted meats all to herself, but McKenzie explains that it is also a cost effective and ideal ingredient to serve as part of a healthy Summer salad.
Nothing creates an authentic café atmosphere like the aroma of freshly baked pastries. Whip up a pear Tarte Tatinany day of the week to offer guests who might be popping in. With notes of vanilla bean and brandy harmonising with the texture of softened baked pears and the flaky pastry base, this simple recipe will become a guaranteed household favourite.
Recipes and images from All Day Cafe by Stuart McKenzie (Murdoch Books).