"Happy cooking – I believe through that; a happy and healthy life can be achieved." – Neil Perry.
Unless you've been living under a rock, chances are you know who Neil Perry is. Even those on a desert island, probably got there by Qantas and devoured Neil's decadent sky menu en route.
The culinary visionary of the Rockpool Dining Group, lifestyle television show presenter and cookbook author, Neil has been dishing up innovative dishes at Australian restaurants for decades and his partnership with Qantas has seen him designing inflight fare since 1997.
His trademark ponytail was once considered taboo in the kitchen, but now it is hard to imagine this Chef without it. Although Neil did leave his private high school in his teenage years, as it wouldn't allow male students to have long hair, it didn't slow him down.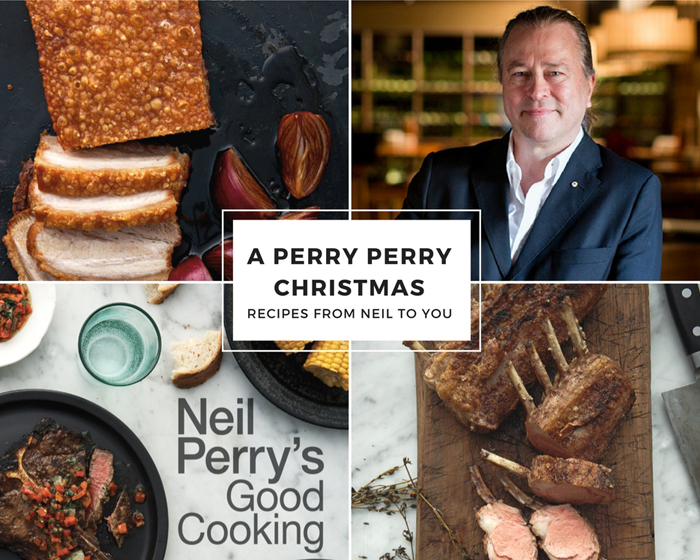 So, what does Neil have planned for this festive season, you ask? We find out what Christmas means to him and give you the keys to recreating his roast pork belly with balsamic-marinated red onions and slow-roasted rack of lamb with quinoa salad and tahini sauce, to wow friends and family gathered around the celebration table.
AGFG: When you're celebrating Christmas with your family, we know the food would be awesome, and we love your roasted pork belly, what else would we see on your dining table?
NP: I love to serve tomato salad at this time of year, as they are really coming into season and asparagus is great as well. Add some freshly shucked oysters and cooked King prawns and that might just about do me for lunch.
AGFG: Christmas in Australia for some includes a beautiful Aussie lamb, in your book 'Good Cooking by Neil Perry' you have a great looking slow roasted rack of lamb, do you have any special sides you recommend to serve with it?
NP: My recipe has sides of quinoa salad, tahini sauce and loads of roasted garlic. These flavours work just as well with chicken too. When I roast garlic at home, I always roast a bulb or two – I can never get enough of it, it's so addictive.
AGFG: What 'Neil Perry secrets' can you share with us on how to get the best crackling ever on your pork this Christmas?
NP: Just make sure the skin is super dry, so get the pork a couple of days before and leave it on a rack in the fridge with no cover, the air flow will help dry the skin. Make sure the oil is superhot when spooning it over the pork skin – this is the key to crazy-crisp crackling.
Marinating the red onions for this recipe takes away their harshness and the combination of the sweet-savoury vinegar and the texture of the onion is perfect with the crisp pork.
AGFG: With everyone so busy, what's a couple of tips for preparation, or how not to get flustered this festive season?
NP: Keep it simple, let the produce talk and use lots of Summer fruit in desserts - no steamed pudding.
AGFG: Christmas means something different for each of us, what does Christmas mean to you?
NP: Family and the end of the most hectic four weeks you could ever imagine.
On that note, we wish Neil and all our readers a Merry Christmas and a safe and Happy New Year!