By Leigh O'Connor.
Happiness is the taste of hazelnut spread on a warm, flaky pastry! What better way to celebrate World Nutella Day on Saturday, February 5 than with a coffee and sweet treat from your favourite café?
Nutella can be spread on toast, used to fill the centre of pastries or just be eaten straight out of the jar with your finger or spoon – in fact, some nutaholics even use pretzel sticks, or potato chips to get their fix into their mouths.
The world first celebrated Nutella Day in 2007 when American blogger Sara Rosso decided the spread was worthy of its own special occasion; it has since been transferred to Ferrero (the maker of Nutella) to help it live on and grow for years to come.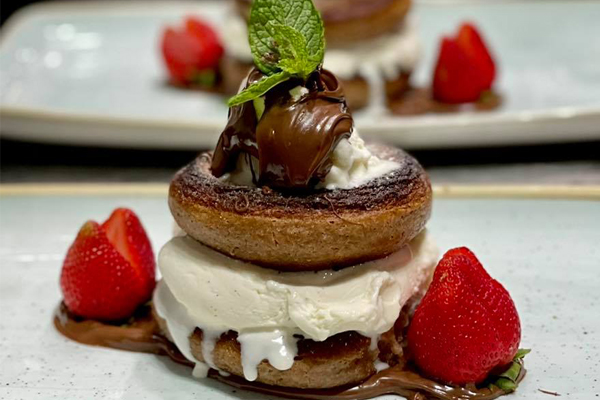 Delicious Nutella pancakes from Sydney restaurant Cucina Espresso.
Here are five fun facts about everyone's favourite spread and a recipe for
Nutella cake balls
that is sure to turn heads:
•In 1806 Napoleon tried to freeze out British commerce as a means of winning the Napoleonic Wars resulting in a blockade that caused the cost of chocolate to skyrocket. Luckily resourceful chocolatiers started adding chopped hazelnuts to chocolate to stretch out the supply – voila, Nutella was born.
•Nutella was originally made in the form of a loaf, designed to be sliced and placed on bread as a chocolatey version of American cheese slices.
•Ferrero buys more than a quarter of the world's hazelnut supply every year – that's more than 100,000 tons.
•There are 52 hazelnuts in every 400-gram jar of Nutella.
•In 2013, the spread made headlines in Germany when thieves pulled off a $20,000 heist, stealing 5 metric tons of the sweet stuff, from a parked truck.
Don't want to cook on Saturday…to celebrate at a local café near you, click
here
.