By Leigh O'Connor.
At age 10 Alan Stuart already knew he wanted to be a Chef – fast forward to 2022 and we find him in charge of the kitchen at
Oncore by Clare Smyth
in Sydney.
The highest-debuting Chef Hatted restaurant AGFG has ever had coming in at 19, Oncore is the brainchild of the first and only British female Chef to hold three Michelin stars, Clare Smyth. Nestled in the Crown Sydney, this elegant fine dining destination is already turning heads and appetites.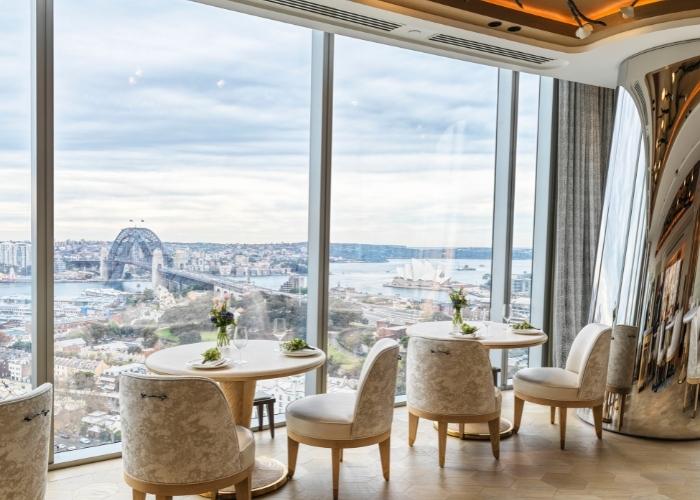 Take in stunning Sydney Harbour views from level 26 of Crown Sydney at Oncore by Clare Smyth.
Clare's London restaurant, at which Alan worked, was the first to enter The Good Food Guide with a perfect score of 10 out of 10 in its opening year.
With an emphasis on sustainable food and paying homage to its London big sister, Oncore brings an exceptional dining experience overlooking one of the most incredible views of Sydney Harbour from level 26 of Crown.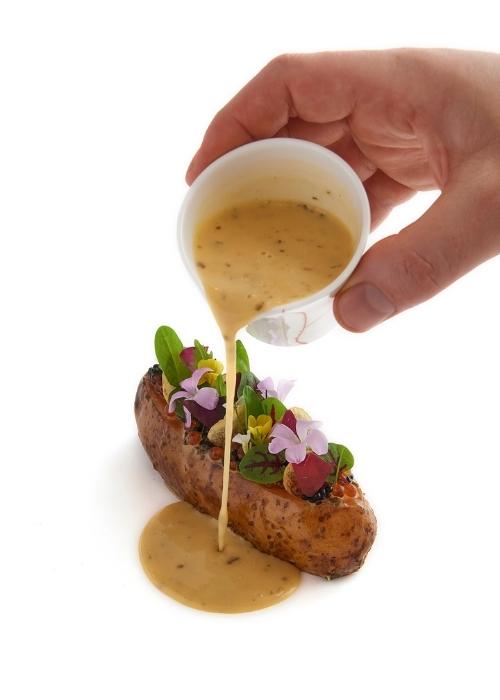 Oncore's signature dish of 'Potato and Roe'.
So how does a Kiwi-born Chef find himself on the pans at such a prestigious restaurant?
It all started at primary school when Alan had to set up an enterprise project and sell homemade goods. He remembers being in the kitchen with his Mum making chocolate and fudge to sell at the school fair and that was where the passion was first ignited.
"I began my career washing dishes at a small local café at the age of 14. Three years later I started my training at the Culinary Institute of New Zealand and then went abroad to work at some of the most prestigious three Michelin-star restaurants in the world, before moving to Sydney in 2021 to undertake my present role," he explains.
"Throughout my time in some of the best kitchens around the globe, I've always found if you put your head down and work hard, you'll eventually find yourself getting to where you want to be."
There's magic on every plate at AGFG's highest-ever debuting Chef Hatted restaurant.
Alan cites Clare Smyth, Matt Abe and Bjorn Frantzen as his biggest culinary influences.
"Clare taught me perfection and the relentless pursuit of excellence. Matt taught me hard work and that you are never bigger than the job. If the floor needs scrubbing scrub the floor, if the dishes need doing, do the dishes. It doesn't matter the job, it's one team one dream.
"Bjorn taught me how to manage people and learn to step back and see the bigger picture."
Alan says COVID has emphasised teamwork and everyone bonding together when times are tough. While the last two years have been incredibly challenging for everyone, particularly the hospitality sector, it has helped a lot of venues to step back and look at new ways to run their restaurant.
"It has also shown how incredibly important regular and loyal guests are to a restaurant. When COVID started I was in Sweden working at Restaurant Frantzen and for a lot of restaurants, the thought of borders closing would be disastrous.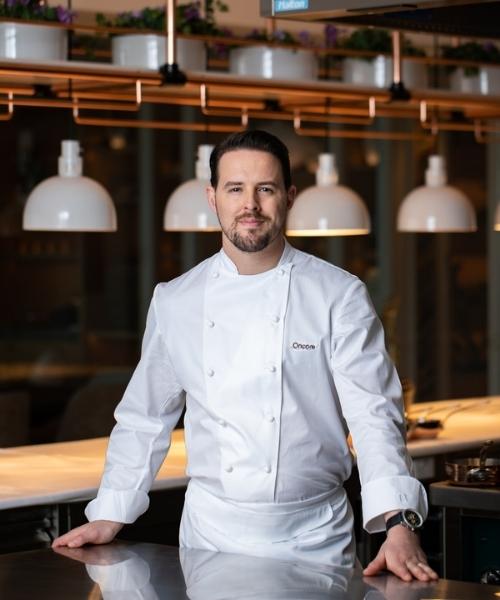 One team one dream…that's the ethos of Oncore Head Chef Alan Stuart.
"At Frantzen we remained full throughout. That was a testament to the local regulars the restaurant had and showed just how important it is to deliver an amazing experience, so guests do return."
One of the most heart-warming moments for Alan in 2021 was the restaurant finally opening to guests – the first service was an incredibly emotional experience as Oncore had been three years in the making.
"I had moved three countries within the space of a year to get ready to open Oncore by Clare Smyth and to finally have it open with an amazing team that is so dedicated was amazing. The most important thing for me is guests feel welcomed and relaxed when they turn up – as if they are at home.
"We want to create a connection between the team in the restaurant and our guests and have them leave with the feeling they can't wait to come back."
This classically-trained French Chef loves to take inspiration from different cultures and cuisines and incorporate those to inspire a restaurant's design and food – something we are sure he will translate onto the Oncore menu for everyone to enjoy!