By Freya Ensbey.
The kitchen is the centre of most Thai households, an integral component to their culture, and the identity of self for each individual to trace their family history.
Traditionally, an authentic Thai dish will seamlessly deliver a harmony of five flavours; sour, sweet, spicy, bitter and salty. Using this foundation for cooking is an asset for any home cook, with the learned practice creating a conscious execution of the marrying between opposing flavours within each dish.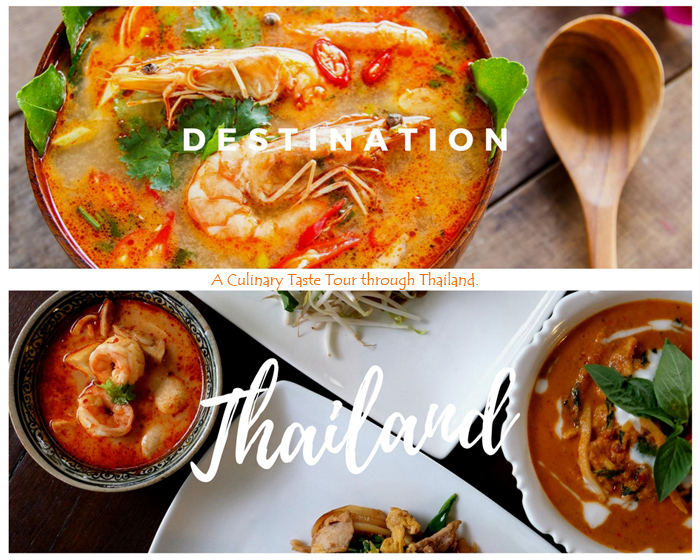 Whether Thai food is your hobby, a curiosity, or you simply want to add new recipes to your repertoire, a Thai cooking class is a great souvenir you can bring home from your travels for loved ones that won't cost you any extra luggage.
So, don your apron, shine your wok and pack your bamboo steamer, as we take you on a culinary taste tour through Thailand, visiting the top cooking schools.
Baipai Thai Cooking School | Bangkok
Our first stop is the bustling and lively capital city of Bangkok where Baipai Thai Cooking School was Established in 2002. The cooking school is housed in a charming two storey open air building, styled with local furnishings and surrounded by lush tropical gardens, creating a tranquil and private oasis to learn the ins and outs of Thai cuisine.
With knowledgeable, English speaking teachers, Baipai offer a range of cooking courses, from one on one tuition, with the freedom to choose to master your favourite Thai dish, through to corporate team programs, private classes and group classes which are ideal to take as a family. Whichever class you may opt for, you are guaranteed a completely hands on experience as you are taught the fine art of Thai cooking.
In a relaxed and social environment, you will learn invaluable techniques, allowing you to master dishes like the golden money bag, papaya salad with dried shrimp or perhaps a red curry with bamboo.
Offering transportation to and from your nearby accommodation, Baipai cooking school is a must for any adventurous gourmand visiting Bangkok. For class bookings and more information visit here.
The Oriental Thai Cooking School | Bangkok
Residing within the stunning grounds of the opulent Mandarin Oriental Bangkok, is The Oriental Thai Cooking School. Step straight out of your room and into the kitchen, with class options including the Hands on Cooking and Authentic Thai Lunch which is available Monday to Friday, which teaches students how to cook traditional Thai dishes such as Tom Yam Goong and Som Tam Thawd.
Whilst visiting on a weekend, be sure to sign up for the Hands-on Cooking and Morning Fresh Market Trip, beginning your day exploring the vast array of Thai ingredients at the local markets and hand selecting produce to use in your culinary creations. For those who prefer a private class, Chef Narain offers an exclusive experience for a couple or small groups of up to 20 guests.
The Oriental Thai Cooking School offers dishes to master from each region of Thailand's vast district, from Moo Hong braised pork of the South to sticky rice pudding with longans in the North. For class bookings and more information visit here.
Bangkok Thai Cooking Academy | Bangkok
For a cooking school with a difference, visit the Bangkok Thai Cooking Academy along Sukhumvit Road. Guests are given a designated meeting place where they are picked up by their instructor and taken on tour to the Fresh Markets. The first lesson of the day is how to choose and source the needed ingredients for the day of cooking ahead, before being taken back to the academy. The academy offers a range of classes to suit any cooking level, from beginners who are taught the foundations to create five dishes from scratch, right up to the in-depth Chef's course for the refined cook looking to fine tune their cooking skills.
Those who wish to learn the intricate art of food carving, opt instead to take a fruit and vegetable carving class and create a blossoming masterpiece from a humble rockmelon, or perhaps a carrot flower to add as a garnish to lift your dish to another level. If time allows, make the most from your stay in the country, and undertake a half day class each day you are staying to truly grasp the most from the cooking academy. The entire academy is air conditioned, providing comfort from the sub-tropical humidity whilst you cook, making Bangkok Thai Cooking Academy an overall truly memorable experience. For class bookings and more information visit here.
Phuket Thai Cookery School | Phuket
Moving South along the coastline to reach Phuket, you will find Phuket Thai Cookery School. Offering a fun one-day Thai cooking class which runs 7 days a week, it includes an exciting morning market trip to explore hundreds of exotic ingredients, the tasting of delicious seasonal fruits and the making of a traditional style homemade curry paste.
Students receive helpful, full colour, foolproof recipe cards to take home which are easily accessible as a guide when in your very own kitchen. All lessons at the cookery school are taught in English by professional instructors who include a tablespoon of humour, which makes for an entertaining experience.
So, if you are looking for a great day's excursion to spend with your friends and family, be sure to make Phuket Thai Cookery School a highlight of your trip. For class bookings and more information visit here.
Whether you choose to devote your entire holiday to refining your skills in the kitchen or you simply opt to undertake a day class, walking away with a handful of new and improved techniques under your belt, a Thai cooking class is guaranteed to inspire the senses, igniting a new-found passion and respect for the century old cuisine.
Images: top, Bangkok Thai Cooking Academy, bottom, Baipai Cooking School.