By Leigh O'Connor.
Creator of Little Bao - the bun shop that stole Hong Kong's heart - May Chow has fast become an innovative force in Asian cuisine.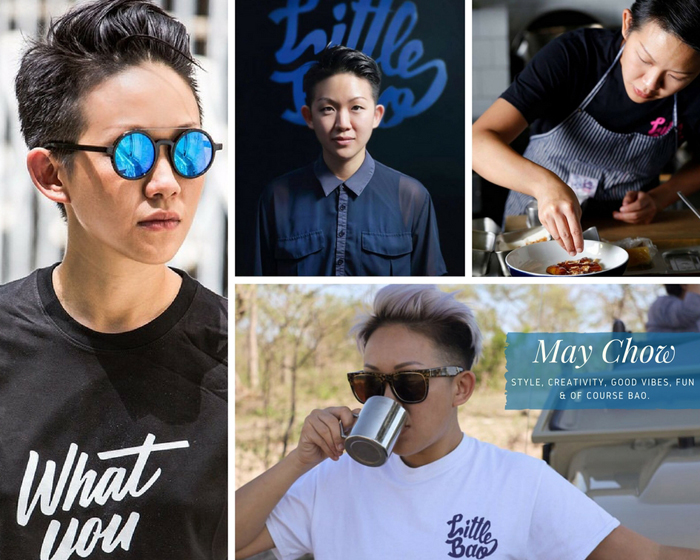 Her hipster haven restaurant, serving signature fluffy white buns stuffed with fillings such as Sichuan fried chicken and slow-braised pork belly, took the Hong Kong foodie scene by storm when it opened in 2013.
Now at age 33, she has already been named Asia's best female Chef of 2017 and boasts another two restaurants – Second Draft and Happy Paradise – to her Chef's stable. This ultra-cool kitchen guru was born in Toronto, where she spent some of her early years, before attending high school in Hong Kong.
After graduating, May went to the US to study and work before returning to Hong Kong in 2008. Her Chinese heritage and American upbringing gave birth to the concept of Little Bao, an international brand that appeals to children and adults alike, from the East to the West.
"I was very close to my mother and we shared a lot of time together, going to grocery stores and preparing dinner for the family. That made me realise I loved cooking, even as a child," May tells AGFG.
"My parents didn't approve of my plan to become a Chef. I started cooking because nothing else interested me.
"With my upbringing, background and travel around the world, I realised I could create something different, with both Chinese and Western cultures. I didn't think too much when I started my first Little Bao, I just wanted to deliver a product that everyone would love."
And she did…combining a fun eating concept that delivers a fine dining finished product, with her love of tropical Balearic (DJ-led dance music) vibes, from 80s Canto pop to funk music, setting a sassy scene at all three venues.
"I love music – it connects with people and creates a space that makes them feel upbeat, loose, cheery and ready to have a good time."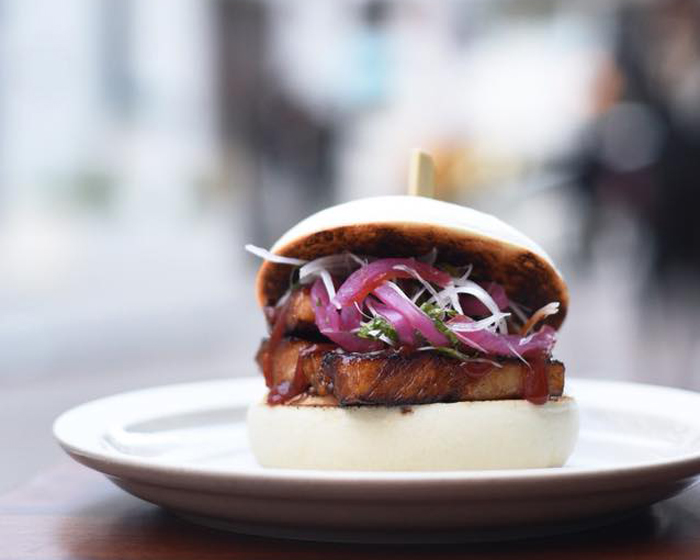 Little Bao's Braised Pork Belly Bao. Image from Facebook.
She describes Little Bao's fare as fun and easy to eat - flavours that are extremely bright and strong, with global and local influences. Many people think the restaurant only serves Asian burgers, but May is taking the concept further with snacks like braised short rib dumplings, fish caramel candied Brussel sprouts, minced shiso pork stuffed eggplant tempura, and more.
"I created our own bao recipe with a lot of failures and challenges. I get inspiration by watching and reading all kinds of news and trends articles and shows. I absorb and analyse when I read, then come up with my own recipe and theory."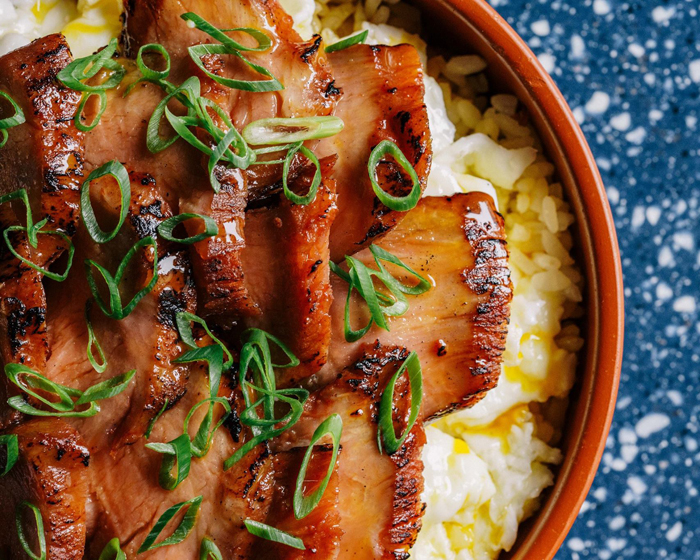 Happy Paradise's Char Siu with silky egg and rice. Image from Facebook.
Happy Paradise restaurant and bar, which opened in early 2017, is very different from anything May has tried before. She takes pride in turning out boldly Neo-Chinese food, inventive cocktails, good vibes and great music in a fun, neon setting.
"I hope people love our creativity and think of us as their must-go restaurant. We created great diner concepts with Little Bao and Second Draft, but Happy Paradise is a totally new dining experience. It reflects me, what I love in terms of Chinese food, music and a playful environment."
Being named Asia's best female Chef has empowered May to inspire more women in the cooking industry, as well champion women's rights, equality and campaign for LGBT issues.
"I am quite surprised I got this award since I just started Little Bao four years ago. It doesn't affect my business philosophies, but it definitely pushes me to think and plan my next step carefully, to rethink what I can deliver to the industry and society," she explains.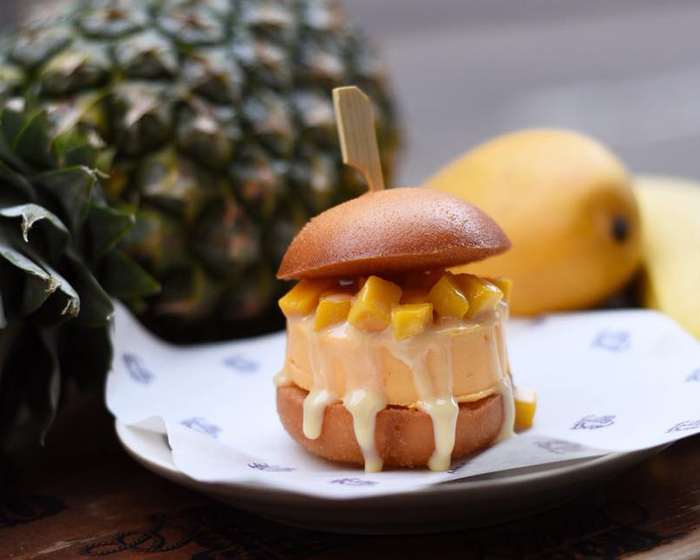 May Chow's iconic ice cream sandwich, this one being the Tropical Fried Ice Cream Bao, exclusive to Taste of Hong Kong by Little Bao. Image from Facebook.
So, what does she see as her most innovative dish?
"I don't find my dishes very innovative, but I love to create something that is iconic. This can be rooted in tradition, although simple, I like to believe my Chinese burger and ice cream sandwich are iconic food items."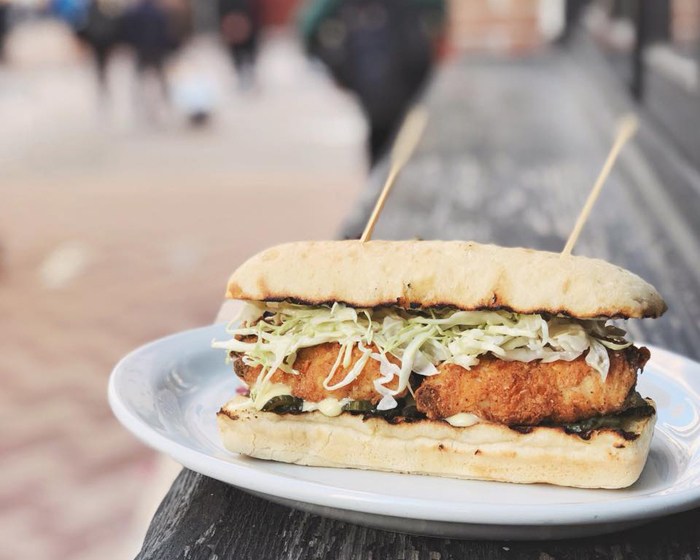 Second Draft's Deep Fried Eel Sandwich with pickles and Sichuan mayo. Image from Facebook.
Already a judge on MasterChef Asia, May is reluctant to predict a television cooking show in her future.
"I think I still have a lot to learn before I reach a moment where I can do my own cooking show. I plan to focus on my restaurant businesses in the upcoming five years as I want to expand Little Bao – since this is my first 'baby' – it could be a long lasting brand and product."
For those considering a career as a Chef or restaurateur, May has some words of wisdom.
"In some senses, it's good to be naïve – but remember to find a team of people that can cover your weak points. If you're not good with numbers, find a partner that is!"
One final question from AGFG…
What will 2018 – Year of the Brown Earth Dog – bring for May Chow as the world celebrates Chinese New Year?
"We are definitely looking to expand Little Bao in Hong Kong or the US. With my busy daily schedule and routine, I want to celebrate Chinese New Year in a life balance way - spending more time with family, ready for the new page of 2018 and afterwards."
We couldn't agree more… Happy Chinese New Year to all of our readers!