From Eskimo Joe to Vanessa Amorosi, The Whitlams and celebrity guest Chef Karen Martini, this year's premier Tasmanian Summer event Festivale is sure to tick all the food, wine and music boxes for locals and visitors alike.
The annual three-day celebration kicks off in Launceston on Friday, January 31 showcasing the very best Tasmanian produce, wine and beer in the historically and culturally significant outdoor location of picturesque City Park.
Attracting more than 28,000 guests in 2019, Festivale began in 1988 as a multi-cultural street party and has transformed into an iconic event drawing people together to celebrate what the Apple Isle has to offer.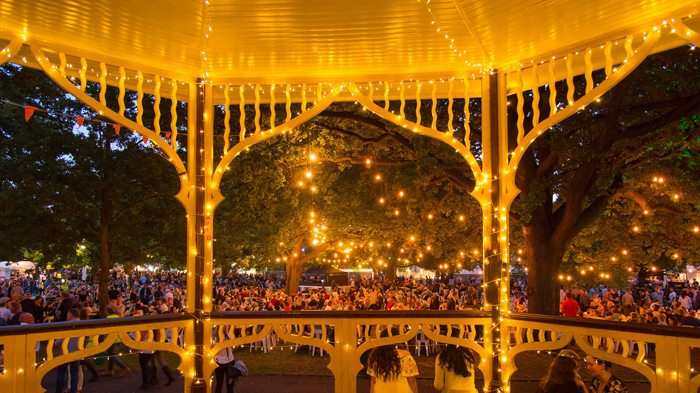 Festivale at dusk.
Here are 7 things you must do at Festivale this year:
The Tasmanian Food Co's Cooking in the Park – Chefs in Action:
Presenting a series of seven one-hour cooking demonstrations with guest Chefs such as Karen Martini, Elliot Chugg, Nick Raitt, Emma Warren, Adam Lockhart and Thomas Pirker, be inspired to recreate their dishes at home using The Tasmanian Food Co's local produce.
They will all share their culinary secrets and experiences, with recipe cards available at the end of each session. Click here for the demonstration schedule and information.
Festivale Stallholders:
An interactive map available on the website provides access to stallholder menus, so visitors can plan their food and beverage journey before they arrive at the festival. Each year stallholders feature an amazing range of quality Tasmanian producers, making sure there is something to tempt all tastebuds and palates.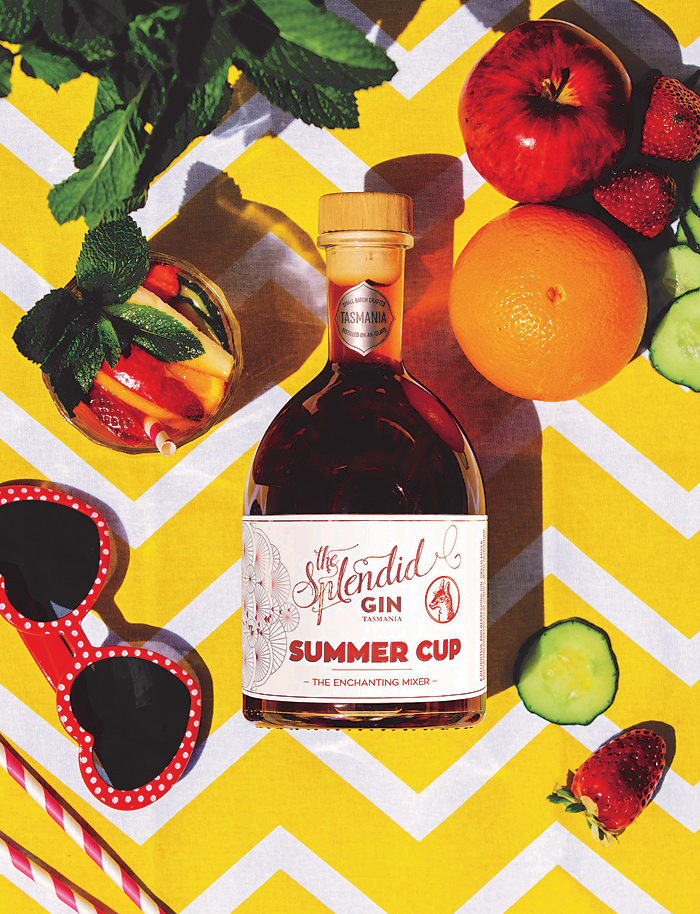 The ultimate Summer drink can be found at The Splendid Gin stall.
Presenting exceptional drinking as a stand-alone sip for the connoisseur or a mix with your favourite tonic and citrus The Splendid Gin is uniquely Tasmanian, with a nod to its English heritage. At Festivale, Splendid's stall will be serving The Summer Cup with mint, orange, ice and lemonade; alongside a frozen G&T slushy with Hobart Beverage Co Dry tonic and Mesmeric, a citrus-forward navy strength gin.
The Summer Cup is a lower alcohol mixer and the first of its kind in Australia, with an exotic bunch of organics including roasted dandelion root and native Tasmanian mountain pepper berry, blended with already four times distilled Splendid gin.
Winner of Best in Category at this year's Gin Masters Asia competition, Mesmeric builds on Splendid's signature tipple maintaining a delicate balance of traditional botanicals with a renewed intensity of mandarin, navel orange and bergamot.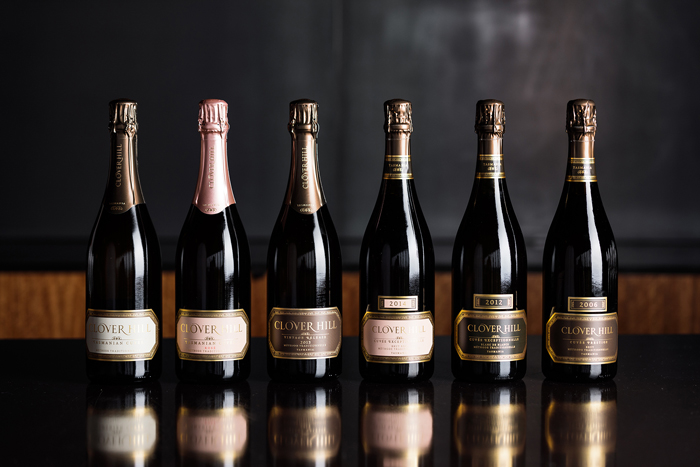 Clover Hill Wines' Sparkling range.
Clover Hill Wines will be selling its full range of sparkling and Idiom still wines at Festivale this year, both by the glass and bottle. New to the Clover Hill Range is 2015 Cuvée Riche - crafted from Chardonnay, Pinot Noir and Pinot Meunier, this delicate sparkling has depth and texture from a higher dosage and time on lees.
Visitors will also be able to sip on the new 2019 Idiom Rosé; produced from Pinot Noir, this wine is light, fresh and perfect to enjoy with friends on a Summer's day or evening at Festivale.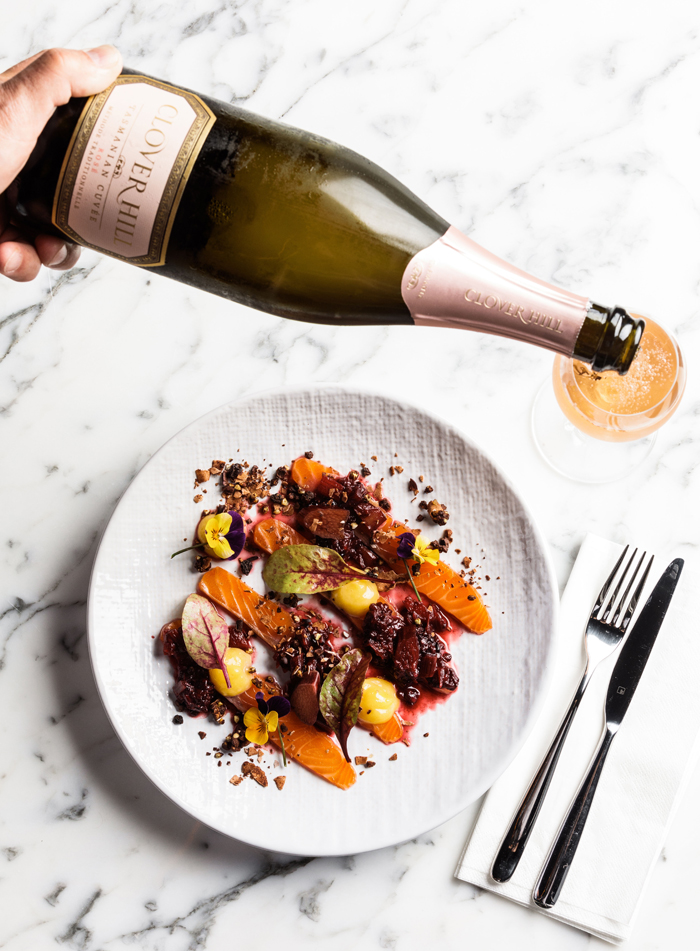 Clover Hill Cuvée Rosé NV paired with salmon at their vineyard restaurant.

In accompaniment to their wines, a Clover's Kitchen small plate menu will also be available in the unique and seasonal style seen at the Clover Hill Cellar Door; offering dishes like salmon gravlax, soy pickled kale, yuzu curd and honeycomb, to be enjoyed by patrons.
To see the list of what's available in 2020, click here.
Masterclass Experiences:
Indulge in a palate-pleasing array of Tasmanian wine, beer, cider and produce, while engaging with some of Tasmania's most inspirational food and beverage producers at this series of Masterclass experiences.
From nibbles and tipples to fermented food and drinks, these events run from Friday night to Sunday afternoon, when the final masterclass will embark on a journey of discovery to learn the art of mixology – mixing cocktails in a hands-on experience, with limited numbers. To book your tickets, or for more info click here.
Don't Miss Eskimo Joe Live:
At 9 pm on Friday, one of Australia's favourite bands Eskimo Joe will take to VJam stage, bringing their own brand of music to Festivale. As their storied career continues to evolve, the band has come a long way from their humble beginnings as much loved Indie rock kids from Fremantle, to become one of this country's most successful acts with singles such as Black Fingernails, Red Wine.
Click here for more information, or to buy tickets.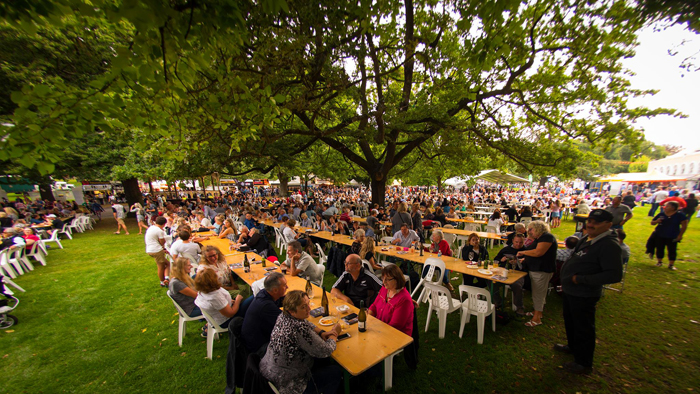 Plenty of space to sip, sit, eat and chill at Festivale.
Vanessa Amorosi Headlines Saturday Night:
Absolutely Everybody will be heading for the stage on Saturday at 9 pm when Vanessa Amorosi hits Festivale. It's almost 20 years since a teenage Vanessa, from outer-eastern Melbourne, burst onto the Australian charts with her debut number one album The Power.
Now a Mum and living in Los Angeles, Vanessa recently performed at the bush fire relief concert in Byron Bay. Don't miss Jack Jones and Bad Dad Orchestra, who also perform on Saturday.
To book your tickets for this must-see performance, click here.
Fresh Comedy 2020:
Bringing funny to Festivale, Fresh Comedy boasts a stellar lineup of comedic talent, featuring Tassie's funniest folks and headlined by Denise Scott, Matt Okine and Ivan Aristeguieta. Don't miss all the laughs from the KPMG Stage from 7.45 pm on Friday. For more information, click here.
Catch The Whitlams and Russell Morris on Sunday:
There's No Aphrodisiac needed to catch The Whitlams, headlining entertainment on VJam stage on Sunday at 9 pm. After many years of perseverance and constant touring, The Whitlams had their breakthrough album in 1997 and the following year they won Best Group and Song of the Year; they have since released another six albums including Love This City, Torch the Moon and Truth, Beauty & a Picture of You.
Also headlining Sunday's entertainment is Aussie rock legend Russell Morris, who has just released a new album Black and Blue Heart.
For more information, click here.
Event Information:
What: Festivale
When: Friday January 31, Saturday February 1 and Sunday February 2, 2020
Where: City Park, Launceston.
Where to stay: click here.
Where to eat outside of the festival: click here.
Website: https://www.festivale.com.au/
Socials: https://www.facebook.com/festivaletas/ and https://www.instagram.com/festivaletas/