By Leigh O'Connor.
"It's about getting the people you care for around the table to enjoy a simple meal, making the most of an easy option like a hearty salad." – Jessica Elliott Dennison.
Salads are the time poor cook's secret weapon, just tumble together a few good ingredients onto a big sharing platter and you've got a hearty meal.
The wonderful thing about making a salad is that it's a relaxed, stress-free way of cooking with endless possibilities for customisation – as explored in Jessica Elliott Dennison's new book Salad Feasts – a definitive guide to assembling more than 60 foolproof recipes to delight family and friends.
After working for Jamie Oliver on the redesign and product development of his food and homeware range, Jessica now plies her trade as a cook, food writer and stylist. At 27 Elliott's – her new café in Edinburgh – she also prepares a weekly changing, seasonally-led menu, along with hosting workshops and supper clubs.
She shares with readers her five steps to take the guesswork out of what to put on your salad plate:
Pick your leading vegetables, choose a hearty filling base, throw in some interesting contrast, add crunch and texture and bring it all together with a memorable dressing.
By adding a handful of toasted nuts, a quick pickle, some chewy grain, torn herbs and a crumbling of cheese, a simple dish becomes a generous lunch or dinner.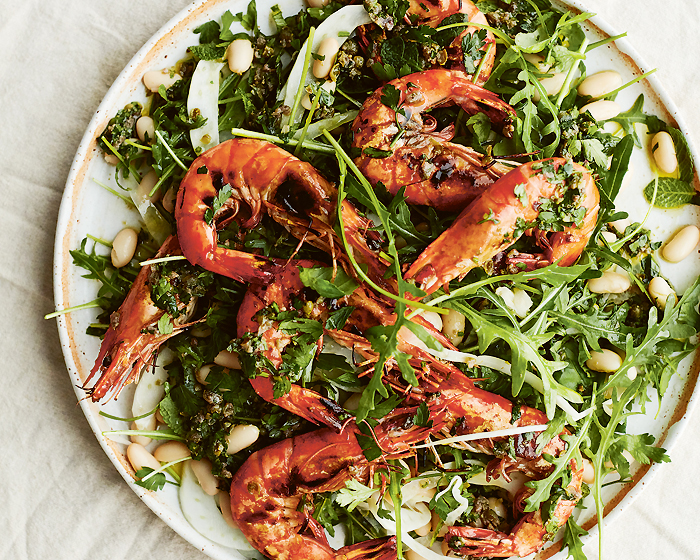 Jessica says her recipe for charred prawns, cannellini beans and fennel salad is the kind of meal ideal for sunny evenings when you want to cook something delicious, grab a glass of wine and enjoy eating in the garden, or on the deck with friends.
Dressed with salsa verde, it could also take a basil oil dressing, while to give the prawns the best, juiciest charred flavour, cook them quickly in a smoking-hot pan, or outside on the barbeque.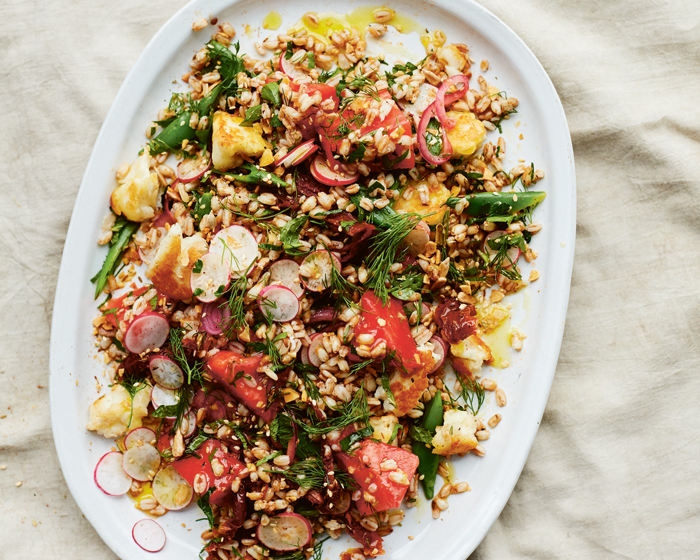 Watermelon is a good mood food – brilliant eaten outside, somewhere warm and sunny. Jessica pickles her watermelon for this salad with halloumi and spelt.
"Pickling the watermelon and red onion not only balances the halloumi and intense sun-dried tomatoes, but also draws out the naturally sweet juices and helps to form a great dressing for the chewy spelt grains," she says.
Thyme roasted nectarines and salami is a very simple, sunny plate of food, consisting of beautifully complementary ingredients. Salted ricotta is used to season the salad, but any hard, salty cheese will work just as well and don't forget to give the nectarines a few minutes to caramelise in a hot oven.
Using toasted fennel seeds, crushed with peppercorns and lemon zest, adds a subtle, aromatic crunch to the watercress and thyme leaves.
Featuring exciting menus for occasion-worthy spreads, as well as interesting ways to cook roast chicken, simple fish, perfect eggs and veggie fritters, these are easy-to-assemble delicious meals that transform everyday salads into extraordinary feasts.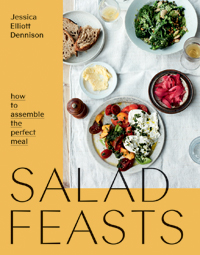 This is an edited extract from Salad Feasts by Jessica Elliott Dennison published by Hardie Grant Books RRP $29.99 and is available in stores nationally. Photography: Matt Russell.