By Leigh O'Connor.
In Summer, Japan looks breathtaking with mind-blowing festivals and events, beautiful flower fields and gardens - one of the best ways to take advantage of all on offer is to embark on a cruise, that stops at several of the festival cities.
I was lucky enough to take an 11-day cruise on the Diamond Princess departing from Yokohama and visiting Akita, Aomori, Sakaiminato, Busan (South Korea), Kochi and Tokushima. Air Asia flies directly from the Gold Coast to Narita and then it's a two-hour train trip south to the cruise ship port of Yokohama.
Once a sleepy fishing village, Yokohama is now a bustling city with a mix of ancient tradition and modern culture. I stayed in a Japanese business-style hotel, which to say was small really is an understatement, you could barely fit between the bed and table, while the bathroom was the size of a closet. The one saving grace was a great onsen on the top floor of the hotel, which I had all to myself.
The cruise ship itself can host up to 2,670 guests, has more than 1000 crew, several specialty restaurants, as well as the usual overwhelming buffet options, gourmet pizza and fine dining at night. With a fully equipped gym, spa and two saltwater pools – one dedicated to adults only – it is easy to leave your everyday world behind, unwind on a padded lounger and soak up the sun, with a drink in hand.

Kanto Matsuri. Image credit: Japan Guide.
After a first day spent at sea, we arrived in Akita in the northern Tohoku region of Honshu island for the Kanto Matsuri pole lantern festival. Held every year from August 3-6, the highlight of the festival is an impressive display of skill, in which performers balance kanto (long bamboo poles) with paper lanterns attached to the end.
The poles come in all different sizes with the largest measuring 12 metres, weighing about 50 kg and carrying as many as 46 paper lanterns, lit by real candles. It was an amazing experience as thousands lined the streets of the city chanting ' dokkoisho, dokkoisho' – words of encouragement from an old fishermen's dialect from the coast of Hokkaido – while the glowing lanterns were hoisted up by a single performer, using various balancing techniques.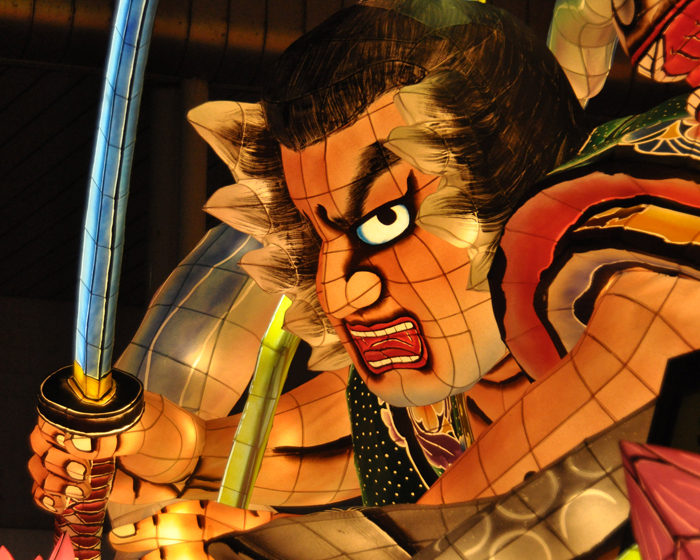 Nebuta Festival. Image credit: flickr.
Next stop on the cruise was Aomori for the Nebuta festival, which runs annually from August 2-7. Nightly parades of huge floats depicting Gods, historical and mythical figures from both Japanese and Chinese culture, kabuki actors and popular TV characters, are flanked by large taiko drums, musicians and dancers as they weave through the streets.
These vibrantly colourful floats are built by local teams from painted washi paper over a wire frame and can take an entire year to design and construct. They are propelled by human power and accompanied by flute and hand cymbal players, as well as hundreds of dancers – crowd participation is encouraged, and people come from everywhere to join the action.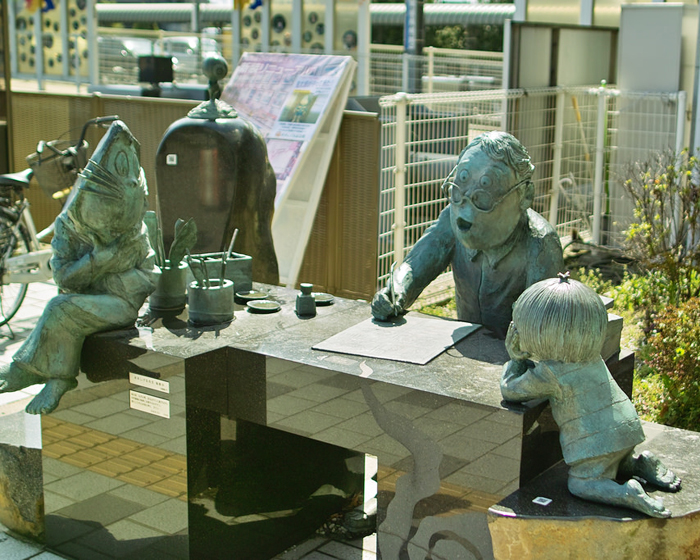 Yokai. Image credit: flickr.
After another sea day spent lounging by the pool, we cruised into Sakaiminato – the boyhood home of cartoonist and writer Mizuki Shigeru, whose 177 bronze Yokai (demon) statues line the main street, which is named after him. To say these statues are strange would be doing them an injustice…they are definitely weird, but well worth investigating as is the Mizuki Shigeru Museum.
It has long been said in Japan that when something strange or peculiar happens, a Yokai must be behind it. They not only punish people for their laziness and selfishness , but also teach them to take good care of things and to respect nature and the environment.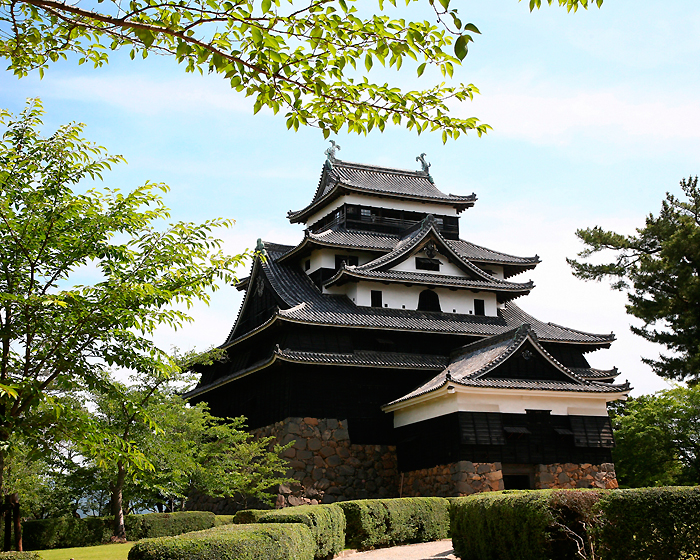 Matsue Castle. Image credit: Shimane.
Also well worth a visit by local bus is Matsue Castle – nicknamed the 'Black Castle,' this feudal building is one of the few remaining medieval castles in Japan in its original wooden form. Built in 1611, Matsue was completed as a fortress with black thick walls and today houses an impressive collection of Japanese artefacts, traditional clothing and weapons.
South Korea's second biggest city Busan offers a break from Japanese culture and a day spent visiting the largest seafood market in the country and experiencing the view from the observation deck 120 metre tall Busan Tower in Yongdusan Park.
One of the highlights after leaving Korea is passing through the Kanmon Straits – the stretch of water separating Honshu and Kyushu, two of Japan's four main islands – and passing under Kanmon Bridge. It is not very often on a cruise that you pass under such a spectacular bridge, making for great photo opportunities.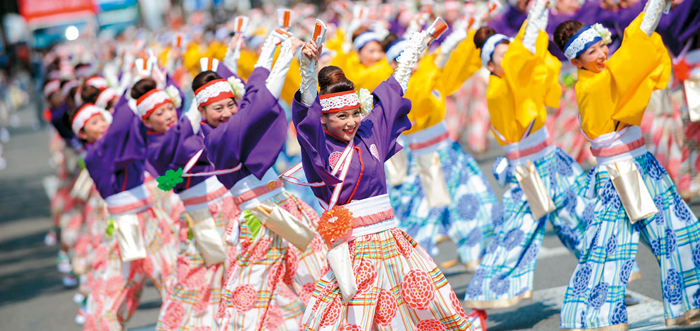 Yosakoi Festival. Image credit: Visit Kochi.
Next port of call is Kochi, where for more than 60 years the Yosakoi Festival has attracted fans from across the country and world to this energetic and powerful event, running from August 9-12. Dancers in colourful costumes carry wooden clappers as they gyrate to thumping beats through the streets, as well as performances on several stages throughout the city and at Kochi Castle.
My favourites were the younger dancers, who were more than happy to pose for photos and giggle at my Kiwi-Australian accent as I tried to communicate with them.
Last stop on the festival cruise is Tokushima, where Awa Odori is held annually in mid-August and is probably one of the most famous dance festivals in the country. Thousands flock to the city to watch this 'Fool's Dance', whose origins date back 400 years and come from the lyrics of a common song, which translates as: 'Fools dance and fools watch, if both are fools, you might as well dance.'
Streets are blocked off in downtown Tokushima from 6pm-10.30pm as groups of dancers called 'ren' perform – some just amateurs thrown together days before the event, while others practise year-round and come from as far away as the US.
After another day at sea, the ship pulls back into port at Yokohama and we all disembark feeling a little more enlightened about Japanese culture, people and food. Cruising evokes a laid-back attitude to life, and it is hard to get back into a work frame of mind… bring on another adventure!
For more information about Japan's festivals, click here.