Every good restaurant – particularly those with an AGFG Chef Hat – has a dedicated Sommelier, or Wine Ambassador taking care of a carefully curated wine list to accompany the menu.
Who better to ask what's trending in the vino world right now than these knowledgeable wine buffs? Welcome to our 'Wine of the Week' series, where we highlight particular wines on the radar of restaurants around the country.
Expect an immersive sensory experience at 14-hatted
St Hugo Restaurant
on Barossa Valley Way in Rowland Flat. Nestled in the heart of the Barossa Valley in a captivating setting overlooking the vineyard, this restaurant and winery pays tribute to winemaking legend Hugo Gramp in stunning surrounds of exposed brick, arched windows and recycled timber.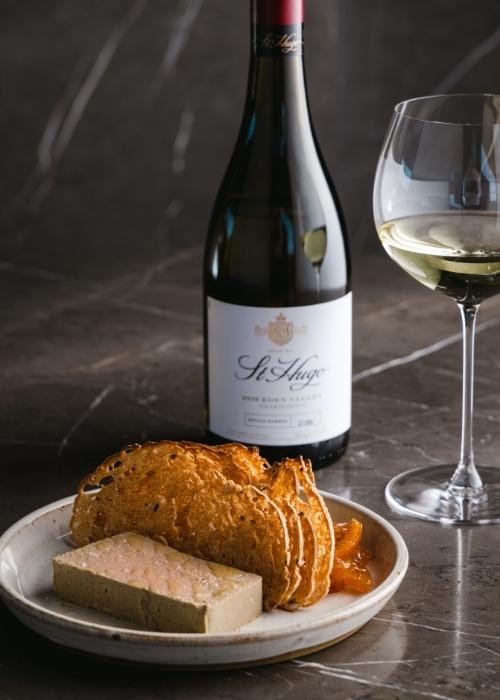 Wine Ambassador Lewis Murray recommends sampling St Hugo's
Signature Collection Eden Valley Chardonnay 2017
– an outstanding modern Australian Chardonnay, showcasing premium fruit from the pristine Eden Valley, which can be carefully cellared for up to 10 years.
"Chardonnay is making a comeback and our 2017 vintage is an excellent expression of the modern style with a touch of age," he says.
"In discussions with our Chefs, comments will often be made of its extremely versatile food pairing and that despite being paired with our chicken parfait, there are many other dishes whose flavour profiles would make for an exceptional combination with the Chardonnay.
"St Hugo has a reputation as an outstanding red wine producer. However, the 2017 Chardonnay, as our first vintage of any white variety, won the trophy at the Barossa Wine for best Chardonnay in show."