We have ventured deep into the internet, travelled far and wide, sometimes to the coffee machine and back and even further, to find the top ten Chinese menu fails. Translation isn't always easy, just like US based Braniff Airlines learnt when their ad campaign 'Fly in Leather' was translated in Mexico as 'Vuela en Cuero' which, while technically correct, also means fly naked. The security guards are here so we can begin: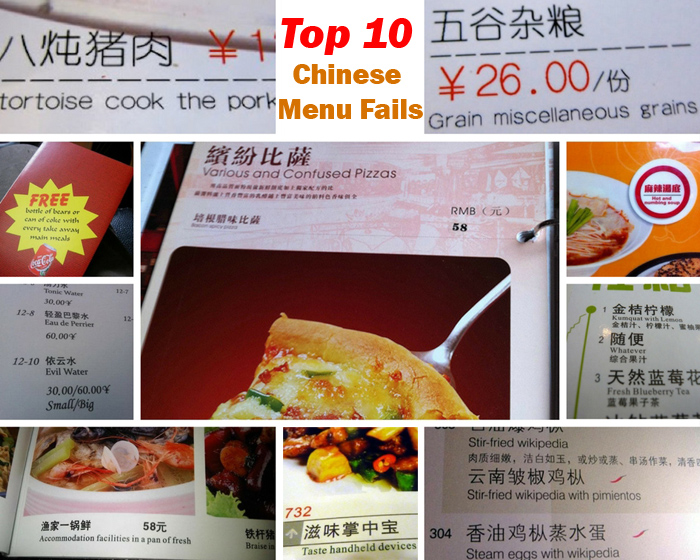 The tortoise cook the pork.
This dish is so fresh it was even cooked by a fresh tortoise.
Various and confused pizzas.
To be a pizza or not be a pizza, that is the question: Whether 'tis nobler in the topping, to suffer the slings and arrows of outrageous forks, or to take arms against a sea of mushrooms, and by opposing end them.
Evil Water.
Lord Voldemort has this shipped specially to his secret lair. Also popular among vampires and cats.
Free, bottle of bears or can of coke with every take away main meals.
Sorry Sir . . . we made a mistake. Yes, you made a mistake, not me, and I'm not leving till I get my bottle of bears!
Whatever.
When you run out of ideas. We've all been there.
Accommodation facilities in a pan of fresh.
I would like to request a different room; this one is a bowl of soup.
Stir-fried Wikipedia.
I know what you're thinking, ridiculous right? Why do they have Wikipedia in everything? A bit of variety would be nice.
Hot and numbing soup.
Tingles the tastebuds and the central nervous system. For those who like to live life on the edge.
Taste handheld devices.
When you can't find food . . . eat pictures of food on your phone, do we have to explain everything?
Grains miscellaneous grains.
From the producers of 1968's Oliver the musical that featured the hit song Food Glorious Food, comes the sequel, Grains Miscellaneous Grains!