By Leigh O'Connor.
As a wee bairn, Sam Moore would while away hours foraging in the Scottish countryside for chestnuts, berries, herbs and leaves for his father's restaurant, creating an immense appreciation for native produce.
Now heading the kitchen at prestigious
Luci
restaurant in Melbourne, Sam brings this to the plate in homage to Melbourne's history of Italian immigrants and evolution into a cosmopolitan culinary city.
As we celebrate International Chefs Day on Wednesday, October 20, who better to ask to share his journey from Scotland to fine dining establishments Down Under?
Housed within the Grand Hall of the historic Equity Chambers on Bourke Street, Luci boasts an art deco-style dining room – designed by Bates Smart – providing a sophisticated backdrop to Sam's contemporary menu with Italian accents.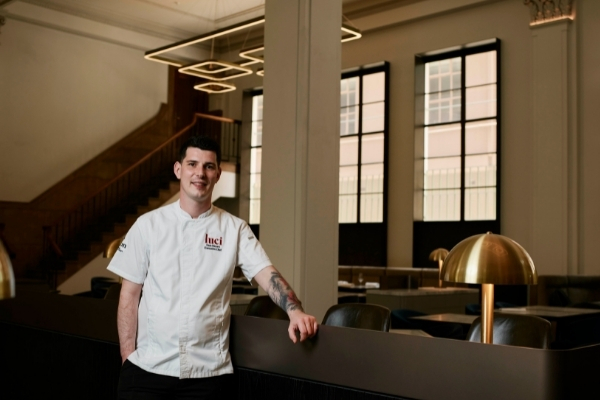 "It's been a big year opening Luci and Hilton Melbourne Little Queen Street in the middle of a once-in-a-lifetime (I hope) global pandemic!" he tells AGFG. "Luci is a very exciting project to me, the team and I are creating a unique, produce-driven culinary style; striking a balance between classic and modern sensibilities to create a 'Luci' dining experience."
Sam says the last 18-months have been a rollercoaster, with new venue openings, multiple lockdowns and re-openings:
"I have learnt to be patient and grateful - 2021 has been another difficult year and this constantly changing environment did impact us and slow things down. I found it's important to trust yourself, take things step by step and celebrate with your team and yourself on all achievements - big and small."
Sam believes COVID has changed dining perceptions in Australia forever, making Chefs more innovative and connected in different dimensions.
"To survive constant lockdowns, you need to keep your passion alive, look after one another and be creative."
Showcasing its proud 1930s architectural heritage with a contemporary edge, Luci features double-height ceilings, refurbished oak panelling, bespoke marble tables and flooring; setting an elegant and warm ambience and backdrop for every occasion.
"Luci's menu reflects contemporary Australian with European influences and the finest culinary craftsmanship in an honest and creative approach. Driven by the story behind the cuisine, I like to pay tribute to traditional recipes."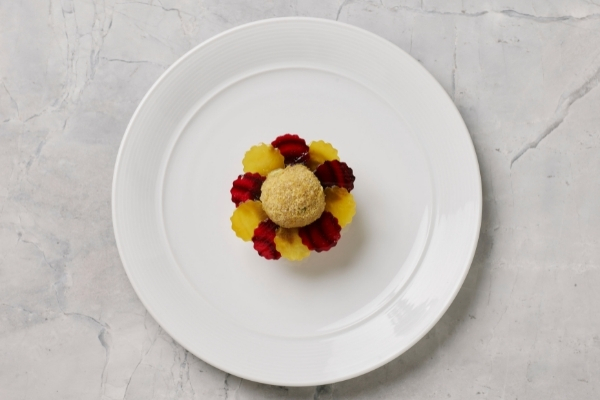 It is his dish of
Somerville beetroot, avocado and cashew
that Sam shares with AGFG. The dish was created for the restaurant's opening and a new version will be featured in the Summer menu, to be introduced on November 5.
"After a long lockdown, we've all definitely earned our time with family and friends in the sun this year. Here's hoping Melbourne puts on a good show for us. This colourful vegan entrée is perfect for an elegant dinner party, or backyard cocktail night," he says.
A mad keen English Premier League soccer fan whose favourite team is Newcastle United FC, we are sure Sam and Luci will be kicking culinary goals for many games to come!