By Leigh O'Connor.
There's always a competitive nature to twins and their relationship – just ask
Eleonore's
Executive Chef Elizabeth O'Brien.
As a teenager in high school, twin sister Sarah finished first in food technology and has never let her forget it. Fast forward and now it is Elizabeth who heads an amazing kitchen crew at this refined dining destination in the heart of the Yarra Valley.
Nestled in Chateau Yering Historic House Hotel on Melba Highway, this newly re-opened elegant restaurant is named in honour of the Chateau's most sophisticated hostess Eleonore de Castella; diners can expect plush surrounds of pink draped windows offering stunning glimpses of the garden, alongside white-clothed tables and salmon pink chairs.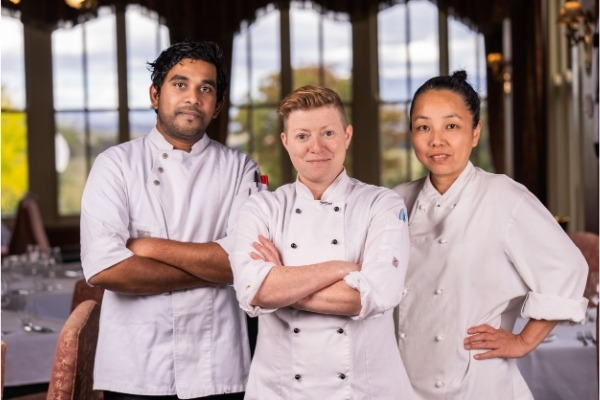 Eleonore's kitchen team…Executive Chef Elizabeth O'Brien, Pastry Chef Remold Fernando and Sous Chef Yoshiko Bainbridge.
Eleonore's is the ideal destination to spoil Mum this Mother's Day and Elizabeth will be front and centre overseeing a special high tea, which she is extremely excited about.
"I would love to spend the day with my amazing, beautiful mother, but I know she realises how special she is to me," she says.
Born in Byron Bay, Elizabeth's culinary career started with an apprenticeship at the local RSL club, where her grandfather was the president.
"My grandfather was a very keen fisherman and butcher, so from a young age he inspired my love of seafood and curiosity of butchery," she recalls. "Alongside him, my mother was also a big part of me falling in love with food and a constant source of encouragement."
As a young Chef, Elizabeth made her way up and down the East Coast of Australia in restaurants, eventually deciding to pack her bags and move to London. After working in gastro pubs and restaurants, she found herself as Sous Chef for the Gordon Ramsay group, based in Heddon St Kitchen.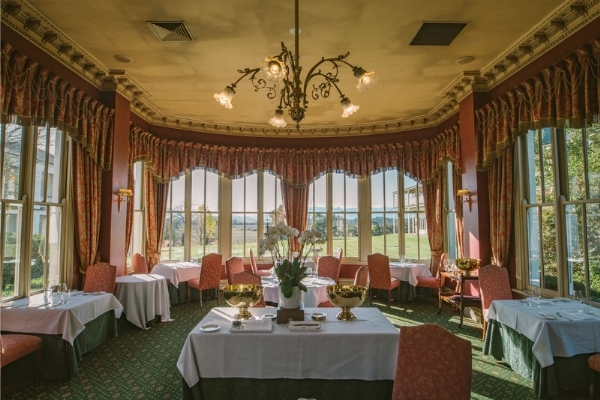 Eleonore's restaurant at Chateau Yering Historic House Hotel.
On her return Down Under, she took up the position of Chef de Cuisine at Melbourne's RACV City Club; before moving to the Yarra Valley and the Chateau.
"I can't really remember wanting to be anything other than a Chef, as a child I loved cooking for my family. I have also been called a picky eater, so it was in my best interests to know my way around the kitchen from a young age…I just never left!"
Since moving to Eleonore's, Elizabeth can't go past the local produce on offer and confesses to being a little obsessed with Yarra Valley smoked caviar, which she is incorporating into the restaurant's Winter menu.
A favourite dish on the current menu is the spiced pumpkin bread made for her little sister Emily.
"With miso glaze and textures of pumpkin, it is vegan and gluten-free with loads of flavour and texture."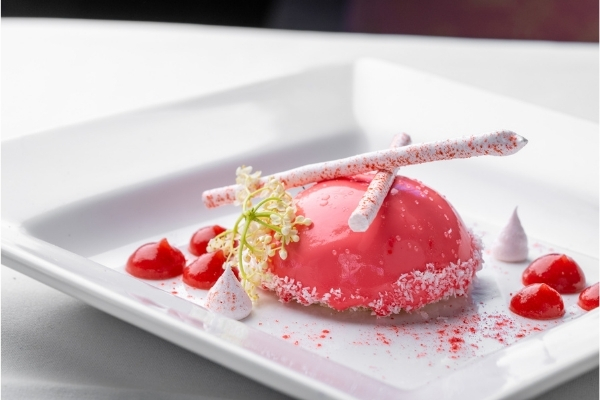 Strawberry mousse…ideal to serve Mum on Sunday.
It is this stunning dessert of
Yarra Valley Strawberry Mousse
that Elizabeth has chosen to share with AGFG. Created in collaboration with Pastry Chef Remold Fernando, the textures of crunchy meringue, smooth frozen mousse and strawberry glaze, make this divine dish perfect to serve Mum on Sunday.
Elizabeth says there is no better feeling than being part of food service with your team, when everyone is in sync and making beautiful food – "it is an amazing vibe to be part of."
We asked this creative Chef where she saw herself in five years' time?
"Five years from now, WOW I will be in my forties. Hopefully future Lizzy has it all sorted and I am still doing what I love…cooking!"