By Laura Rancie.
It was in the early 2010s that 'gourmet' started being used in reference to the type of burger you were having but these days just about every café has its own gourmet take on the classic, contributing to the burger industry's $9 billion worth in 2022 alone.
Aimee Helu, founder of thriving Hoppers Crossing café
Jock and Mack
talked exclusively with the Australian Good Food Guide and said: "Every café has to have a burger. It's the go-to item if nothing else on the menu takes your fancy".
The locals call the café an institution and by the amount of love that the husband-wife duo give to their strong
social media followers
, it's no wonder why.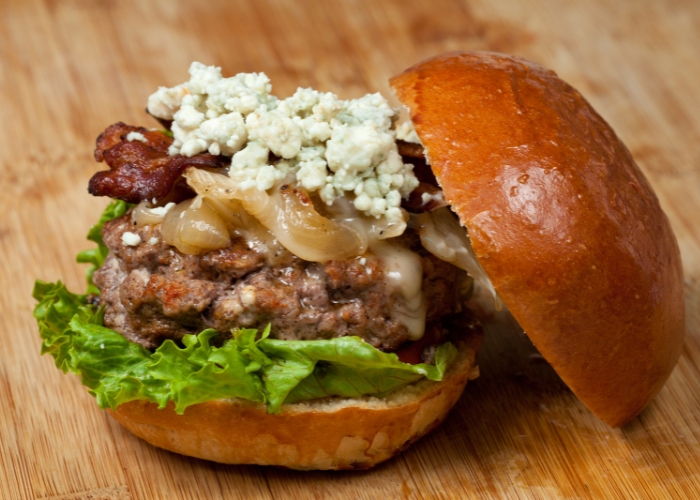 The Jock and Mack burger special is a Wagyu burger, with bacon jam, chipotle mayo, jalapeños and Swiss cheese to balance the strong flavours of the premium grade beef and tangs of the sauces with some cos lettuce.
Aimee explains that these days, the only bun worth having is a milk bun, if you really want a gourmet-style burger. Of course, the café also serves paninis, breakfast burgers, loaded toasties and a sandwich that sounds far from a sandwich and more of a burger's best friend - the Seoul Sandwich is gathered inside a garlic toasted brioche, scrambled eggs, smoked bacon, cheddar cheese and a sweet creamy sauce.
Do we have your attention yet?
While the actual origin of who actually invented the world's first burger is unclear, most food historians would agree that the United States of America takes the title, with a history dating as far back as the late 1800s.
Here are the top two most likely candidates and their stories.
According to legend, at age 15 Charlie was selling meatball sandwiches at the county fair in Wisconsin in 1885. Because it was hard to eat a big meatball while walking around, he decided to flatten them to create a more portable food item. Et voil
à
…the burger!
If you don't believe Charlie' story then perhaps 'Louis' version will take the pickle!
The proprietor of Louis' Lunch, a small New Haven diner in Connecticut in 1900, a customer came into his café for a quick meal, allowing Louis to flatten a broiled beef patty between two slices of toast. The café is still open today and claims to be the home of the first burger.
While we won't really know who is responsible we do know that the rise of early-mid 1900s fast food chains gave rise to the popularity of burgers for their convenience, affordability and versatility.