By Leigh O'Connor.
Ever wondered what it takes to host a successful Winter Wine Event, showcasing the belief that good food goes hand in hand with good wine?
Just ask Joanne Bradbury, director of Mount Barker vineyard and olive oil producer 3drops, and organiser of this month's Producer's Table lunch at Samson's Paddock in Mosman Park. The lunch on Saturday, June 16 has been designed by Chef Georgi Partenov, with each course carefully matched with a 3drops wine.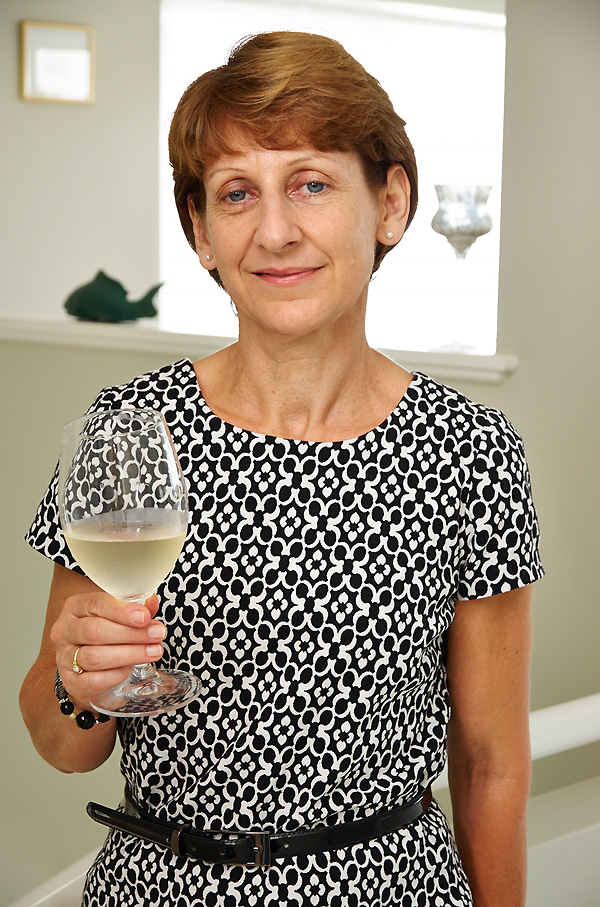 Joanne Bradbury.
As working director of 3drops, Joanne is responsible for the day to day management of the vineyard. The farming property, which was planted to vineyard in 1999, has been in the family for more than 40 years. In 2007, they purchased the Patterson vineyard with the aim of giving greater depth and concentration to 3drops Chardonnay and Shiraz wines and to start making Pinot Noir.
Joanne also looks after local, national and international marketing for 3drops, including the launch of the brand in the Korean market.
Over recent years, Joanne has organised many Great Southern wine dinners and events, particularly focussing on Riesling, a variety that the Great Southern is best known for.
"Raising Riesling has become very much a regional celebration and annually about 16 Great Southern wine producers take part," Joanne explains.
"I believe wholeheartedly in the future of the Great Southern and Western Australian wine industry and am extremely enthusiastic about promoting our 3drops brand.
"These producers are making exceptional cool climate wines; however, communication of our regional message is paramount to growth, ongoing development and recognition."
Joanne sees the wine dinners as one way of getting that message across and this month's event will be no exception with Rosé, Chardonnay, Pinot Noir, Cabernet and Shiraz all being served.
In 2016, 3drops introduced a new Rosé label and the 2017 vintage of this wine - which is 100% Nebbiolo - will be served on arrival at Samson's Paddock. It has a dry, savoury style, resulting in a fresh vibrant wine with aromas of strawberries and raspberries, along with subtle hints of creamy notes to add complexity and a crunchy acidity.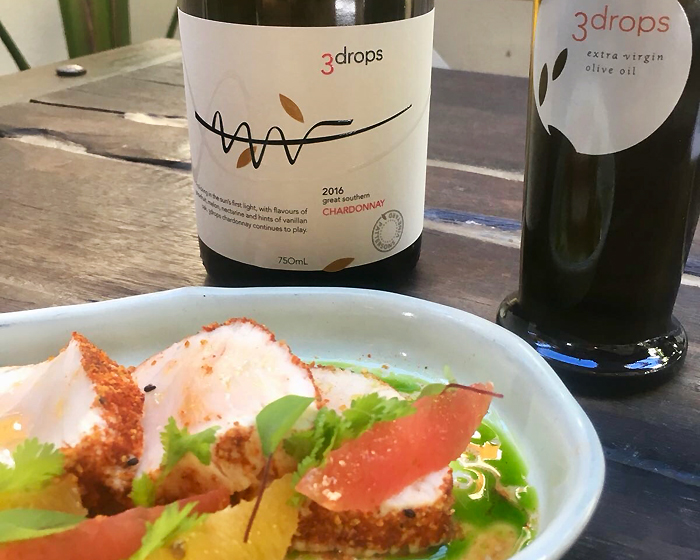 The starter of spiced swordfish with rocket, orange and grapefruit is sure to tempt tastebuds and has been paired with the 2016 Chardonnay, which has a light straw colour, complex yet fresh bouquet and vibrant aromas showing pink grapefruit and nectarine fruits.
Backed by subtle French oak characters, it has a succulent acidity providing great freshness and giving the wine a wonderful balance.
Chef's entrée of maple glazed duck breast with kale and roasted beets presents perfectly cooked pink duck, with a colourful side of dark green kale, golden and red beets; teamed with a glass of 2017 Pinot Noir.
With its light red colour and distinct aromas balanced with strawberry and cherry fruits, this Pinot is an ideal accompaniment to the meaty and robust flavours of the duck. The front palate has vibrant berry fruits, while a savoury complexity, quality French oak and fine grain tannins combine to result in a long finish.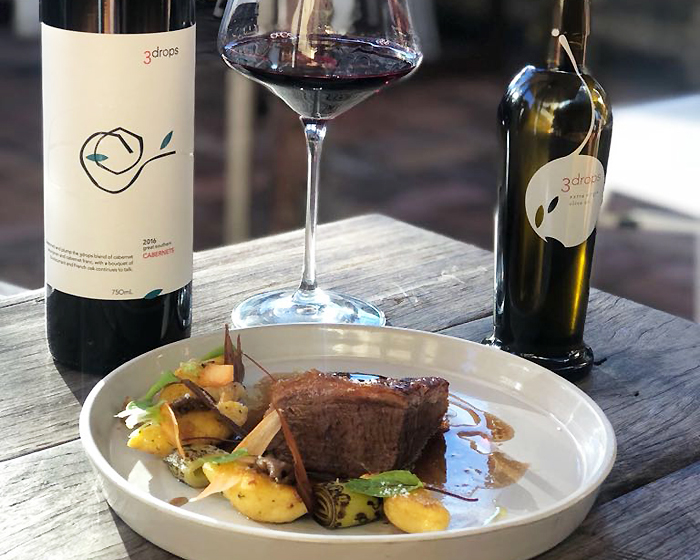 Beef brisket with potato gnocchi, mushrooms and leeks beckons as the main affair, paired with 3drops 2016 Cabernets. These wines are a blend of 65% Cabernet Sauvignon and 35% Cabernet Franc, giving a vibrant and deep red colour and a bouquet of blackberry and red currant fruits, backed by tobacco leaf notes and cedar-like characters.
Finishing on a sweet note, a chocolate truffle will be served with a glass of 2015 Shiraz, with its complex aromas of fruit, spice and hints of pepper. Black cherries, ripe plums and rich chocolate fill the front palate, making it an ideal choice to pair with this decadent indulgence.
Joanne has some insightful tips for those out there contemplating planning a successful wine event at any location.
"Choose the right venue – it needs great food, a good vibe and great reputation. Take time to look at what suits the venue's clientele and decide on the style of the event – lunch, dinner or a tasting experience.
"Be creative and inspiring to give your event a point of difference!"
Meeting with the Chef to try the wines and plan the menu together is paramount, along with knowing what is seasonally available to showcase the wine as well as the food.
For those who want to plan a dinner for someone special at home, Joanne says experimenting with wine and food matches is important, as is using a variety of wine styles.
"You can either start with your planned menu and then choose wines or select the wine and then plan the menu to suit. Choose good glassware and great produce, keeping it simple so everyone enjoys the dinner – plan a fun and enjoyable wine experience, while still adding to your guests' wine knowledge."
Joanne has held a number of tastings and dinners over the last few years in not only Australia, but also South Korea, Singapore, Hong Kong and China. She was the Committee Chair of the Wine Show of Western Australia from 2012-2017 organising the Trophy Presentation dinner, Top 50 tastings and sourcing new sponsors to ensure its sustainability.
Being hands-on at 3drops also takes up a great amount of her time and she works closely with their winemaker and viticulturist, discussing wine styles, techniques and oak requirements.
"Making contemporary wines that truly reflect our vineyards in the Great Southern region is our goal. We also endeavour to make vintages that are attractive and approachable in their youth but have the ability to age and develop."
Have we piqued your curiosity about 3drops wines? To view the range, click here.