"Life is sweet, but it can always be a little bit sweeter!" ~ Elise Strachan.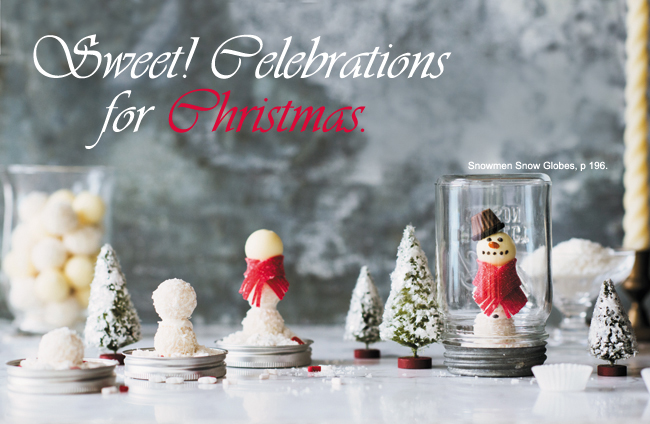 Expanding her sugary, sprinkle covered empire, Elise Strachan breathes life to a new and vibrant baking cookbook, Sweet! Celebrations. For those yet to be acquainted, Elise is the developer and enchanting hostess of My Cupcake Addiction, one of the worlds most widely viewed online baking shows, viewable in multiple languages. From this, Elise shares her most dazzling, delicious and downright drool-worthy dessert recipes and ingenious tips inside her beautiful collection, brimming with warmth and a homely character. For a dash of sugar, spice and all things nice, wrap your chocolate dipped fingers around Sweet! Celebrations and find a whole year's worth of baking inspiration inside.
Originally a market stall for cupcakes, Elise's YouTube channel My Cupcake Addiction exploded on social media back in 2011. An astounding current count of 2.9 million subscribers makes her channel one of the world's most popular cooking channels. It is from this that Elise shares her lively collection of recipes surrounding events throughout the year that avid fans cannot wait to grab. Elise has been practising and perfecting her skills since she was a young girl, baking for her family and stealing away with any sweet leftovers to satisfy her own cravings. Now known globally for what she invents, Elise splits her time between America and Australia, cooking as she goes, experimenting with flavours and toppings, techniques and a style that wows an endless audience of sugar craving fans.
From one celebration to the next, New Year's Eve through to Christmas, this recipe collection includes Elise's favourite recipes for weddings, backyard barbecues, elegant afternoon tea parties, colourful children's birthdays and much more. For those needing a sounding board for future events, searching for easy to achieve ideas with sassy creativity, while also having to feed a crowd, then this book belongs open on the kitchen bench.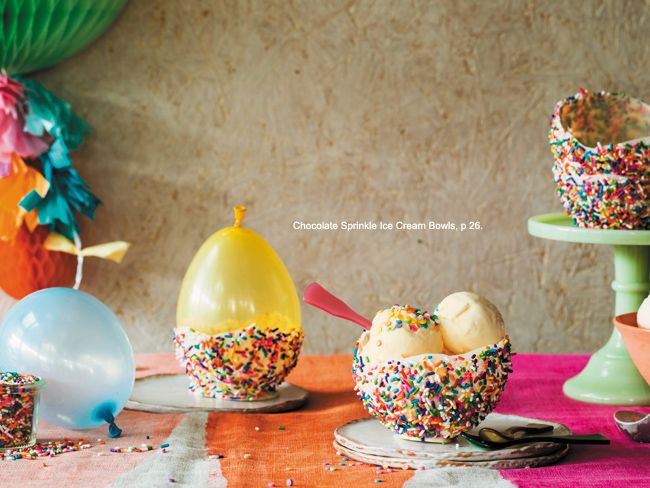 Discover simple, no bake recipes that use up leftover ingredients from other recipes, like chocolate sprinkle ice cream bowls for a cute and creative way to serve ice cream to guests. Save all your leftover chocolate from other recipes, and when the time comes, melt them into bowls decorated with excess sprinkles from other desserts and repeat your ingredients recycling again! If there is melted chocolate left over from this batch of cooking, spread it across parchment paper and set it in the fridge before breaking it into shards, grate or shave it, and then use it to decorate future desserts.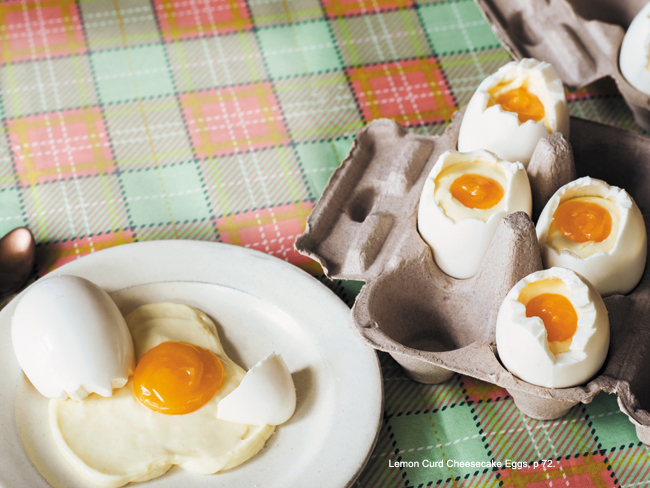 Find the likes of adorable little lemon curd cheesecake eggs that save the slicing and add a novelty element to eating cake. Bring this idea out at Spring parties, christenings and baby showers to surprise adults and children alike, and most certainly reserve it for Easter time as a way to use up extra eggs. For other times of the year when hollow chocolate eggs can't be found, Elise has a quick method for that too!
When Christmastime looms around the corner with next-to-no warning, flip open Sweet! Celebrations to the Christmas section and create multi-purpose treats like these delightful little snowmen snowglobes. Not only do they make a tasty Christmas dessert, they also serve as great presents, loveable table centrepieces or individual desserts for guests and unexpected visitors.
Filled with tips for tempering chocolate, working with tiered cakes, ganache, buttercream and frosting, make all of your sweet dreams come true with a helping hand from Elise - perhaps you too will find yourself with a cupcake addiction to fulfil! Enjoy Sweet! Celebrations today, available at all good bookstores.
We speak with Elise about all things Sweet!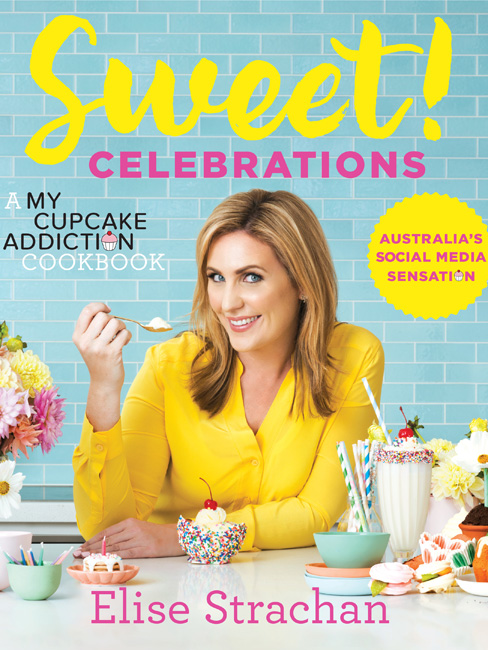 AGFG: How do you manage your time between creating one mouth-watering masterpiece after another for your online channels, spending time with family, putting together a cookbook and living between Los Angeles and the Gold Coast? How do you do it all!?
Elise: It's a balancing act and I'm fortunate to have an incredibly supportive family and a real passion for what I do. My husband is my producer, cameraman and business partner and my kids, Oliver (5) and Jacob (2) are my chief tasters. While I probably work more hours than most and often sacrifice sleep, I manage to successfully juggle my family, my work and my craft…. with the odd book or TV show thrown in just to remind me I'm alive!
AGFG: Your creations continue to surprise and delight millions – where do you find your inspiration for new ideas?
Elise: It's in my soul! I look at recipes in a very unique way and creative ideas find me in the most unlikely places. I also have a phenomenal community of over 10 million bakers who continue to challenge me creatively and often put in requests for things they'd like to see my unique take on.
AGFG: If you had the ultimate dessert party, who would be there and what would you serve?
Elise: I'm in the young family stage of life and my reality is less "perfect tea parties" and more casual, kid friendly events with lots of activities, entertainment and things to keep the little ones busy.It would be a combination between Willy Wonka inspired desserts and a Mad Hatter table setting laden with lots of small bites and little bakes, high-tea style serving-ware and a 'weird hat' contest. My guest list would be my family, my closest friends and their kids, and I'd set up a mini replica of the adults' dessert table so the kids could run their own show.
AGFG: What's next for Elise Strachan, My Cupcake Addiction, and your young family?
Elise: My Cupcake Addiction will continue to be a trend-setting food community teeming with creative sweet ideas, but you'll see a lot more of Elise Strachan outside of the internet. My new book Sweet! Celebrations releases alongside a new television project Sweet Smarts, which I've been working on with the Food Network, and there are many more projects in the pipeline.As always, my family will be a part of the journey and we'll continue to live by the motto, Life is Sweet.
Images and recipes from Sweet! Celebrations by Elise Strachan (Murdoch Books) RRP $39.99.