Words and photography by Roxie Whitton.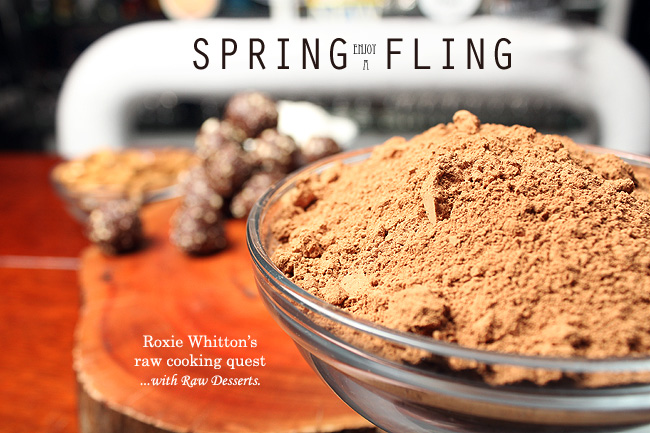 As Spring awakens, so too does the inner-health guru in all of us – she's been sleeping during Winter, but now it's her turn to set us back on track.
Normally I would shy away from things so organically inclined, as in the past I've always been a packet mix kind of girl, but as the stomach gods would have it, I've recently developed an intolerance to lactose, which has sent me on a new and exciting quest to improve my cooking skills. In a strange way, I look at this intolerance as a blessing in disguise as my food horizons have broadened, allowing me to be more determined to ensure that my everyday diet is a healthy one – (well mostly).
Bounce back into Spring with these Double Choco Crunch Balls.
With Spring fever approaching fast, I found myself sitting in on Health Coach Cat McKinnons' 'choco-licious' workshop with no prior knowledge about raw dessert making in the slightest! Sitting on the shores of Cudgera Lake and nestled in among the Northern Rivers region of NSW, the cookery class took place inside The Lake Cabarita, where owners Jenny and Joel Zwemer boast a sumptuous paleo-inspired menu daily. As I looked around the room at the mums-to-be and cake lovers alike, I soon realised it wasn't the kind of cooking class you just sat and watched, this was the kind of hands-on, dip your fingers in as you go type. Was it my time to shine, or could this turn into a cacao disaster…?!
Health Coach, Cat McKinnon sprinkling her raw cacao fairy dust on the class.
We can all agree there is nothing worse than being on a restricted diet and feeling deprived of your favorite foods, but Cat finds a special way to spread the vegan love. She is dedicated to changing the way people eat by doing it in a fun, sustainable way and I quickly found out preparing healthy treats really wasn't that hard at all.
Just like a chocolate milkshake, only healthier! All hail to Cat's Kale and Cacao Smoothie.
We began with her very simple 'Hail to the Kale and Cacao Smoothie.' She showed us how easy it was to sneak the super goodness of raw kale into a smoothie without the kids, fussy husbands or taste-buds even noticing! If you're anything like me and the sun-filled skies of Spring make you crave something fresh, then you better try your hand at Cat's 'Double Choco Crunch Balls,' I can assure you, they are just as healthy as they are delicious.
Hands on, locals experimenting with different raw desserts.
The other guilt free raw desserts we all prepared successfully were her 'Twiix Deliish' (which in my opinion was better than the real thing), and her very own Peppermint Crusted Chocolate Ganache Cake, both of which have proven great for when my naughty sweet tooth arises.
If you're ready to experiment and get massive bragging rights with your family and friends,here are a few of Cat's amazing raw food ideasthat will most certainly put a spring in your step this season!