Where you should eat at Byron Bay's Bluesfest this year. Words by Karissa Straughen and Freya Ensbey, photography by AGFG. Moment to moment updates can be found on our instagram. Photos are suggestive as menu items are subject to change, we will update any changes that we find, live.
We'll be swingin' and eatin' our way around Bluesfest for our third time this year! It's been a long stint between langos for us and we're more excited than ever to be back lounging on the grass with the moreish aromas of food – not to mention the moving sounds of the Blues.
You can be forgiven for thinking that Bluesfest is just about blues and rock 'n' roll, as soul can be found on every corner in the form of food! Peter Noble, Bluesfest Director, said that Bluesfest has some of the best festival food on offer – and we can't deny the truth of his words; from healthy and raw, to deep fried and delicious, we're going to take you on a play by play of our 9 favourite places to eat at Bluesfest.
It was truly a delicious, but daunting task, getting this list down to 9, as every food stall has something for everyone. So, as we always say, our palates are different and just because these stalls stand out to us the most, does not mean that the 37 other stalls (including 9 first timers) aren't delicious also.
Now, who's hungry?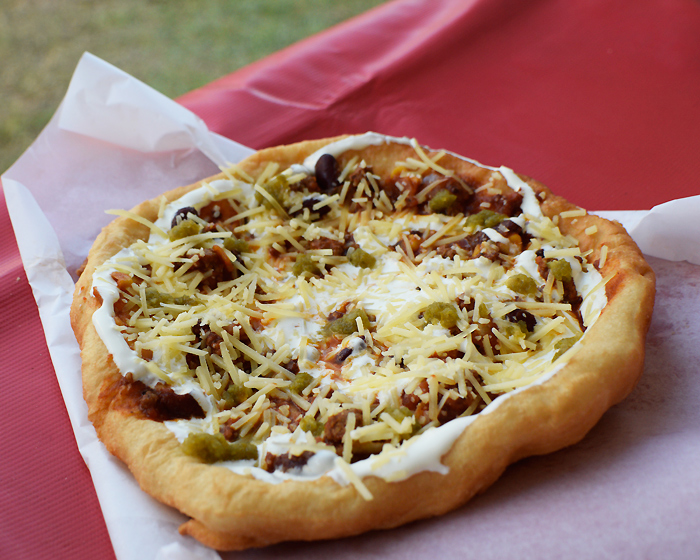 Three generations of Hungarian tradition, is what you'll find at the Langos Hut (North of Crossroads) – this is festival food at its very best, deliciously fluffy, tasty, snapfried bread with your favourite toppings. If you've never tried langos before, it's something you must do before you leave Bluesfest. Pictured is the Extra-Mex: a Mexican take on a Hungarian classic with beef chilli con carne, sour cream, cheese and jalapenos.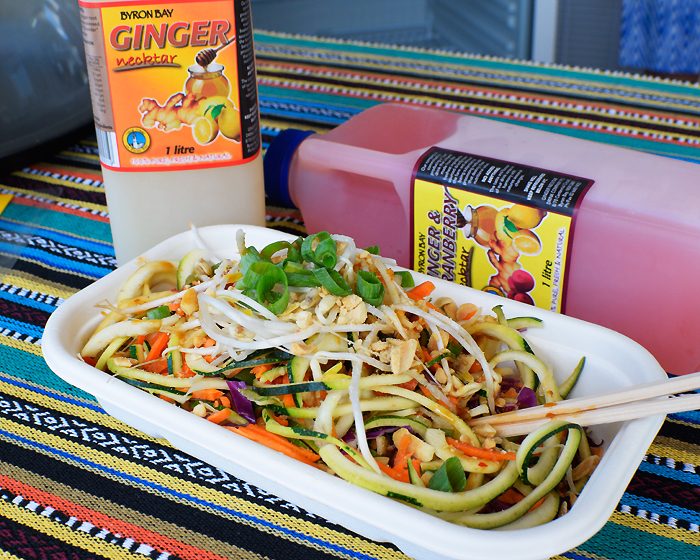 Ginger Necktar (North of Crossroads) has been a Bluesfest stallholder for over a decade with a love and passion for healthy food, ginger infused drinks (by own design) and samples of fresh local produce, all hand made in Byron Bay. Pictured is their Byron Bay Ginger Necktar drink as well as a Ginger & Cranberry variety and their raw Pad Thai made from fresh vegetables with zucchini noodles tossed in a vibrant Thai sauce and topped with bean sprouts, fresh herbs, black sesame seeds and peanuts. For all those that are health conscious or want to get their festival energy from something raw that's not loaded with sugar, the Ginger Necktar stand is where you need to be this year, where they have bliss balls, goodie balls and chia puddings - no Pad Thai for 2018 (sorry).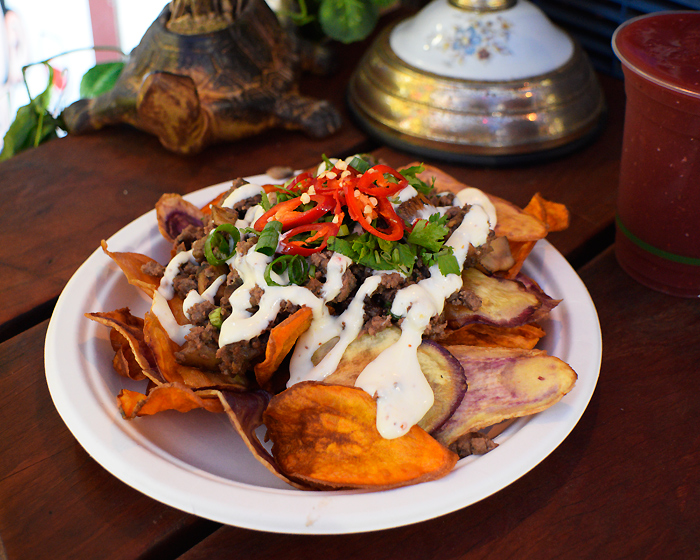 Gourmet Goons in the Crossroads Food Hall is serving some deliciously different dishes to the Bluesfest crowd. We'll start with the drinks on offer, Davidson Plum, acai, chia seed, strawberry, watermelon and Bilpin apple juice. These drinks pair perfectly well with their ingenious drunken nachos: kangaroo, mushroom and eggplant in their secret sauce on top of crunchy sweet potato crisps with fresh chilli, shallots, coriander and finger lime aioli.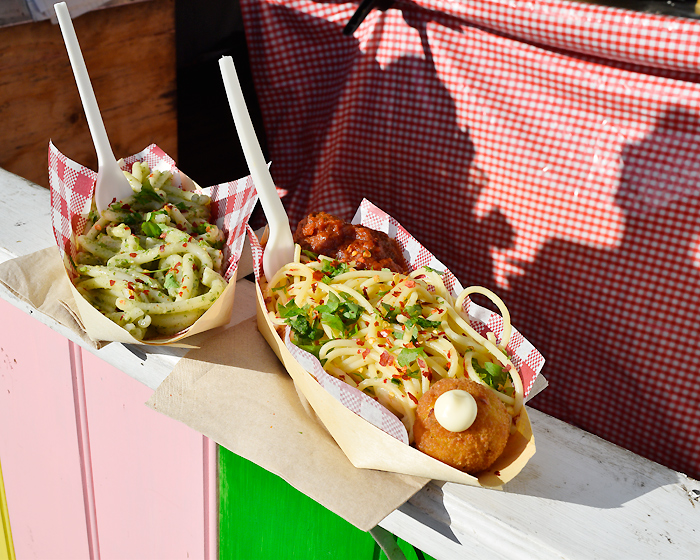 Last year we met up with Robert from That Arancini Guy to learn he's not just THAT guy anymore, he has expanded the business from arancini balls to an Italian Kitchen featuring numerous dishes that he's been trialling, testing and perfecting. Pictured is his signature cheese wheel spaghetti with meatballs and a pumpkin and mozzarella arancini ball. Absolutely delicious, Robert, we'll see you again this week (find him South of Crossroads)! Note: this year Robert is serving gnocchi instead of cheese wheel spaghetti, just as delicious!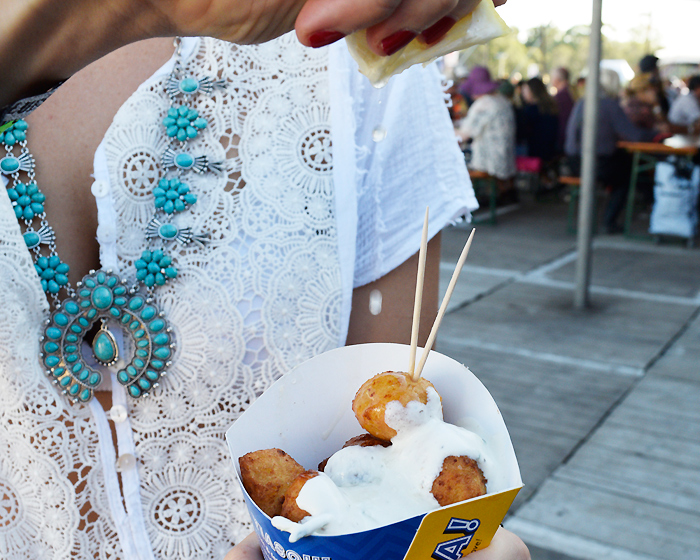 From Italian to Greek, be sure to visit Ilias' stall - Ilias the Greek (at Coffee at Crossroads) to delve into their feta and salt balls - delicious golden morsels of goodness, topped with a squeeze of lemon and drizzled with lashings of creamy tzatziki. They're the perfect option for anyone that wants a snack, on the go between acts.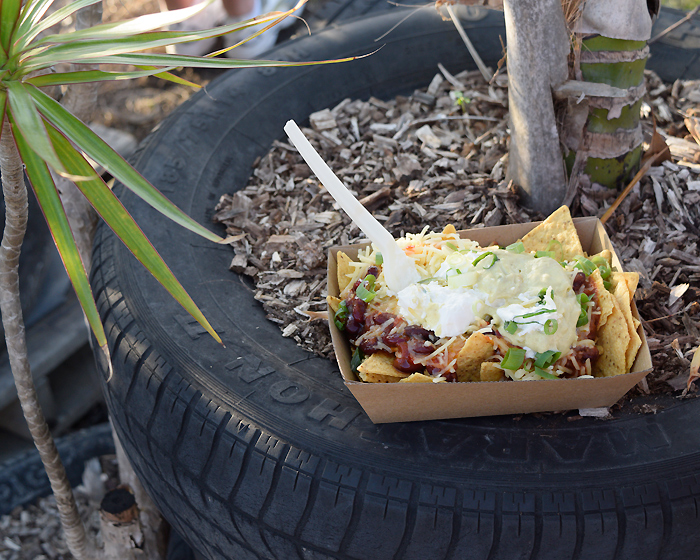 For California style nachos, no one does it better than Bluesfest veteran, Sweethearts Lemonade (in the Mojo food line). These nachos have been filling the bellies of festival goers since the beginning! Be sure to delve into them along with corn on the cob, lemonade and cookies.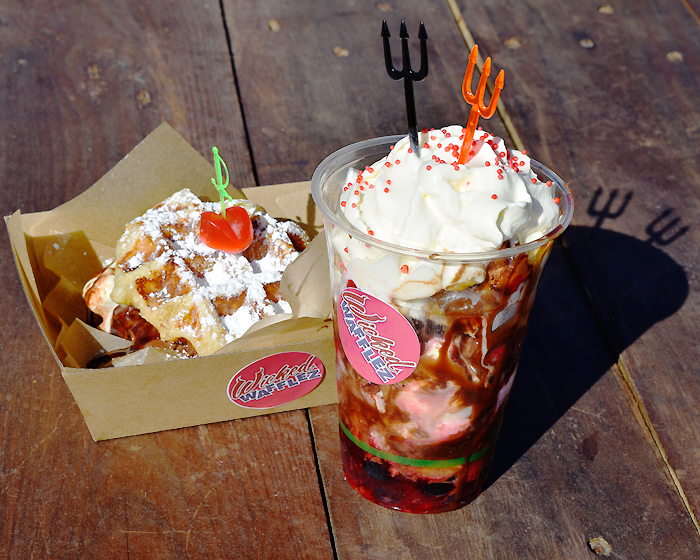 If you're looking for something sweet, be sure to see Anna at Wicked Wafflez (at Coffee at Crossroads). Fusing the sinfulness of the waffle with Anna's quirkily lovable personality, Wicked Wafflez offers rockers a wicked time with menu delights such as the Wicked Kisser – two sinful waffles sandwiching ice cream, Nutella and hot fudge sauce, along with the Mother Fudgin' – a waffle in a cup, with luscious berries, ice cream, whipped cream and hot fudge, topped with "Devil's dust." This year, Anna has upgraded the Wicked Kisser to the Evil Twinz!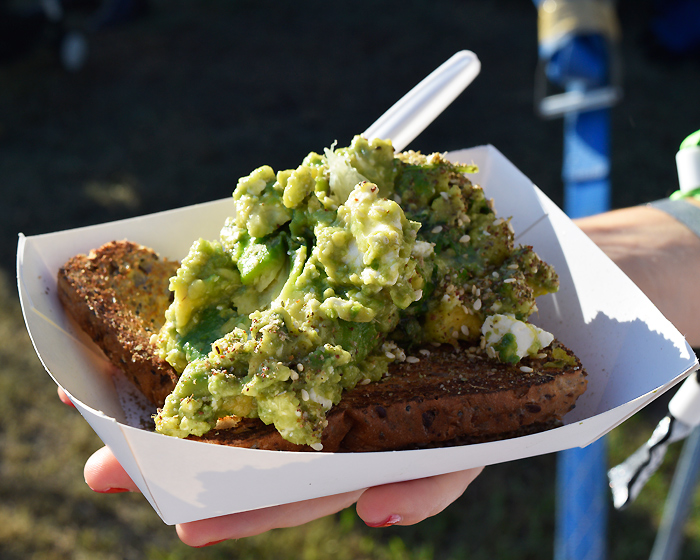 If in need of a classic, midday "breakfast," then The Avocado Hut in the Crossroads Food Hall is where you'll want to be. Opt for an avocado smash, with herb tossed avocado and feta, a generous sprinkling of crunchy hazelnut dukkah, finished with a drizzling of lime juice and coriander atop wholegrain toast, making for a zesty and fresh "brekky" to start your festival day on the right foot.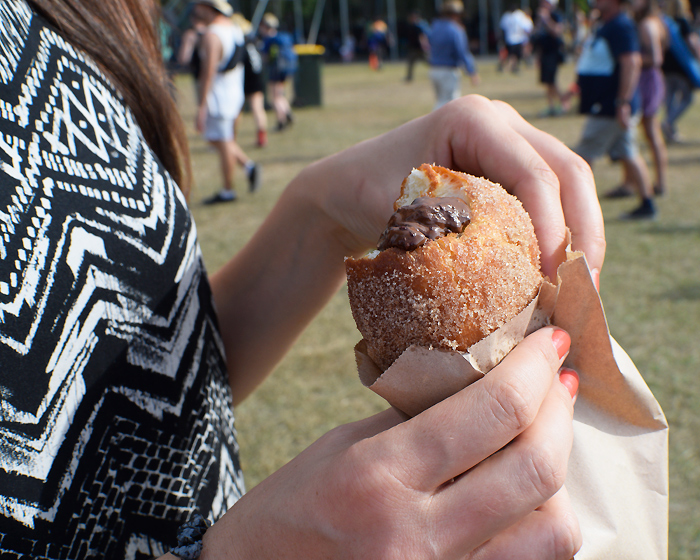 Be sure to cap off your Bluesfest foodie experience with one of the most popular on-the-go treats, Byron Bay Organic Doughnuts (South of Crossroads). We couldn't go past the chocolate filled doughnut last time, which was absolutely worth the wait in the massive line-up, we suggest going their early to beat the after-dinner sweet fix crowd.
We hope you have a wonderful, gourmet and soulful time at Bluesfest this year, because we know we will.