By Freya Ensbey.
It is Australia's most Southern state, with a reputation proceeding itself, offering a contrasting landscape abundant with the ideal growing conditions for many of the mainland's produce and wine demands. However, it is the salty elixir of the Tasman Sea, lapping at the untouched Eastern coastline of Tasmania which has put the area waves above the rest on any seafood gourmand's radar. With cool waters travelling North from the Antarctic and pristine water purity, several sea creature varieties flourish, growing clean and pure flesh, delivering an unparalleled taste which has the world seeking what locals can enjoy daily. Join us for a road trip along the East Coast of Tassie as we highlight the must visit seafood pit stops and destinations it has to offer.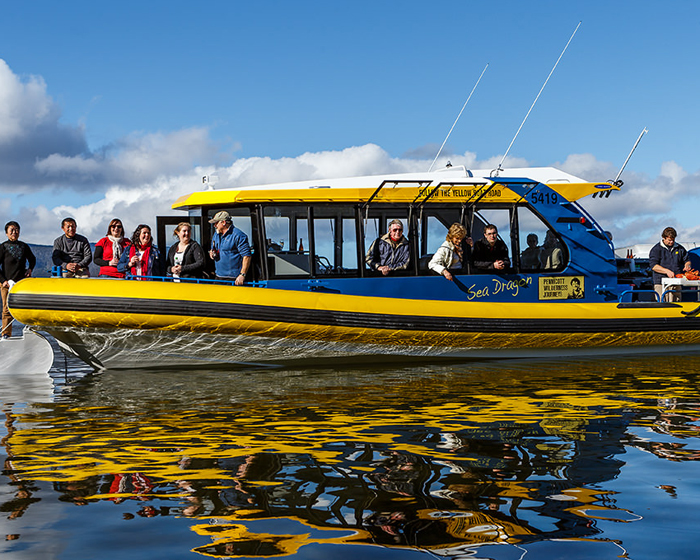 On tour with Seafood Seduction.
Seafood Seduction | Hobart
We kick off our road trip in Tasmania's capital city of Hobart, with the most hands-on seafood tour you could experience, Seafood Seduction. Situated on Franklin Wharf, next to Constitution Dock, Seafood Seduction is a full day tour hosted by the multi award-winning company Pennicott Wilderness Journeys. Boarding guests from Franklin Wharf, next to the Constitution Dock lifting Bridge on Hobart's waterfront, Seafood Seduction offers an exclusive tour for a maximum of 12 guests, ensuring an intimate experience.
Guests are well looked after by two local guides on board their comfortable, custom built vessel, featuring an enclosed cabin and luxury leather seats. Anchoring in select locations to dive for wild abalone, extremely sought after Southern Rock Lobsters, sea urchin from the crystal clear waters of Bruny Island and salmon from local farms, delighting guests as the day's catch is turned into a seafood feast accompanied by gourmet local produce and Tasmanian wines, boutique beers, ciders and juices.
"I think it's a once in a lifetime experience. I have been there many times, any friends that come to visit in Australia, I have taken them to Seafood Seduction." – Tetsuya Wakuda.


Flippers Fish and Chips | Constitution Wharf, Hobart
When visiting Tasmania, it is on most tourists to do lists to visit Hobart, a tourist mecca rich in culture offering a contrast of old world charm which meets a modern coastal atmosphere. Sitting on the very edge of Constitution Wharf, bobbing docked in the bay, is Flippers Fish and Chips, the take away seafood eatery which has cemented itself as a must visit tourist stop. Why not grab a succulent piece of crumbed trevalla to enjoy with a side of fresh coleslaw and chips and sit on the water's edge whilst you watch the boats coming and going from the Marina.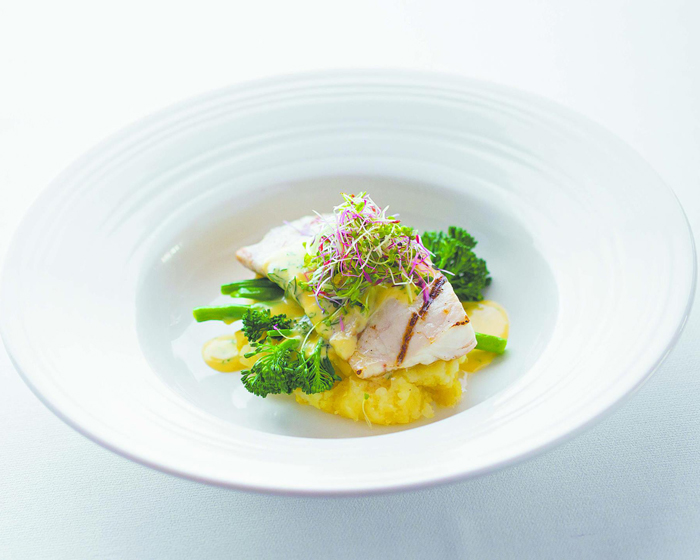 On a taste tour at Mures' Upper Deck with a Chef's selection white fish.
Mures Lower Deck | Hobart
Found just a short stroll from Hobart's Salamanca Place, is the iconic, family owned and operated seafood eatery, Mures Tasmania. The Lower Deck is devoted to serving a more casual crowd, offering hungry tourists fish and chips, grills, salads, fresh oysters and share platters, which has all been sustainably caught and sourced with an emphasis on Australian wild catches, specialising in line fishing aboard their very own vessel, the Diana.
Styled with timber clad walls, table tops to match and lush upholstered chairs, the Upper Deck of Mures offers a more stylish and refined a la carte dining experience for those who prefer. The Upper Deck serves a menu swimming with seafood sourced straight from the suppliers below incorporated into a Mod Oz menu of favourites.
The Fish Van | Triabunna
Moving further North, when finding yourself in the suburb of Triabunna, be sure to make a pit stop at popular local haunt, The Fish Van, parked along the Main Wharf End of Charles Street. Take a seat in their alfresco dining space of relaxed picnic tables or grab your meal to devour on the go. Offering seafood straight from the Marina which it sits adjacent to, The Fish Van serves up tasty seafood treats authentically wrapped in brown paper, with options like the Tackle Box with fish, seafood bites, squid rings, crab stick, salt and pepper squid and chips.
Oyster Bay Seafood | Swansea
Take the scenic drive north from Triabunna to Swansea for a pit stop and enjoy a meal at Oyster Bay Seafood. A must visit stop off on the take away trail offering weary travellers a tasty meal to keep them fuelled on their journey. Try golden pieces of crumbed flake, a seafood platter for two with fresh and cooked local seafood delights or perhaps a bowl of warming, smoky seafood chowder with a side of crusty bread on a cold day.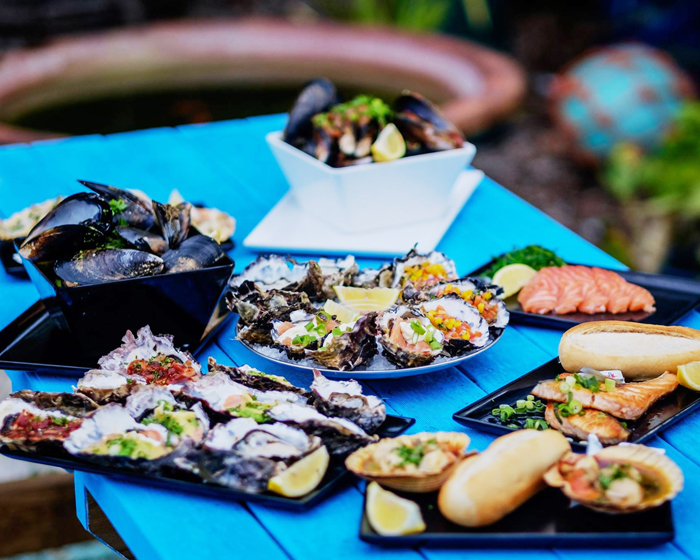 On a seafood tasting tour at Freycinet Marine Farm.
Freycinet Marine Farm | Coles Bay
After spending the day exploring the stunning surrounds of Freycinet National Park, satisfy your ravenous appetite with a trip to Freycinet Marine Farm and enjoy fresh seafood harvested straight from the water whilst enjoying spectacular views from the deck. If you're just passing through, perhaps purchase some seafood to take away like fresh mussels, Pacific Oysters or wild caught Tasmanian Abalone, pan fried and served with lemon to bring out the natural flavours, along with seafood catches from their outlet the Fishers, located within the Devils Corner vineyard.
Whether arriving by plane or boat, the state of Tasmania feels worlds away from the mainland, offering an abundance of culinary experiences, inviting visitors to sample in their bounty of produce. Visit here for more of Tasmania's must-visit restaurants.