When you're ranked Best Bar of the Year in Australia for 2019 and number 43 in the world…you are obviously doing something right. Just ask Sydney's Stefano Catino, who grew up in Italy and has been surrounded by hospitality influences all his life.
He talks to Roots Podcast about cocktail culture, learning how to make a 'Wet Pussy' and the success of his three pizzeria and bar establishments.

Roots Podcast is an interview channel which dives into the personal stories of those in the hospitality industry - whether it be in the restaurant, or out in the field.
Elijah-Jazz, Chef de Partie at
Yellow
in Potts Point, also talks to those in the media as they look back on where it all started for them. It is a retrospective look on the passion, ambition and drive involved in a competitive industry.
One of the masterminds behind Randwick and Surry Hills Italian pizzerias and cocktail bars
Maybe Frank
, along with lounge bar
Maybe Sammy
at The Rocks, Stefano was born in Vernazza in Italy where his father owned and ran a restaurant.
By the age of 5, Stefano was in the venue with a tray, collecting empty glasses and plates to be cleaned.
Fast forward to age 26 and he's finding his feet on Sydney shores, where he has decided to settle in and begin working in the CBD. Immersing himself in the cocktail culture of the city, Stefano learnt how to make basics like lemon, lime and bitters; along with having people scream at him to make a 'Wet Pussy', but having no idea what it was and being taken aback the first few times.
After a quick learning curve about both drinks and 'shit people', Stefano began working for hospitality company
Flavour
, which had a bar in the middle of Sydney Harbour on Cockatoo Island.
Famous for its wild nights and unloading hundreds of drunk people from the ferry back at Circular Quay, Stefano recalls an incredible New Year's Party watching the Sydney fireworks – it went on for so long, the bartenders had to sleep on the island overnight, shower and get back to work the next day.
In 2015, Maybe Frank was in construction and received an intense amount of hype when it opened. This unique pizza and cocktail venue has been packed ever since; so busy in fact, another
Maybe Frank
opened in Randwick.
After years of perfecting the pizza culture, Stefano and co-owners Vince Lombardo and Andrea Gualdi decided to step out of the kitchen and pursue a passion project in the bar.
After Andrea won the World Class Australian Bartender of the Year in 2017, they knew it would happen sooner rather than later.
In January 2019, they opened the 1950s Hollywood-inspired cocktail bar Maybe Sammy – by the end of the year it was announced 43rd best bar in the world and best bar in Australia, by the World's 50 Best.
Just this month, Maybe Sammy was awarded the Michter Art of Hospitality Award for providing the best hospitality experience in the world, as rated by 500 members around the globe.
Stefano and his team couldn't be more chuffed…the award reminded them of what they have, where they can go and to never stop pushing their dream in hospitality.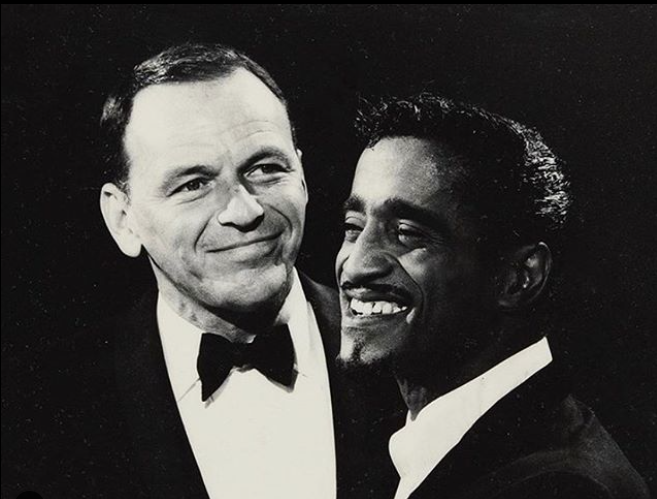 Original Rat Packers...Frank Sinatra and Sammy Davis Jnr.
The future of Maybe Sammy and Maybe Frank – named after Rat Packers Sammy Davis Jnr and Frank Sinatra - is looking bright, with more potential venues on the way. Make sure to tune into Roots Podcast to listen to Stefano's story (*disclaimer – language warning*)!